4-B's Cafe & Cafeteria
A MONTANA RESTAURANT CHAIN OPERATED BY THE HAINLINE FAMILY 1947-2007
NOW OWNED BY STAR BUFFET, INC., SCOTTSDALE, AZ
Both Helena locations ae now closed.



COURTESY OF THE DAVID POOR COLLECTION • CLICK ON IMAGE TO OPEN A BIG VIEW IN A NEW WINDOW
46°35'47.65"N 112° 1'59.96"W


The 4-B's was at this 900 N. Main location for over 30 years. It was adjacent to the Main Motel. There was also a 4-B's Cafeteria in the Capital Hill Mall from 1965 to sometime after 1980.
The 4-B's chain of restaurants was established in 1947 by Bill Hainline, who named the eateries after his family members: himself, his wife Barbara, his son Bill Jr. and daughter Barbara.

The family sold out to Scottsdale-based Star Buffet, Inc. in 2007. As of this writing (Feb. 2011) there are seven 4-B's operating in Montana. Both Helena locations are long gone. This 2010 story from The Missoulian gives details of the Star Buffet acquisition.

COURTESY OF KATHRYN FEHLIG
4-B's Cafe, 1951.
From a 1970s 4-B's Menu


KENNON BAIRD COLLECTION

4-B's Matchbook Cover


1950s 4-B's Menu

COURTESY OF DAVID MARRIOT • CLICK ON MENU FOR A LARGER VIEW IN A NEW WINDOW
Two hot cakes with a side of homemade sausage for 70¢. Fresh Montana trout with a rasher of bacon for $1.45. A Double cut choice tenderloin steak with all the trimmings for $3.35 -- and you paid for it with money made of real silver. Many thanks to Seattle's David Marriot for the beautiful scans of his vintage 4-B's menu.
4-B's Famous Tomato Soup Recipe
FOUND ONLINE
- NOT TESTED
ALLEGEDLY FROM BILL HAINLINE HIMSELF
1 (29 oz.) can diced tomatoes
1 (10.5 oz.) can condensed chicken broth, undiluted
2 Tablespoons margarine or butter
2 Tablespoons white sugar
1 Tablespoon chopped onion
1/4 teaspoon baking soda
2 Cups of heavy cream or half-and-half.
Directions:
1. In a large stock pot mix tomatoes, chicken broth, margarine, onion, and baking soda. Simmer for 1 hour.
2. In a separate pot, heat cream over a low heat until hot, watching carefully so that the cream does not scorch! Once heated through add to tomato soup and serve.

Children's Menu, Date Unknown
Click on Image to Open Complete Menu in PDF Format



KENNON BAIRD COLLECTION


Interior Gutted by Fire, 1958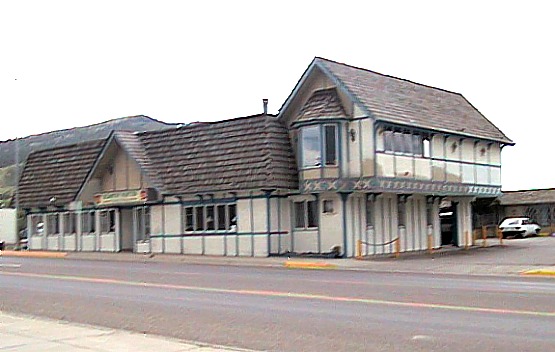 COURTESY OF JEFF SHERLOCK
The last days of the old 4-B's building, which had mutated into this Germanic conglomeration.
The 4-B's Cafeteria in Capital Hill Mall, ca. 1980
46°35'26.05"N 112° 0'49.85"W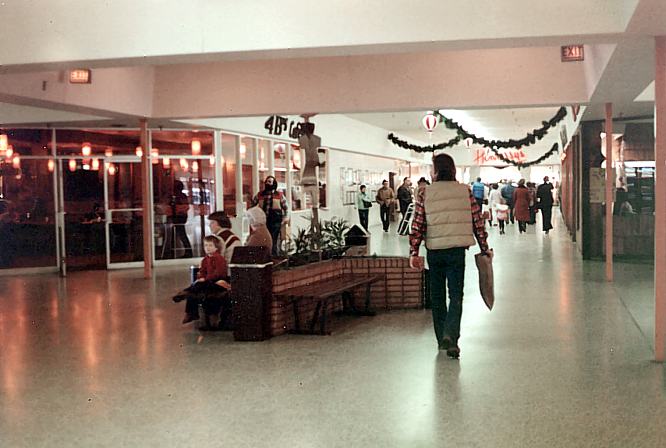 PHOTO BY KENNON BAIRD