All images courtesy of Kitty Ann Quigley Taaler unless otherwise noted

Frontier Town Brochure Title Page, 1964



Read the Brochure
To read the entire 1964 Frontier Town brochure, please click on the image above. It will open in a new window. From the collection of Kennon Baird.
Postcard View of Main Street, 1960s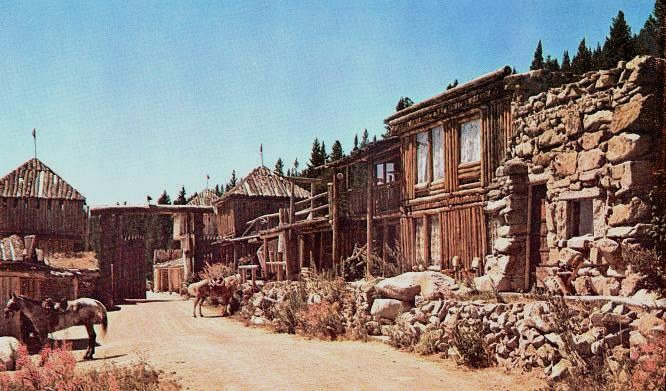 Built, starting in 1946, by John R. Quigley (1915-1979) and his wife Sue (1926-1998), Frontier Town was not only a noted summer tourist attraction, it was a grand example of American folk art.
It was located west of Helena, just east of the summit of McDonald Pass, with a beautifully expansive view toward the Helena Valley. It is now a private residence and is closed to the public. The location may be seen on Google Maps and Google Earth by entering: 46°34'9.06"N 112°18'24.30"W
Quigley built the attraction almost single-handedly from boulders and logs. He also added fine artistic touches, such as his expressive wood carvings and intricate animated models.
Along with his building and artistic talents, Quigley was a master of promotion. He emphasized his "frontier" Montana upbringing (on a ranch near Avon), and crafted an image of himself as a wild mountain man, which was mostly true. John worked hard and played hard.
Frontier Town was advertised and promoted widely. Some may recall the log billboards which Quigley erected along Montana highways. Frontier Town was a virtual museum of old west artifacts, collected by Quigley over the decades.
From 1951-54, Walter and Doris Marshall operated a summer theatre at Frontier Town, utilizing a large rotating stage which John Quigley fashioned out of logs. The Marshalls went on to open the Old Brewery Theatre in Helena in 1954.
Numerous celebrities visited Frontier Town, and it was the go-to place for a unique and memorable Montana experience.

John and Sue Quigley

Why is Frontier Town Closed?
Many people ask why Frontier Town is no longer open to the public. The reality is that its days as an attraction have likely passed forever. Making Frontier Town pay required a special dedication that could only come from John Quigley and his family.
Following John's death from cancer in 1979, his daughter, Kitty Ann Quigley Taaler and her husband Aavo, moved to Frontier Town from their home in British Columbia and partnered with John's widow Sue (Kitty Anns' Stepmother) in operating the attraction.
Despite offers from the Taalers, in 1992 Sue Quigley chose to sell Frontier Town to one Richard Pegg, who in 1994 auctioned off John Quigley's extensive western antique, art and heirloom collection, destroying much of Frontier Town's unique culture and character.

In the mid-1990s, Pegg sold Frontier Town to one Erik Little, who operated it for several years. Pegg repossessed Frontier Town in 1999, and had continuing financial troubles. The resulting protracted legal problems culminated in a neglected Frontier Town being sold at a sheriff's auction in 2001 for $190,000. The buyer was Tom Battershell, who has made Frontier Town a private residence, working hard to protect and preserve the structures.
Quoting Kitty Ann Quigley Taaler in the 12/14/2005 Independent Record:

"The Tom Battershell family bought a shell of a maintenance nightmare, Frontier Town. Aavo and I could have bought Frontier Town, but there was no way we could afford to work for years without income, bringing Frontier Town back to it's old glory and it's Quigley reputation....Nobody but the Quigleys, Taalers, and our generation of friends know what the real old glory of Frontier Town was."
The page is turned, but many warm memories of tha extraordinary place, and the man who built it, still remain.
John Quigley Speaks!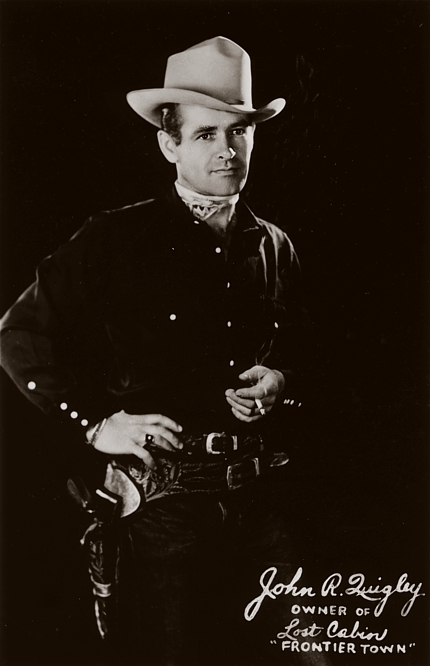 John Quigley talks about the origins of Frontier Town. John spoke with a classic Montana accent, so if you've never heard one, this is the real deal. Recorded in the autumn of 1979, near the end of Quigley's life. MP3 - 7:23:00.

COURTESY OF KITTY ANN QUIGLEY TAALER
The Frontier Town Story Begins With Quigley's "Lost Cabin Ranch"
Dude Ranch and Ski Lodge Near Avon, MT
Lost Cabin was a combination dude ranch, hunting lodge and ski resort opened by John and Marguerite Quigley (Kitty Ann Quigley Taaler's mother) in 1933-34. It was located on the Quigley Ranch about 15 miles north of Avon, Montana. Summer activites for guests included horseback riding, fishing, hunting and pitching in with the actual ranch work. Come winter, skiing and sledding topped the bill, with skiers ferried from the ranch to the slopes on a "caterpillar snow train", which was essentially a huge wooden sled pulled by a bulldozer.

Lost Cabin could accomodate eight to ten overnight guests. Guests arriving via rail would be met at stations in Helena, Avon, Deer Lodge or Butte. There was also a landing field at the ranch for air charter and private planes.

There was a dining room in the lodge where "Wholesome, well cooked ranch meals" were served, "...with fresh meats, poultry, eggs, vegetables, fruits, milk and cream plentifully provided."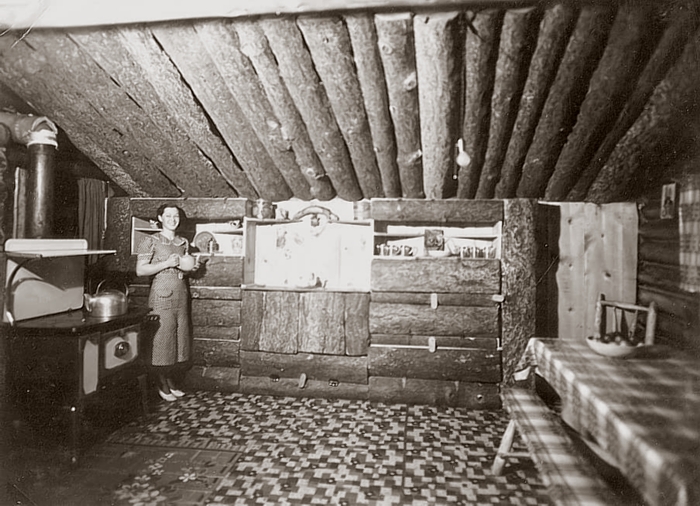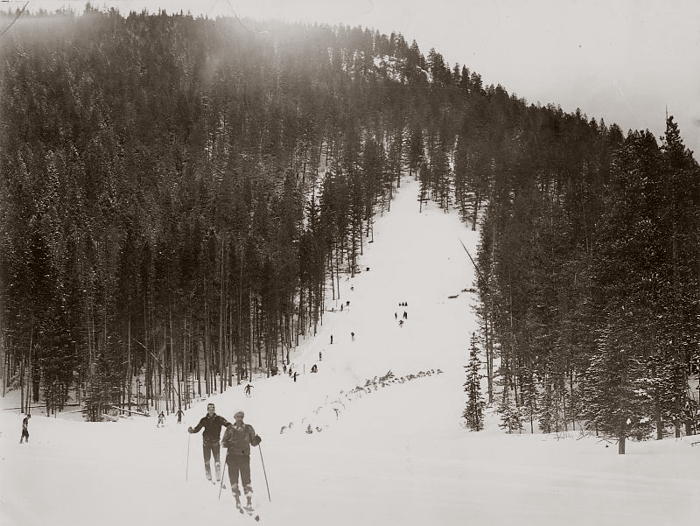 Lost Cabin Ranch closed for the duration of World War II. Even though he was an avid outdoorsman, John Quigley suffered from flat feet, which prevented him from enlisting in the armed forces. That didn't stop him from contributing to the war effort; in 1942 John, Marquerite and sons Jack & Peter moved to south-central Washington, where John worked on construction of the Hanford Nuclear Facility. He was superintendent for the R. D. Merrill and W. A. Carson construction companies, and also had a riding academy in the Hanford area during that time.
The Quigleys returned to Montana in 1945, with John and Marguerite divorcing in 1947.
Realizing that Lost Cabin Ranch was too far from a large population center and good transportation to be a successful dude ranch, in 1946 Quigley purchased 40 acres of land on the eastern side of MacDonald Pass from the McIntosh family of Avon, Montana. This marked the beginning of Frontier Town, the project which would occupy the remaining 32 years of John's life.
Early Frontier Town Construction
In December of 1947, Quigley pitched a tent on his new-acquired land, and with some rudimentary tools, a team of oxen, a few well-worn machines, and the invaluable help of Slim Wilson and Joe Alt, two old-timers skilled in stone and log construction, he began work on Frontier Town.

The Original Gate

John Quigley and Susanne Whittier Were Married May 6 1950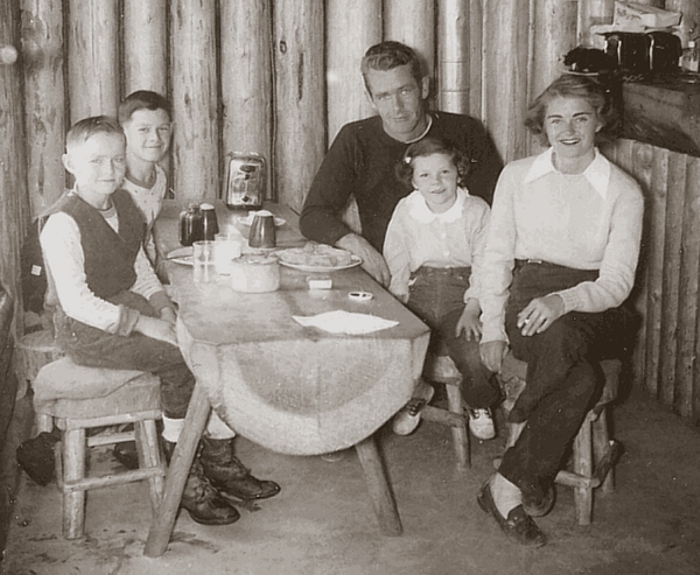 The Quigley family, 1950

The Quigley family at Frontier Town, 1950. John met Susanne Whittier (1926-1998) in Delray Beach, Florida in 1949, while he was recouperating from complications of a ruptured appendix.
An Early 1950s Postcard View of Frontier Town
Frontier Town Entrance on US 12, 1960s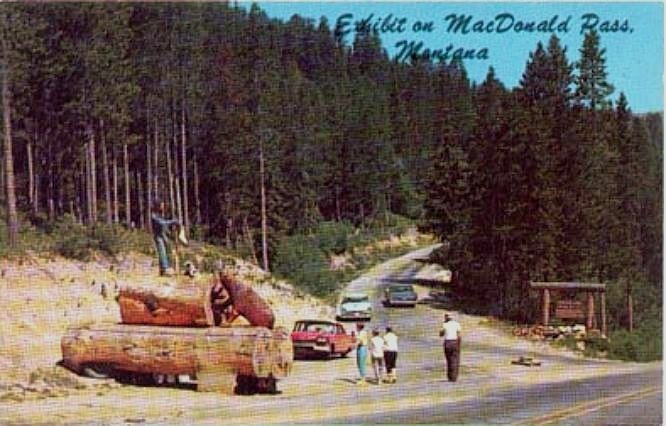 Shown is Quigley's animated roadside attention-getter. Carved from pine logs and powered by electric motors, it depicted a grizzly bear about to attack a lumberjack and his dog. The figures jerked mechanically -- the man raising his axe, the dog jumping, and the bear lunging -- while a loud tape-recorded loop of growling bear and barking dog sounds echoed across the mountains. How could you not stop for that? Many thousands did.

CLICK TO HEAR THE ORIGINAL FRONTIER TOWN BARKING DOG SOUNDS
COURTESY OF KITTY ANN QUIGLEY TAALER
Parking Lot and Two Blockhouses, about 1956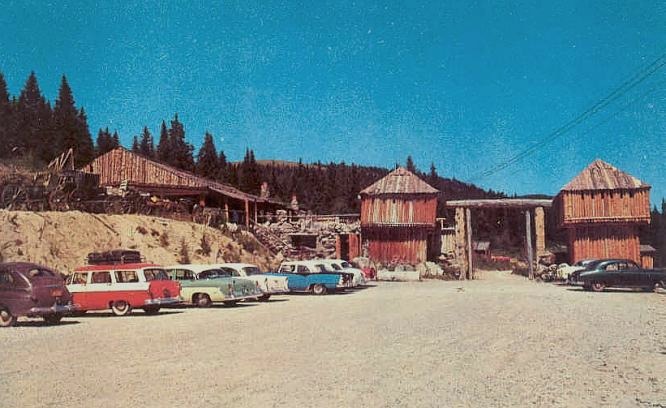 Parking Lot with Enlarged Four-Blockhouse Gates, 1960s
John Quigley and the Hand-Carved "Welcome to Frontier Town" Sign


Closeup of the Sign


"The Doghouse" near the front gate,
where admission to Frontier Town was collected, 1960s
Kitty Ann Quigley and Cousin Sheila Quigley Working the Doghouse, 1960s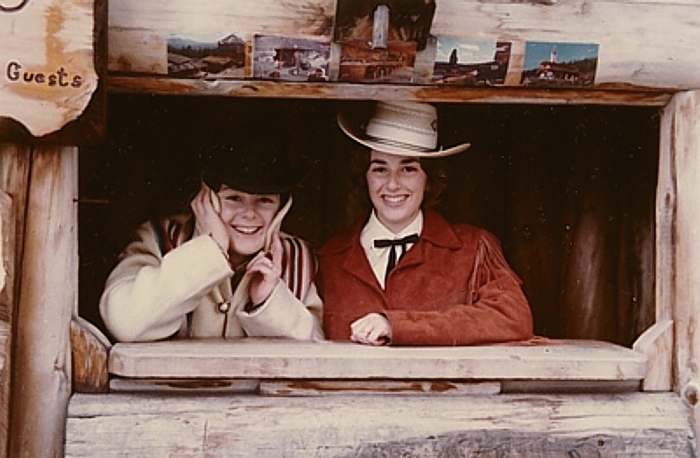 Main Street Looking North, 1960s
Main Street Looking South, 1960s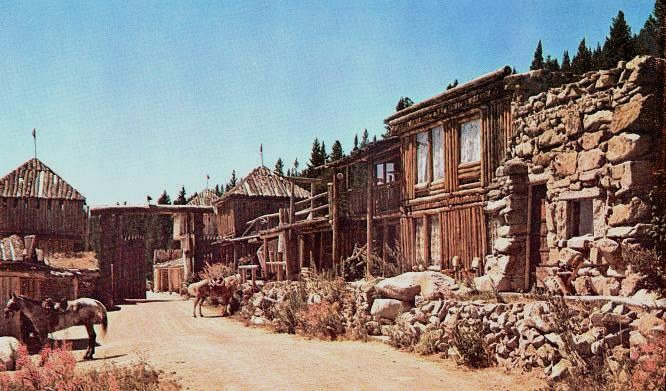 Frontier Town Jail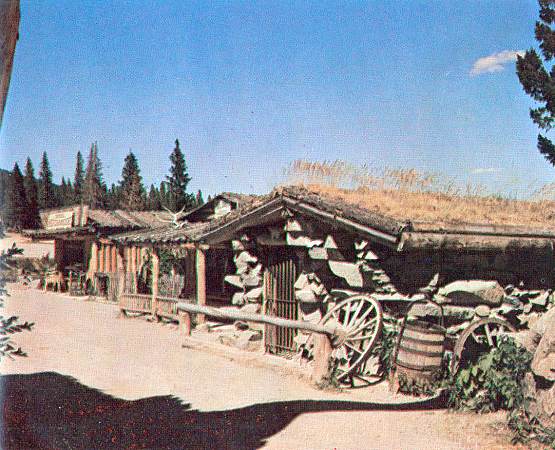 Frontier Town Trade Tokens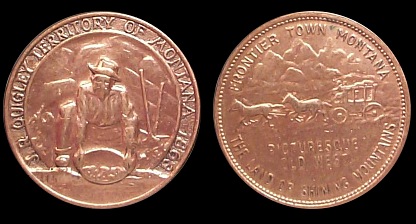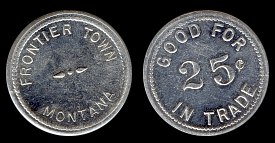 These tokens were purchased upon entering and used for trade. Of course, many were never used and were carried away as souvenirs. The copper tokens, about the size of a half-dollar, were $1.00 each.
First-Class Gift Shop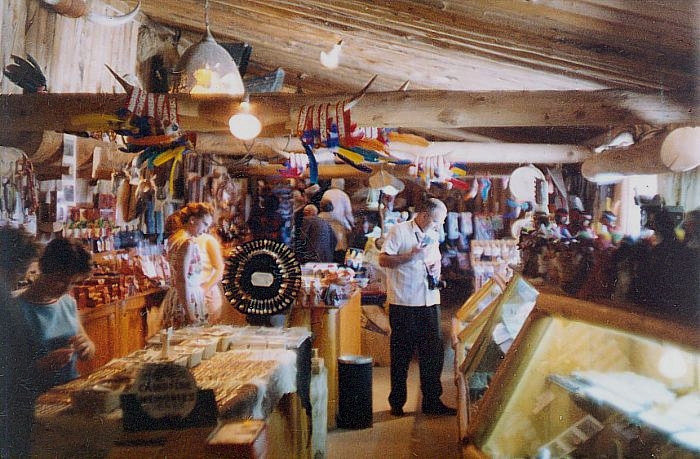 Souvenir ashtray from Frontier Town, 1950s-60s. The gift shop was one of the best of its kind, capturing the essence of knotty-pine Old West tourist kitsch. Sue Quigley operated the shop, and it paid a lot of the bills.
The Famous Log Bar
The main attraction at Frontier Town was undoubtedly the 50-foot-long split log bar, made in 1951-52 from a single Douglas Fir.
"I split the log during twenty below zero weather with a chain saw. It took two days to accomplish. The bottom of the log sits on stone pillars while the upper half is over head, held up by log supports from the same tree. The bar top, which has a mirror-like finish from sanding and polishing, I did by hand. You will find two carvings in the bar top, the first being two elk fighting over the female portion of the herd. This I carved during the fall and winter of 1956, putting in more than 300 hours. The carving of a mountain lion is on the lower end of the bar in front of the saddles -- eight good riding saddles placed for bar stools. " -- John Quigley
No matter which way you were traveling from Frontier Town, you had to descend a 6,000-foot mountain pass on a winding two-lane road, so naturally you had a drink or two. The altitude helped to boost the effects of the alcohol, which added to the fun of your descent.
The bar had highly detailed animated Old West dioramas across the back, which could be activated by inserting coins into metal boxes on the wall.
"Stand at the front of the bar and look at the back bar. You'll see an eagle soaring over the hills and lake and dipping down among the trees. The eagle was made by me from a small piece of aluminum foil, suspended from a silk thread and operated by a small motor counter-sunk in one of the ceiling logs...
As you look at the miniature lake amidst a setting of snowcapped mountains, you'll see a fisherman which I made by building a wire form, covering it with beeswax and then carving with small knives. If you look closely you may see tension on his line and a definite bend in his fishing pole. From this sparkling lake, supplied with water from a mountain spring which bubbles up right in the center of it, you can follow the water down the rocks, under a miniature bridge and finally over a waterfall between two huge boulders. From there it runs outside under the floor. This spring water is ice cold. It is used in all drinks by placing the glass under the waterfall. Easy touch, says the barkeep!
On the back bar are panoramic, animated dioramas to give an added feeling of realism and originality. One is the buffalo kill which contains twenty-six buffalo and ten Indians, all hand-made...
Hundreds of rocks were sorted to find enough of the right composition and color for the jump itself...
As you watch the buffalo falling off the cliff your attention is suddenly drawn to a little Indian high up on a rocky pinnacle to the left of the pishkun. He is sending smoke signals to warn other Indians that there are no more buffalo coming...
The animated Indian-war diorama contains 37 figures and 7 deer-hide tepees. These figures were made from metal, because of the high voltage electricity used to make the gun flashes as the whites and Indians deploy in their gun battle. In the background you may see Indian reinforcements going through their dance ritual.
The stagecoach, which runs the full length of the bar, is operated on a principle similar to real cable cars which run on endless cables and turn on turntables." -- John Quigley
At the far end of the bar was a cozy nook with comfortable rustic chairs in front of a warming stone fireplace. The stone steps leading up to the restaurant were adjacent to the sitting area.
Mounted on that end of the bar was a small bronze sculpture of a cowboy cooking with a
skillet over a tiny natural gas flame. If the bartender noticed someone admiring the cowboy, he'd tell them to look very closely at what he was cooking. When the subject peered into the little pan, the bartender would trigger the cowboy to spit a jet of ice-cold water onto the rocks in front of him, splattering the face of the unsuspecting tourist.
1950s Views of the Animated Back Bar Diorama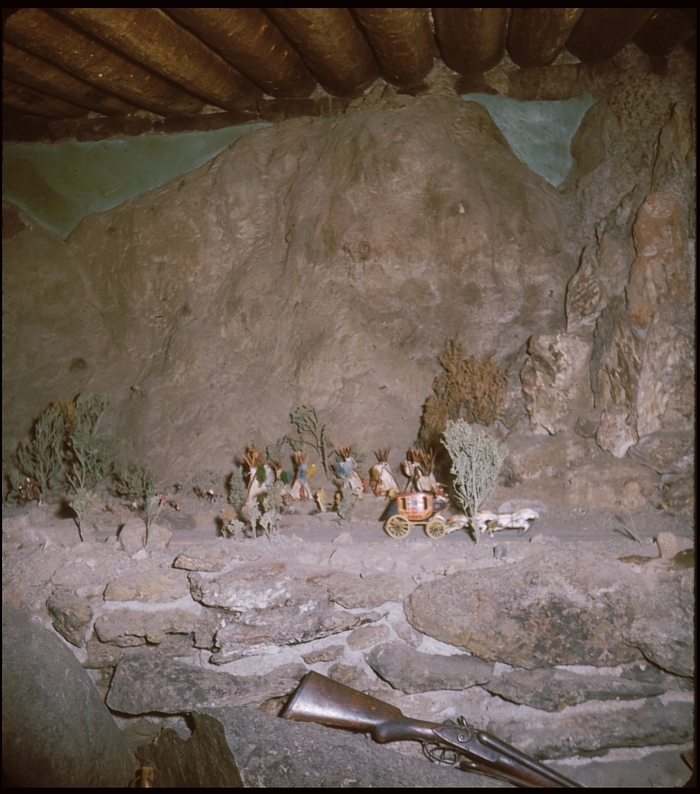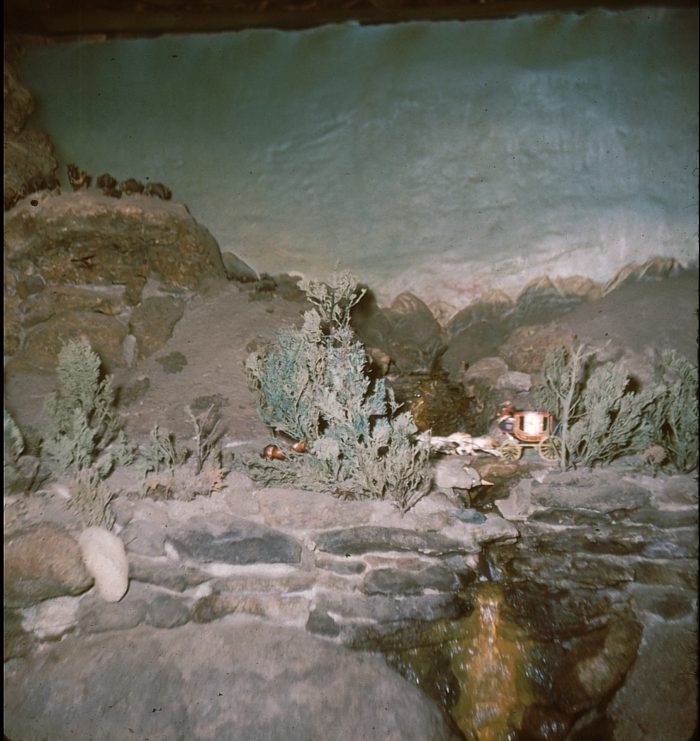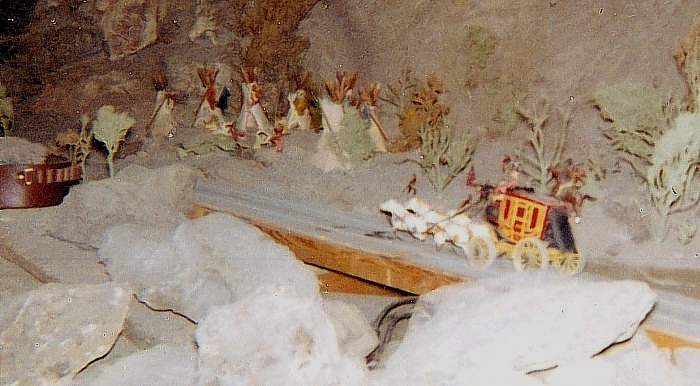 Frontier Town Bar, Early 1960s
From left to right are: Walter H. Marshall, John Quigley. The third man from the right is early cowboy motion picture star Edward "Hoot" Gibson. Sue Quigley is the barmaid.
Numerous celebrities visited Frontier Town over the years, including Billy Graham (although he probably didn't saddle up at the bar).
"Frontier Town Home Brew" beer label. Probably 1950s. Brewed by Kessler Brewing in Helena.




Fireplace Nook at the End of the Long Bar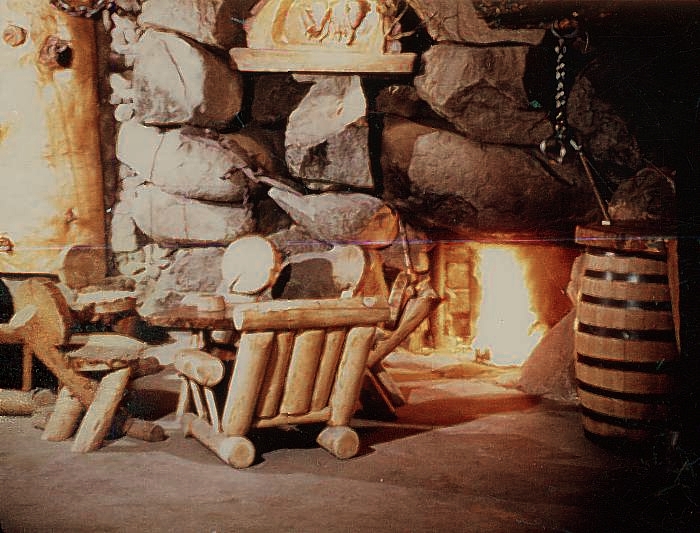 Steps Leading Up to the Dining Room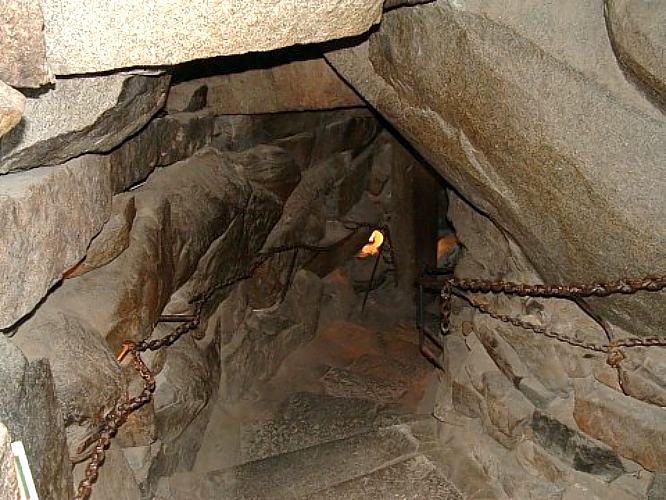 Early View of the Dining Room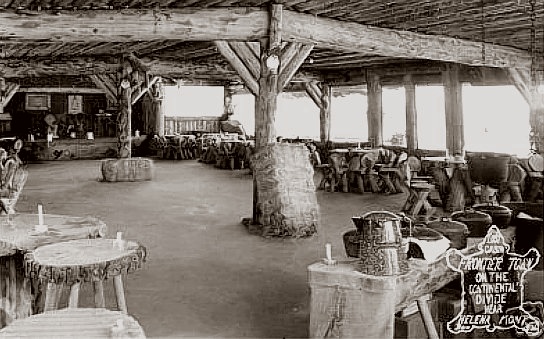 Dining Room Fireplace, 1950s
.
The upstairs restaurant was also noted for its construction and decor. John Quigley could be found tending this fireside, chatting with diners and giving kitchen tours. The dining room suffered a major fire in 1975, but was rebuilt.
Dining Room Patio
The First Safe Used in the Montana Territory
Part of John Quigley's Huge Collection of Western Artifacts
Pictured is Scott Weaver, a longtime employee of Frontier Town. John Quigley had a large collection of historical items and memorabilia. Among them was this safe, said to be the first in Montana Territory.
Publicity Was Widespread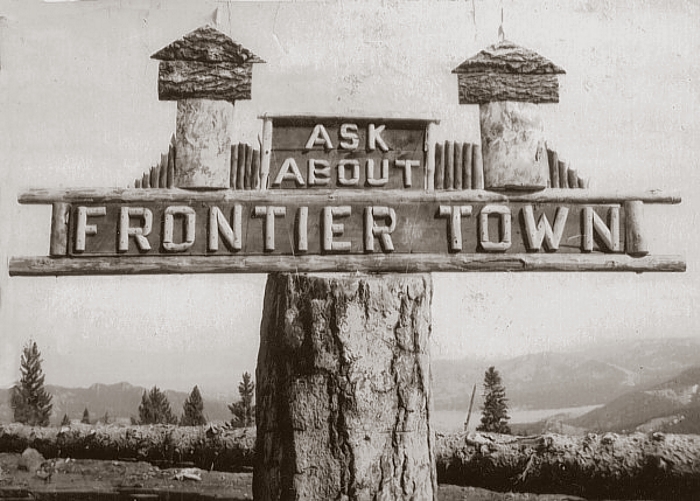 One of many rustic roadside Frontier Town advertising sings erected in Montana. John Quigley saw promotional opportunities in almost every situation, and the results were typically colorful -- and quite effective. Here are just a few examples...
Publicity Photo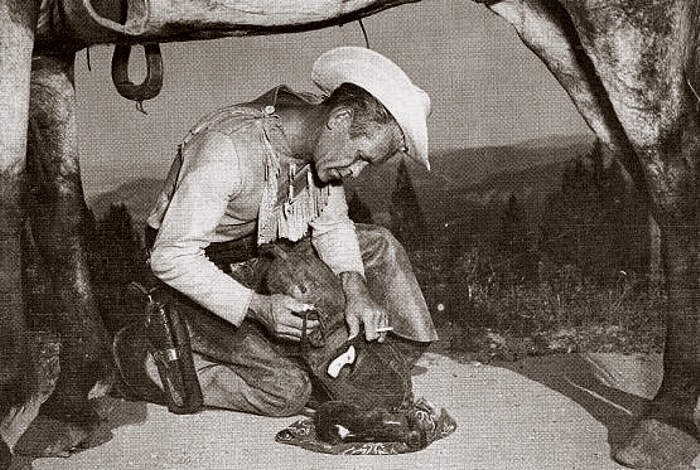 John Quigley in a publicity photo captioned, "Quigley, the hard-bitten mountain man, checks his gear before a ride."
Publicity Photo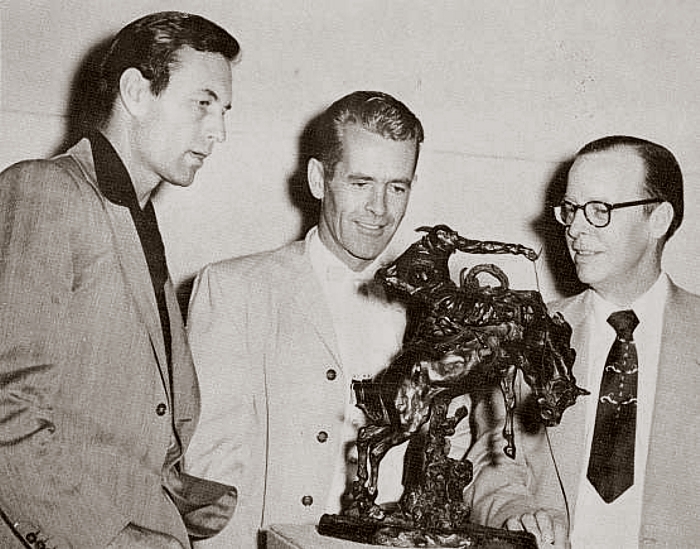 Montana-born movie star George Montgomery, John Quigley, and Montana author A. B. Guthrie, 1954. They are gathered around a C. M. Russell bronze sculpture, presumably at the Montana Historical Society in Helena.
Fold-out Brochure, 1960s

Bison Kill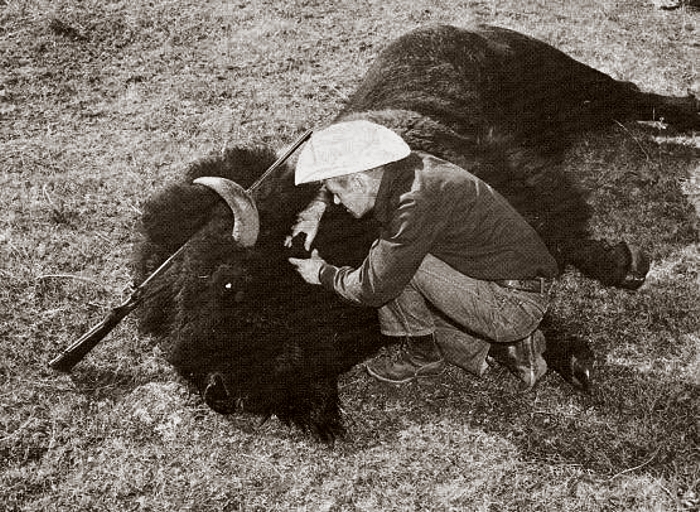 About 1960, John Quigley shot and killed this bison. He had it mounted and mechanized, and it was on the 1964 Montana Centennial Train, which traveled to the New York World's Fair.
Motorized Bison on Parade in Helena
The Quigley buffalo in a Helena parade, early 1960s. In the background are Gertie's Drive-in, the Husky sign at McGaffick's, and the Montana National Guard Armory.

Black Bear Shot Dead in Frontier Town Bar, 1962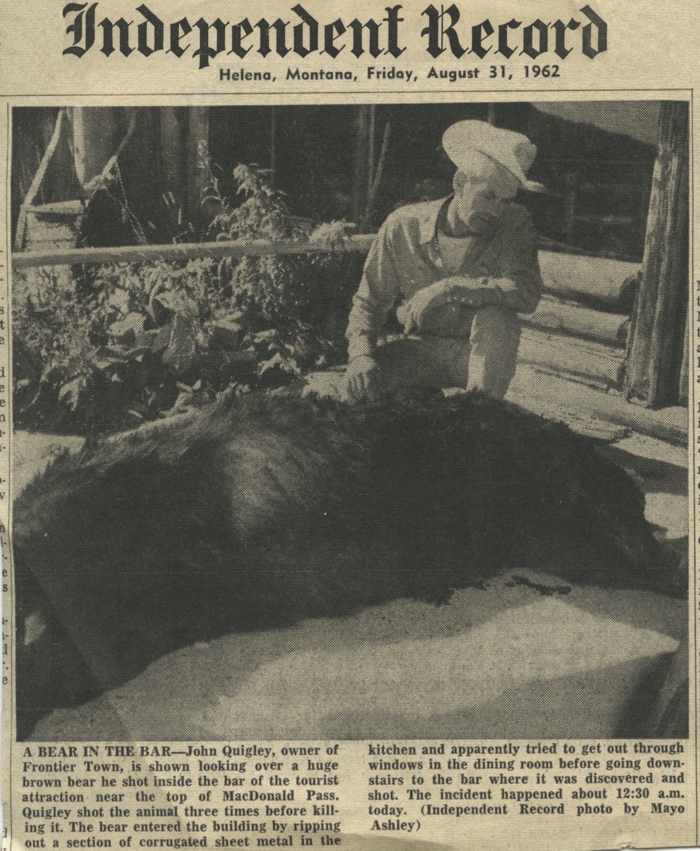 John had the bear taxidermied and placed it in the Frontier Town bar, along with a sign that read "Killed Where You Stand!".
"Bearvision", 1967
The Chapel

The beautiful log chapel at Frontier Town was completed in 1961. Although he professed to not be a very religious man, John Quigley said that building the chapel was his greatest achievement.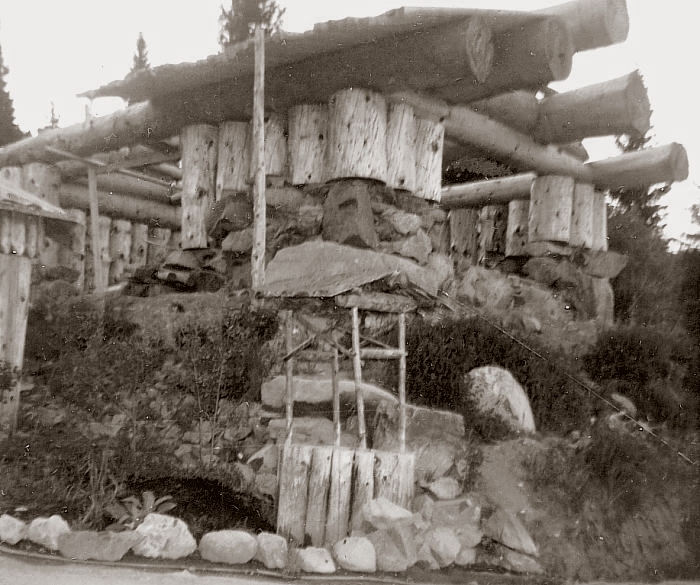 The chapel under construction
Completed Chapel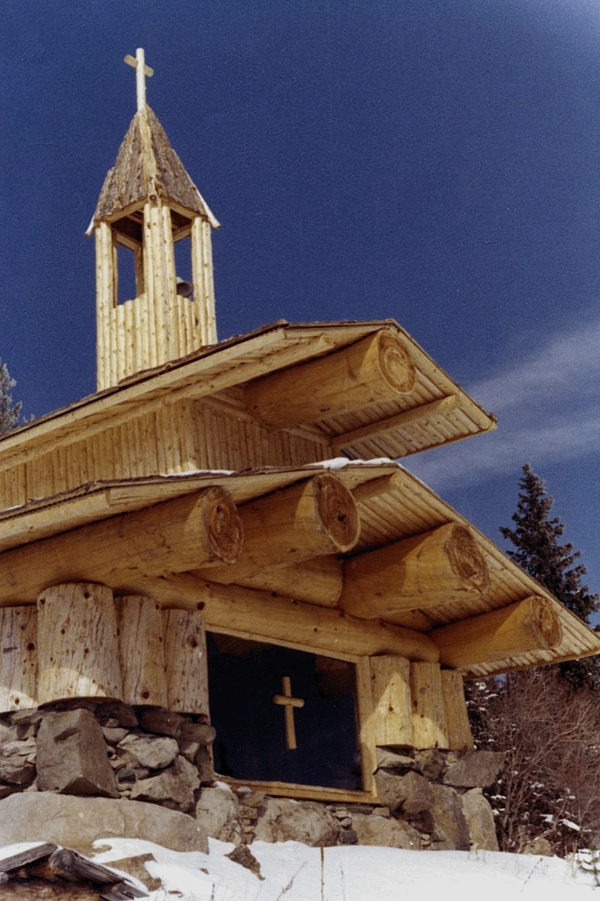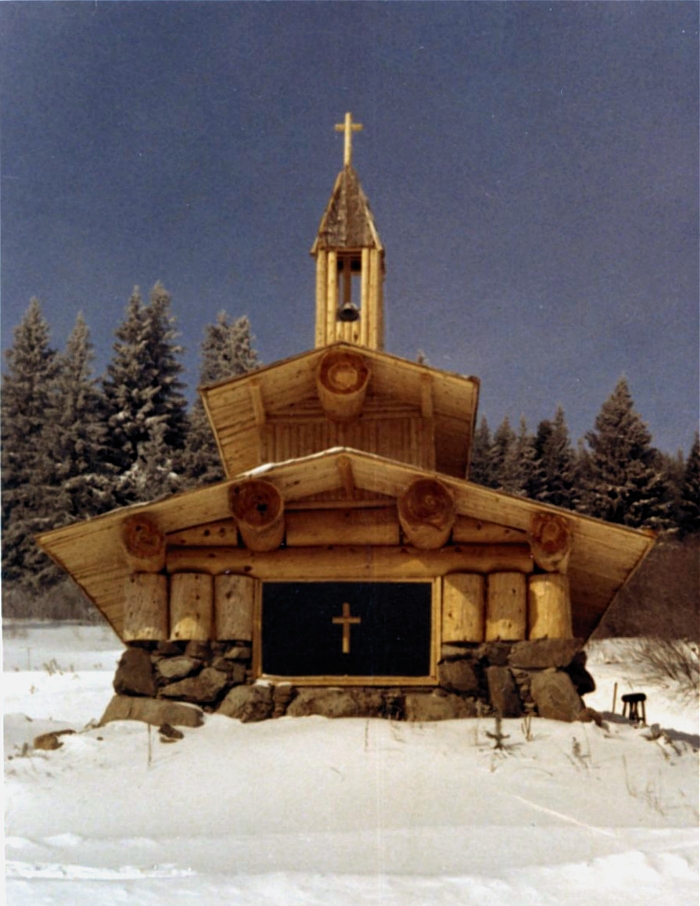 John Quigley Diagnosed with Cancer, 1979


John Quigley Named "Honored Artist" by the Western Rendezvous of Art, 1979
Click on Image to Open a Big Version in a New Window
Quigley Dies, Nov. 24, 1979



Click on Image to Open a Big Version in a New Window
Program Cover, Celebration of Resurrection, Cathedral of St. Helena
Art by Robert F. Morgan

John Quigley's Wife, Daughter and Son-in-Law Operate Frontier Town 1980-1987
Kitty Ann Quigley Taaler, Aavo Taaler holding Taegan Taaler, Sue Quigley, 1982
At the time of John Quigley's death, his daughter Kitty Ann and her husband Aavo Taaler were living in British Columbia ,where Aavo was in the business of hydroelectric power generation. In 1980, Kitty Ann and Aavo returned to Montana and began operatng the Frontier Town dining room for Sue...
Aavo and Kitty Ann Carving
Busy Dining Room
Sue Quigley, Aavo Taaler, Kitty Ann Quigley Taaler holding Taegan Taaler, Dale Evans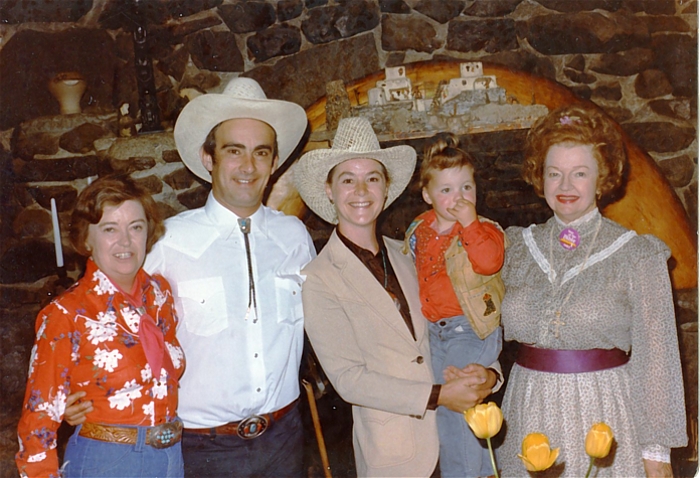 Kitty Ann Quigley Taaler, Charley Pride, Aavo Taaler
Sue Quigley, Kitty Ann Quigley Taaler holding Taegan Taaler, Aavo Taaler,
and longtime family friend actor George Montgomery
Frontier Town Sold
Kitty Ann and Aavo tried to purchase Frontier Town from Sue, but an agreement on terms could not be reached. Sue put Frontier Town up for sale, and in 1992 sold it to Denham Richard Pegg (1935-2011), taking Frontier Town out of the hands of the Quigley family.
Excerpts from a 1990 Sales Video

COURTESY OF KITTY ANN QUIGLEY TAALER
Here is an edited-down version of a sales video made in 1990 by a Helena, Montana real estate agency to promote the sale of Frontier Town.

Although the narration and background music leave something to be desired, this video gives us a glimpse of John Quigley's remarkable accomplishment as it appeared in later years.

As explained in the 2001 Independent Record article below, Pegg had a lot of financial problems with Frontier Town, and in 1994 auctioned off much of John Quigley's collection of artifacts, and parts of frontier Town itself. The matter became legally and financially complicated...
Frontier Town Sold to the Battershell Family, 2001

Click on Image for a Big View in a New Window

Frontier Town is now a PRIVATE RESIDENCE. Please respect the owners' privacy.