The Button Shop
Jean Allen's Antler Artistry
1953 Log Cabin Shop Still Stands on 11th Ave.
PHOTOS FROM "PROFITABLE HOBBIES" MAGAZINE, OCT. 1952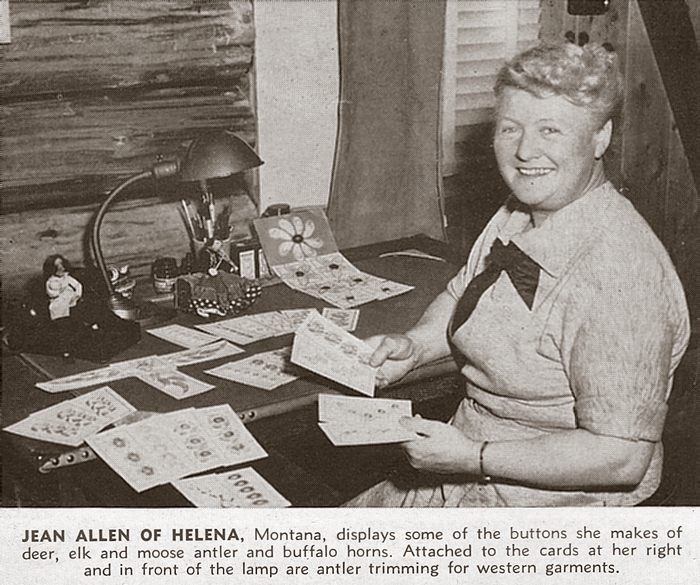 "The Button Shop", a unique endeavor by Jean Cordell Allen (1903-1972), operated at two locations in Helena. The first shop, pictured below, stood at 1520 Euclid (between Mountain View and Garrison) from 1948 to 1953. Allen built a second log structure at 1807 Eleventh Avenue in 1953; it stands today.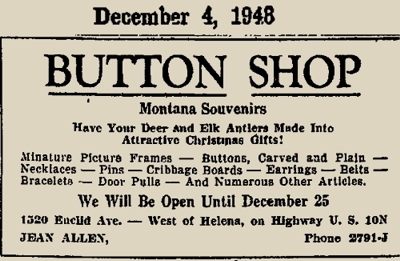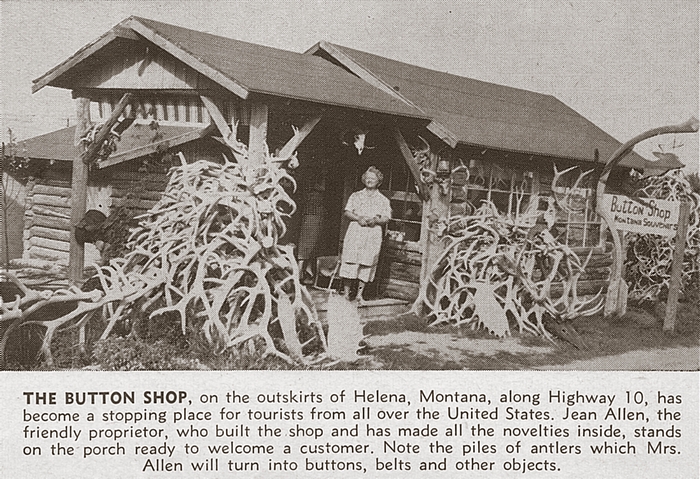 An Adventurous Early Life
Born in La Crosse, Wisconsin in 1903 to Edward and Julia Cordell, Jean made the news in 1923 by hiking from Wisconsin to Miles City, Montana and back. In 1933, she rode a horse from Montana to the Century of Progress Exposition in Chicago.

Walking from Wisconsin to Montana and Back, 1923
Jean eventually moved to Montana, and married Samuel L. Barnes (1890-1947) in Missoula in 1924. While living in Missoula, Jean participated in the local Pony Express Days celebrations, riding in endurance races from outlying Montana towns.
Horseback Ride to the Century of Progress Exposition, 1933
There were no further newspaper mentions of Miss Marian Harker (later Marian Thomason, 1917-2006) regarding this trip. Information about when and why she left the trek was not found.
Jean and Samuel Barnes were divorced, but no date was found. She married Floyd Allen in Anaconda in 1943, Their daughter Judith was born in 1944. The family moved to Helena in 1947, and began building the log cabin Button Shop on Euclid Avenue. Jean and Floyd divorced in 1951.
A Promotional Article in the Independent Record, 1951
A Selection of Jean's Button Shop Handiwork



Screw-back Antler Earrings by Jean Allen, circa 1948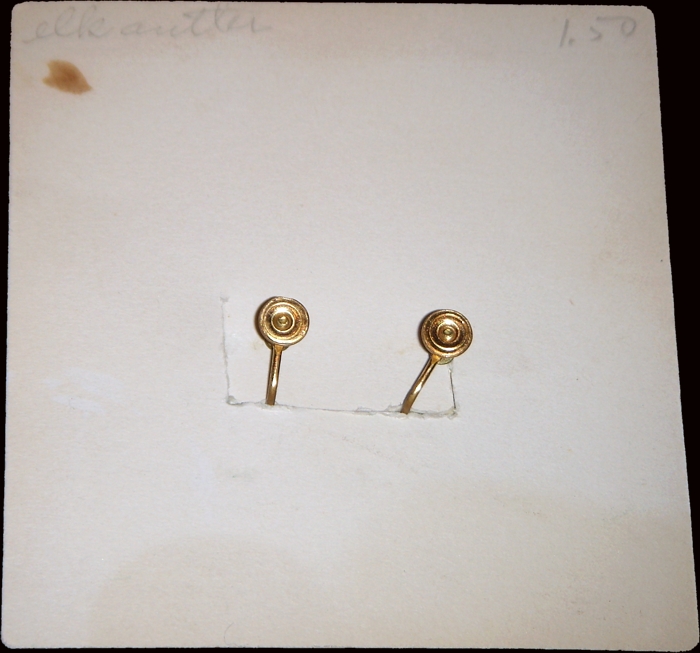 COURTESY OF DOUG AND KATHY LINDGREN
Carded Buttons by Jean Allen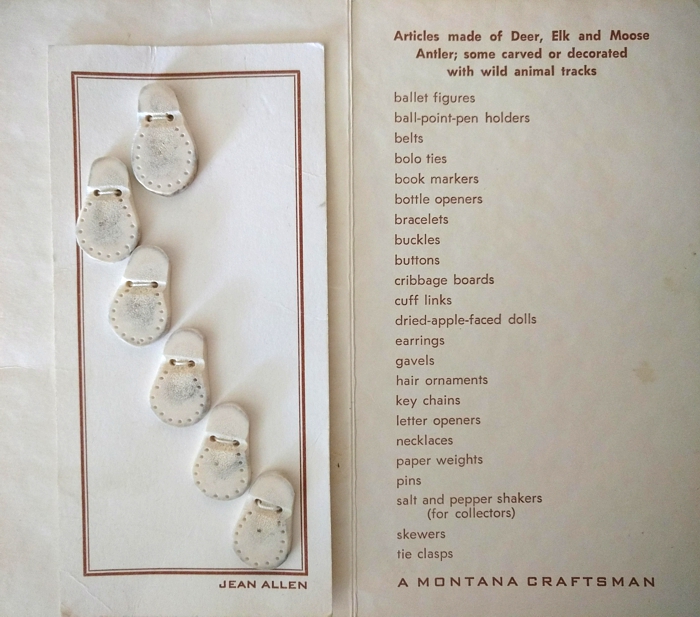 COURTESY OF SEAN LOGAN

Antler Sculpture by Jean Allen, date unknown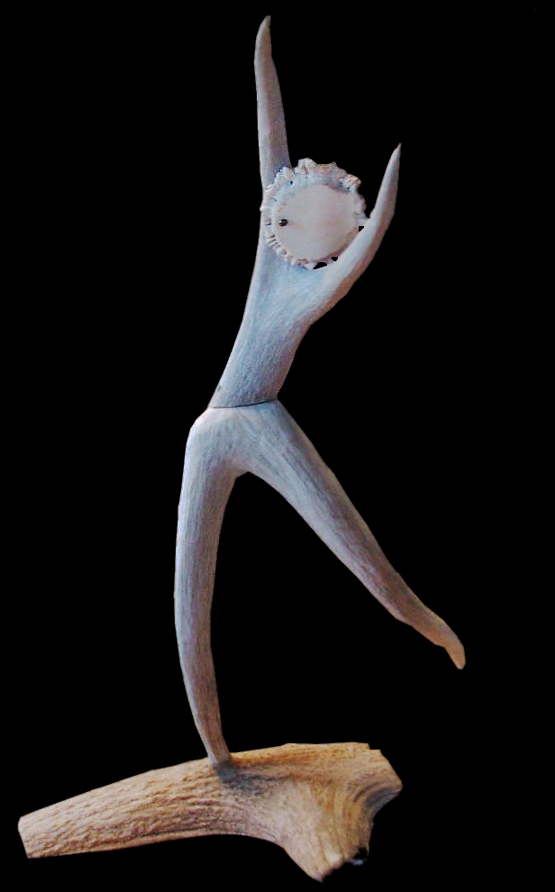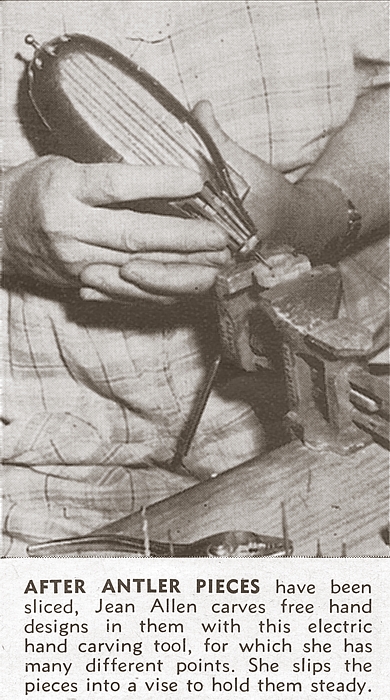 Read Dorothy Helton's "Profitable Hobbies" Article About Jean
| | |
| --- | --- |
| | Clicking on the magazine cover will open the text of the article in a new window. |
Button Shop Moves to 1807 Eleventh Avnue, 1953
Jean Allen was granted a divorce from Floyd Allen in December of 1951. Floyd was ordered to pay the mortgage on their Euclid Avenue home, which may have led to the 1952 sale of that home and Jean's building of the combination shop / residence on Eleventh Avenue in 1953.
1807 Eleventh Avenue, July 1957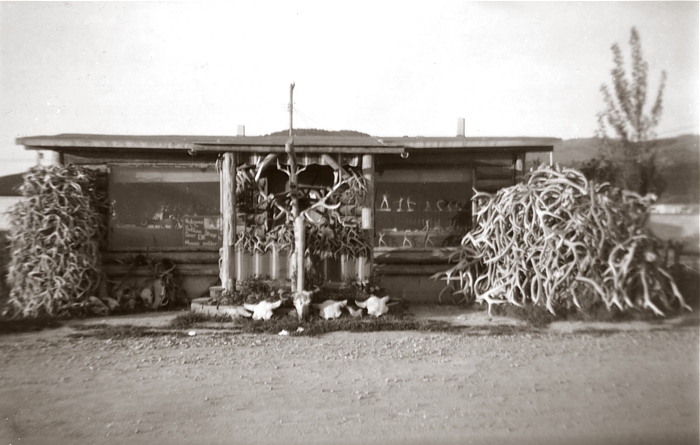 PHOTOGRAPHER UNKNOWN • KENNON BAIRD COLLECTION
CLICK ON IMAGE TO OPEN A BIG VERSION IN A NEW WINDOW

Huntington, West Virgina, Gallery Show
Two Unusual Newspaper Stories
The last mention of the Button Shop I find in the available online newspaper archives is from May 1970, when items from the Button Shop were being sold. The Saddle Rest Antique Shop opened in the building in June of 1970. Jean Allen died in Seattle, Washington, on March 27, 1972.`
1807 Eleventh Avenue, 2011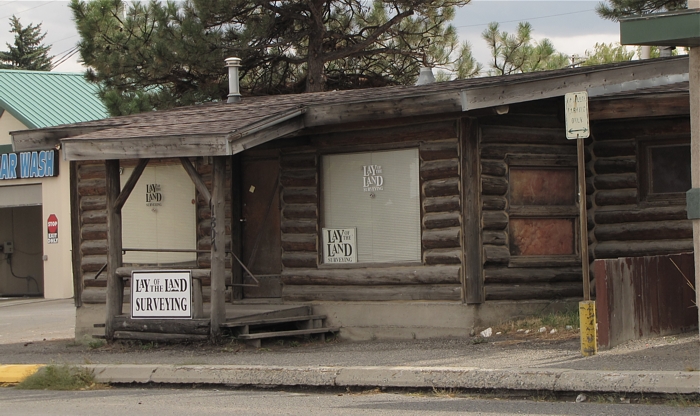 PHOTO BY KENNON BAIRD
Opened as The Dandelion in 2018