Hawthorne School • 430 Madison Avenue
46°35'28.65"N 112° 2'41.86"W


The east side of Hawthorne School, about 1890. It is shown on Helena fire insurance maps of 1888, 1890 and 1892 as the "Fifth Ward School".
Here's a history of Hawthorne from the March 23, 1986 Helena Independent Record...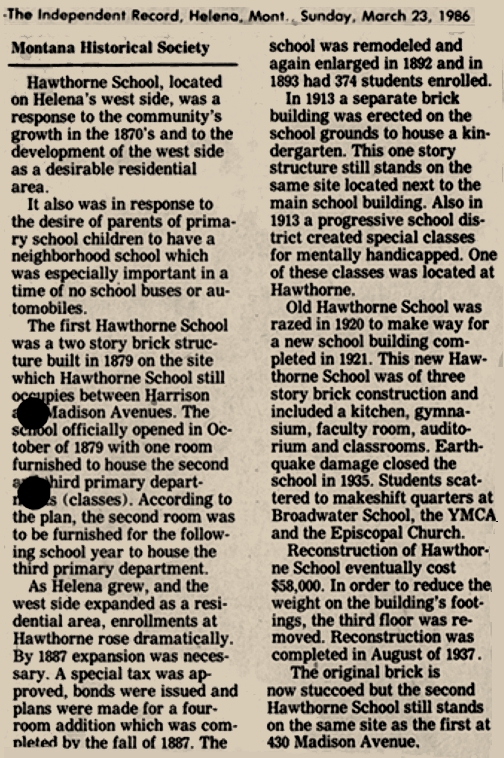 COURTESY OF THE COLLECTION OF THE LATE HENRY W. JORGENSEN



Integrated in 1882
In 1882, seperate schools for White and African-American children were discontinued in Helena, and Hawthorne was integrated. In 1888, an African-American church was given the use of a schoolroom to hold services.



Hawthorne after the 1892 addition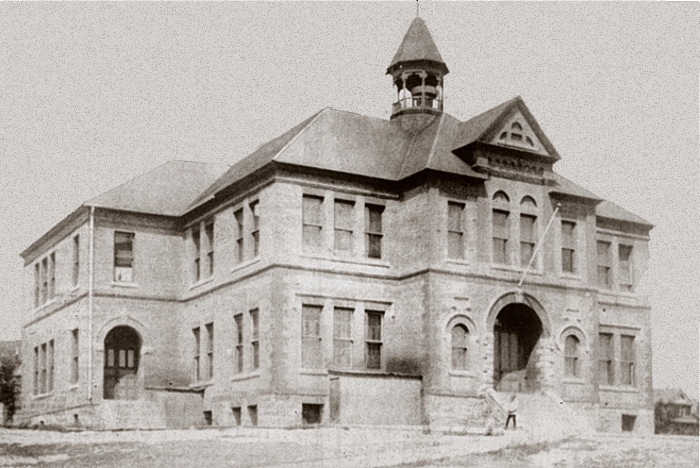 MONTANA HISTORICAL SOCIETY PHOTO FROM THE MARCH 23, 1986 INDEPENDENT RECORD
New School Designed by Butte Architects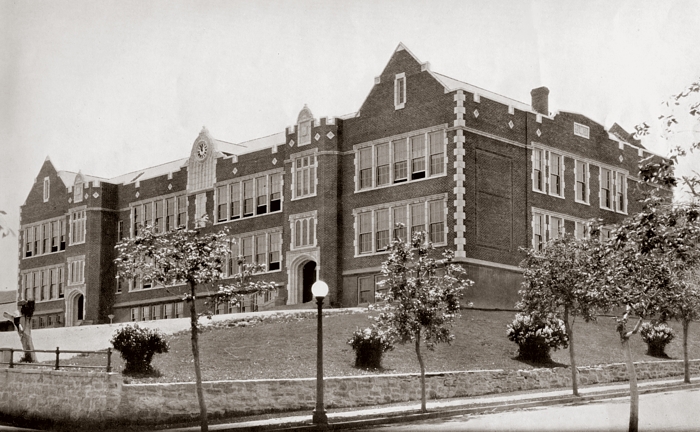 COURTESY OF TOM KILMER • CLICK ON MAGE FOR A BIG VERSION IN A NEW WINDOW





Aerial View of Hawthorne School, 1933
Showing the West Side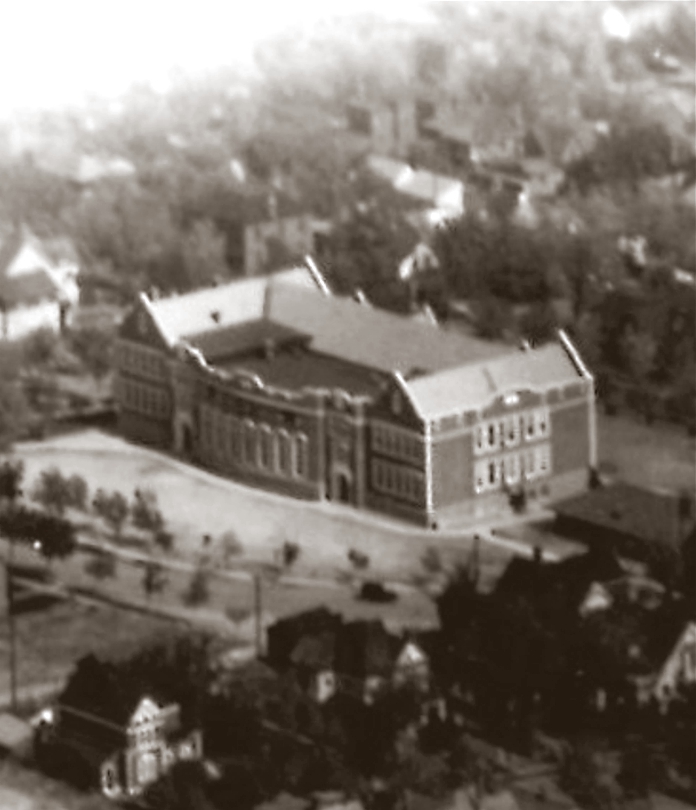 COURTESY OF THE JEFF MORRISON COLLECTION
Dean Memorial Clock
Maria Morrison Dean, M. D.
1858-1919
Physician and Advocate for Women's Rights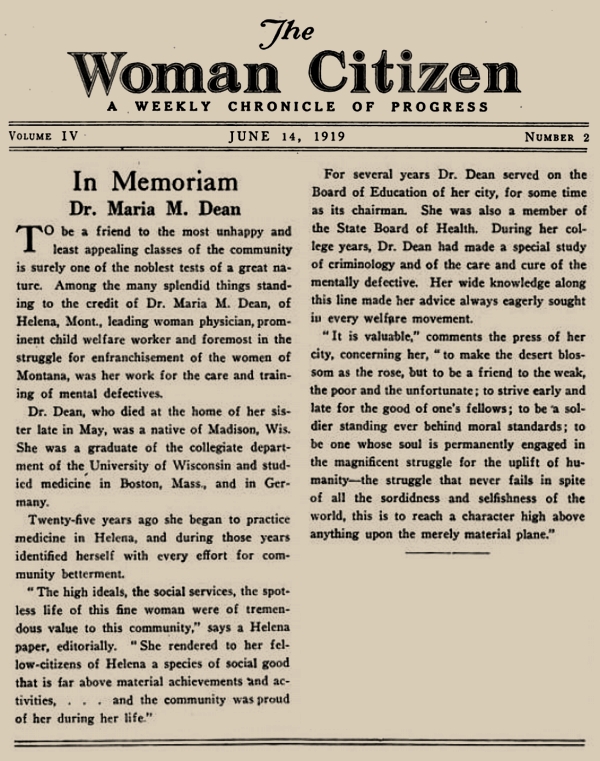 The Woman Citizen was one of the most influential women's publications of the early decades of the 20th century. You may read more about Dr. Maria Morrison Dean here.
A ca. 1930 Postcard View of Hawthorne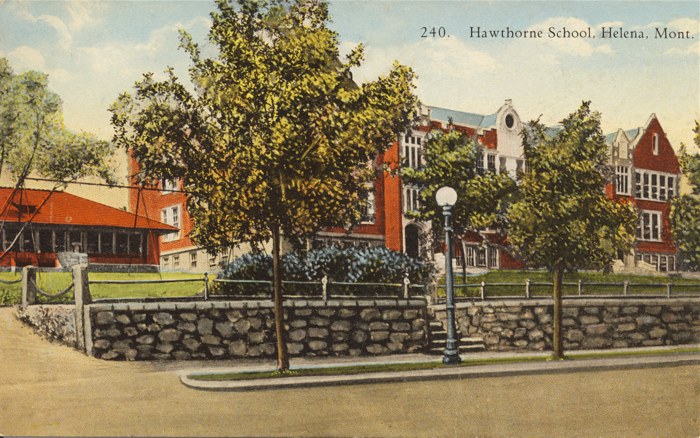 COLLECTION OF KENNON BAIRD
Badly Damaged by the 1935 Earthquakes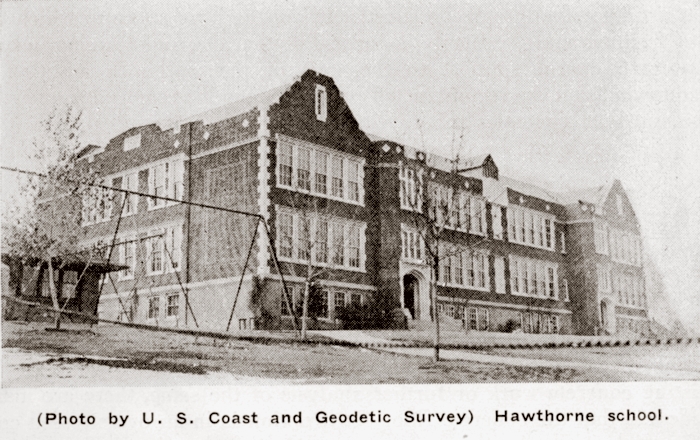 FROM "MONTANA EARTHQUAKES" BY C. R. ANDERSON & M. P. MARTINSON, 1936 • COLLECTION OF KENNON BAIRD


Brick and stone were shaken from the exterior of the building by the quakes. The Dean Memorial Clock was shattered, and is gone in this photo.
During reconstruction, all the brickwork and the entire third story were removed, and the building was stuccoed.
Before and After the Earthquakes • 1920s and 1968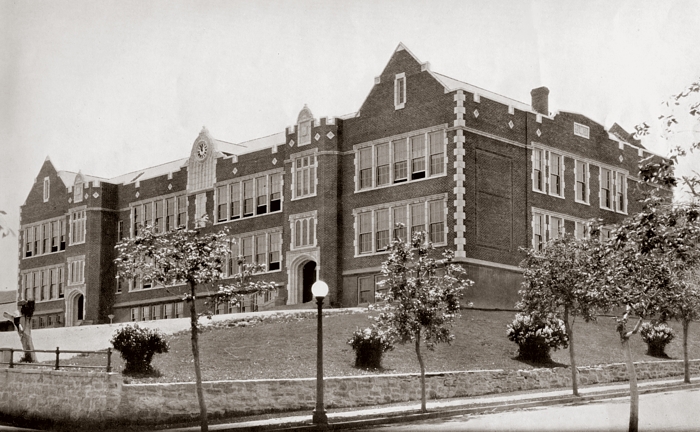 COURTESY OF TOM KILMER


COURTESY OF THE COLLECTION OF THE LATE HENRY W. JORGENSEN


Earthquake Retrofit, 2006-07


Hawthorne was closed for several months in 2006-2007 when it was determined that the building could not withstand a strong earthquake. Students attended classes in the then-vacant Ray Bjork School. The Hawthorne repairs consisted of building two 12-foot walls adjacent to the interior ramp and stairways from the ground up to the roof line. Some windows on the west side of the building were filled in.