House of Wong
All photos courtesy of Diane Macaraeg-Langenfus, unless otherwise noted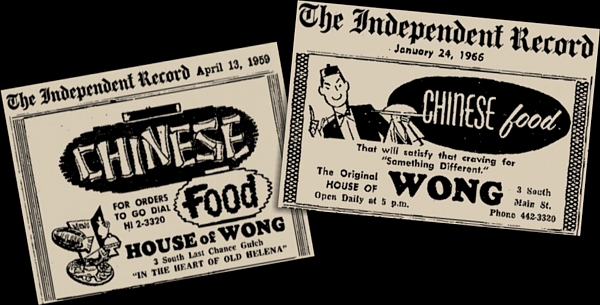 Jerry Young Wong (1910-1994) and Eleanor Beckett Wong (1913-2005)
Photo taken in Vancouver, Washington on their wedding day, 1935

The House of Wong was a popular Helena Chinese restaurant. It operated at two locations:
3 South Main, 1947-1974; 2711 North Montana Avenue, 1974-2004.
Jerry Young Wong worked in various Helena restaurants, including Yat Son, before opening the original House of Wong at 3 South Main in 1947. The building was demolished in 1974-75, during "Urban Renewal". Below is the footprint of the building superimposed on a recent satellite image...
46°35'11.53"N 112° 2'22.70"W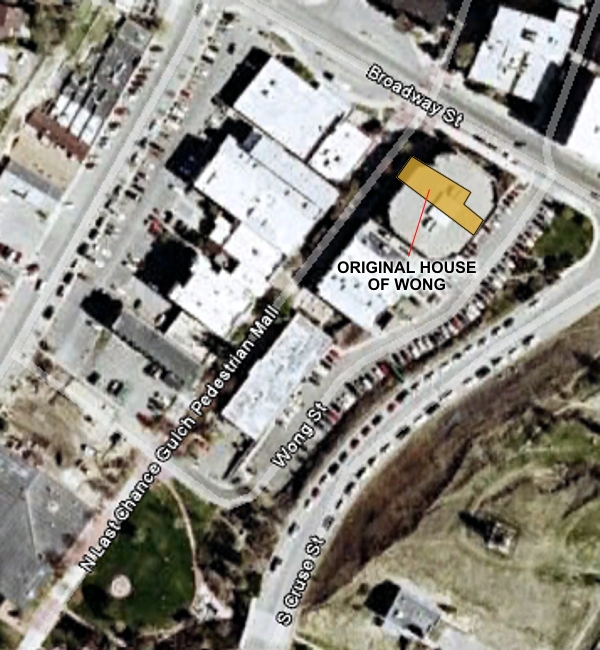 Grand Opening Newspaper Ad
Business Card, 1950s
Courtesy of David Poor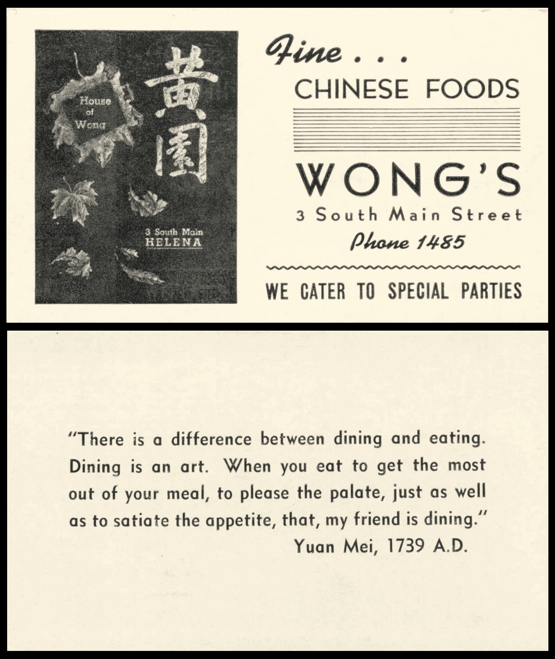 Menu, early 1960s
Courtesy of David Poor



CLICK IMAGE TO OPEN A BIG VERSION IN A NEW WINDOW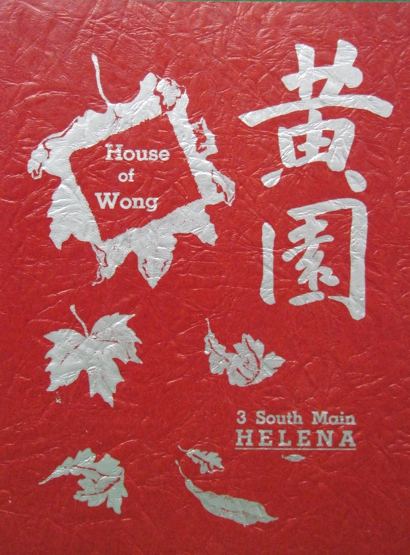 CLICK IMAGE TO OPEN A BIG VERSION IN A NEW WINDOW
The Original House of Wong, About 1973
"Urban Renewal" Had Begun on South Main

COURTESY OF LORILEI COCHRAN
The Original House of Wong Shortly Before "Urban Renwal" Demolition, 1974
If anyone has information about Wong's distinctive tile façade, please let me know.
Booths in Wong's, Early 1970s
"The old House of Wong had at one time two private party boots in the middle, could seat up to 12 in each, and they divided the tables off into tables of 4 during the "Bar Crowd" and "supper hour" if there were no parties reserved.
In the 60's they tore the booth walls, in the middle sections only, down and opened the space up with tables in the center.
Bar Crowd started about midnight and lasted till 3:30 am...everyone in Helena went for NOODLES after the bars closed.....that was always fun to work, quite an education if you were 14 years old.
The supper hour was from 4:30pm till about 8:30pm. The restruant would be cleaned and prep for the bar crowd would start. Mr. Wong always served his staff dinner after that time, and you ate whatever he fixed...no ordering off the menu."
-- Diane Macaraeg-Langenfus
Cashiers Station in the 0riginal House of Wong
Final night of operation, 1974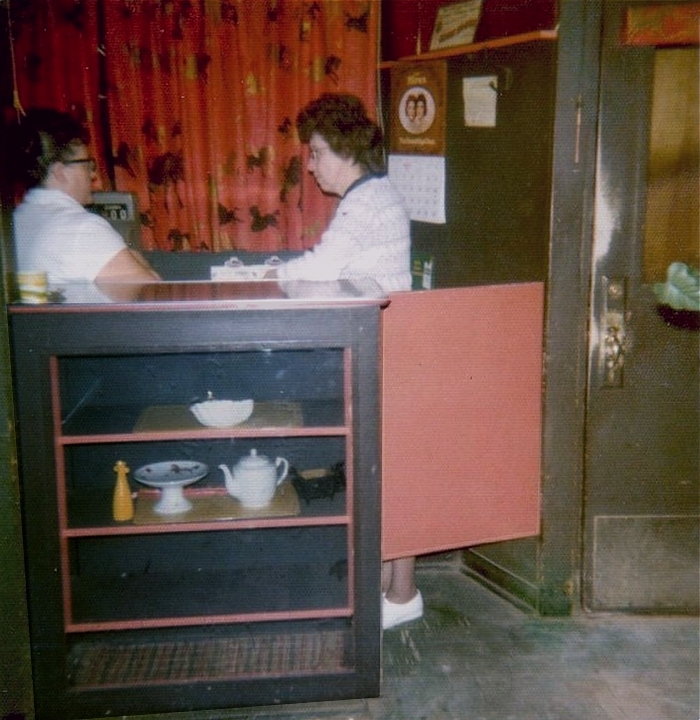 On the left is Rose Marie Macaraeg. Dorothy Jungers is on the right; she was a waitress with the House of Wong for some twenty years.



"The Window" - House of Wong Kitchen


Diane Macaraeg-Langenfus writes:

"That area is what we called 'the window'. All orders were put up right there for the dining room, everything else was prepared about where this was taken from. In first pic you can see Mabel McCarty. She was with us till she died in the 80's. She pretty much ran the dining room staff.

I received these pics from Jim Uncles. He worked for us from 71 to 74. 14 years old when he started. Jim said you'rer welcome to add them on House of Wong page if you'd like."
Many thanks for sharing the photos, Jim!
House of Wong Platter, Noodle Bowl and Matches

COURTESY OF DAVID POOR • CLICK IMAGE TO OPEN A BIG VERSION IN A NEW WINDOW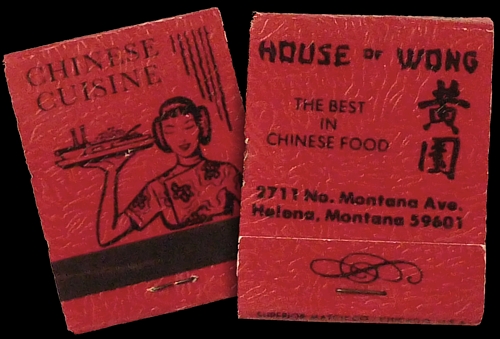 These matches show the post-1974 North Montana Ave. address, but the design was the same for the original location.
Robert James Macaraeg (1950-2009) and Grandfather Jerry Wong
at work in the kitchen of the original House of Wong, 1963-64.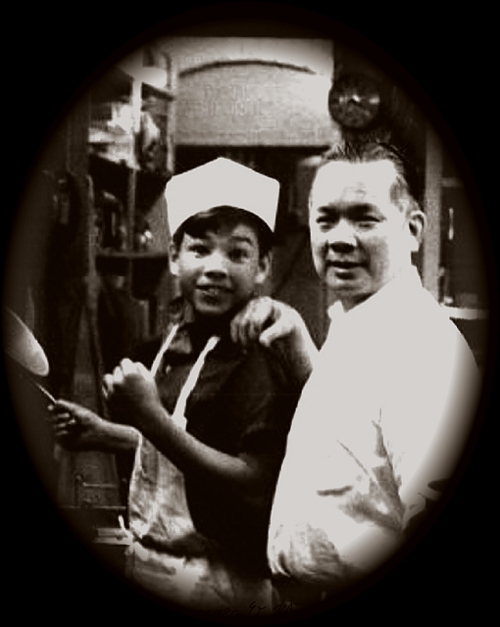 "Family members all were given jobs at sometimes very young ages. some as early as 13 to 14 years old.to start their training."

-- Diane Macaraeg-Langenfus
Urban Renewal Demoliton, 1974-75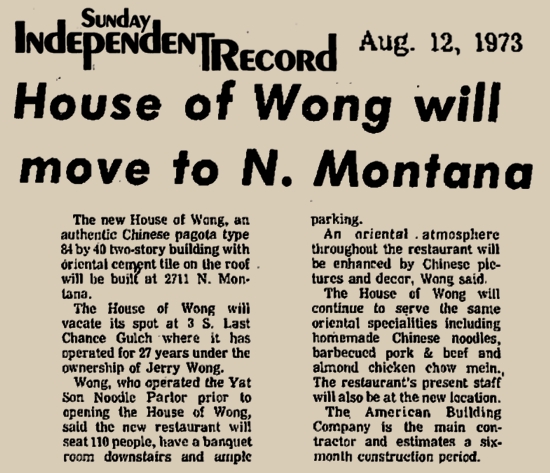 NEW HOUSE OF WONG: 46°36'43.14"N 112° 1'14.38"W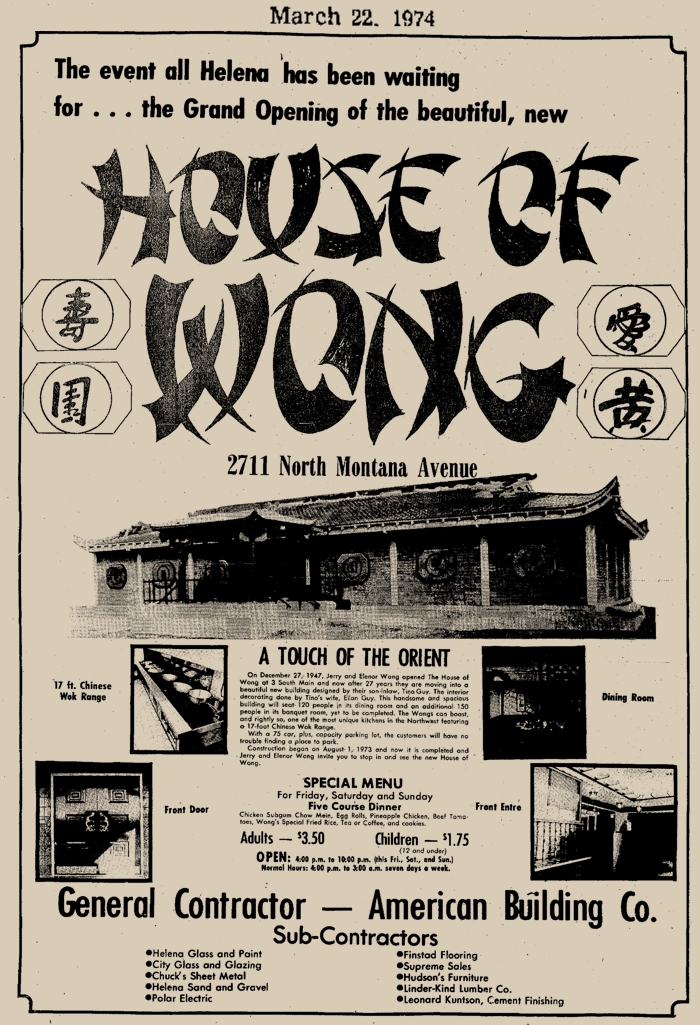 Eleanor and Jerry Wong at the Grand Opening, Montana Avenue Location, 1974
Eleanor Wong at the Montana Avenue Location
Diners on Montana Avenue
Jerry and Eleanor Wong at the Restaurant , Shortly Before Jerry's Passing
Wong's closed about 2004. The 1974 Montana Avenue building has been demolished. There is an Auto Zone store there now.
Editor's Note: From 1909 to 1953, it was against Montana law for Whites to intermarry with Chinese, Japanese or Blacks. Such laws are called Miscegenation Laws (from the Latin miscere "to mix" + genus "kind"). This seems cruel and absurd to us today, but nearly every state has had, at some time, such laws.
For a glimpse into what life was like for the Chinese in Montana during the late 19th and early 20th Centuries, please read the essay "The Chinese Experience in Frontier Montana" by Robert W. Swartout, Jr.
"Some things are the way they are, and some things you cannot change. You must learn to change the way you are present within it."
-- Jerry Young Wong