Lockey & Leiser Building
E. Sixth and Cruse • 1891-Present



PHOTO BY TOM KILMER 2022 • CLICK ON IMAGE TO ENLARGE IN A NEW WINDOW
From the Montana History Wiki:
"Merchant-turned-real-estate-developer Richard Lockey built this three-story commercial building in partnership with Jacob Leiser in 1891. The brick structure features two first-floor storefronts with a central entrance providing access to the upper floor apartments. A rounded arch at the parapet bears the inscription "L & L," with the first "L" written backwards. A photograph of the building, circa 1895, reveals the economic slowdown Helena experienced during the 1890s—a sign in the window indicates the building is for sale at less than cost."

PHOTO BY KENNON BAIRD, 2011 • CLICK ON IMAGE FOR A LARGE VERSION IN A NEW WINDOW


The Lockey & Leiser Building Seen from the Grandon Hotel, ca. 1911

COURTESY OF WENDI KOTTAS PETERSON
Dairy Lunch Cafe in the Lockey & Leiser Building, ca. 1911
110 E. Sixth Avnue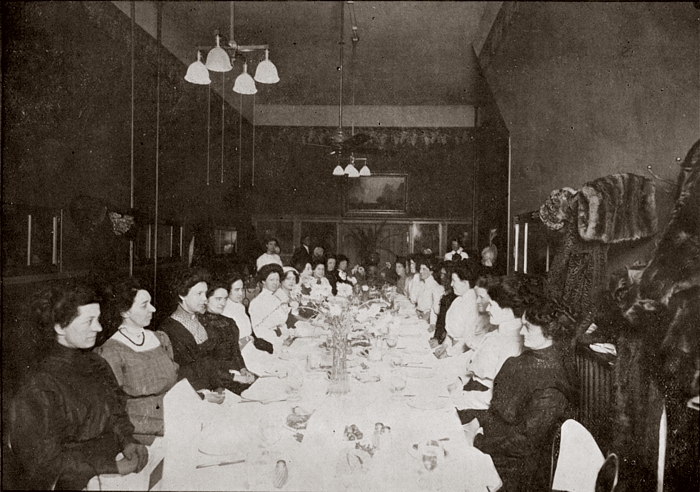 COLLECTION OF KENNON BAIRD • CLICK ON IMAGE FOR A BIG VERSION IN A NEW WINDOW

Richard Lockey (1845-1924)
Photo (colorized) and Biography from "Progressive Men of Montana", 1901
Refused to be Buried in Helena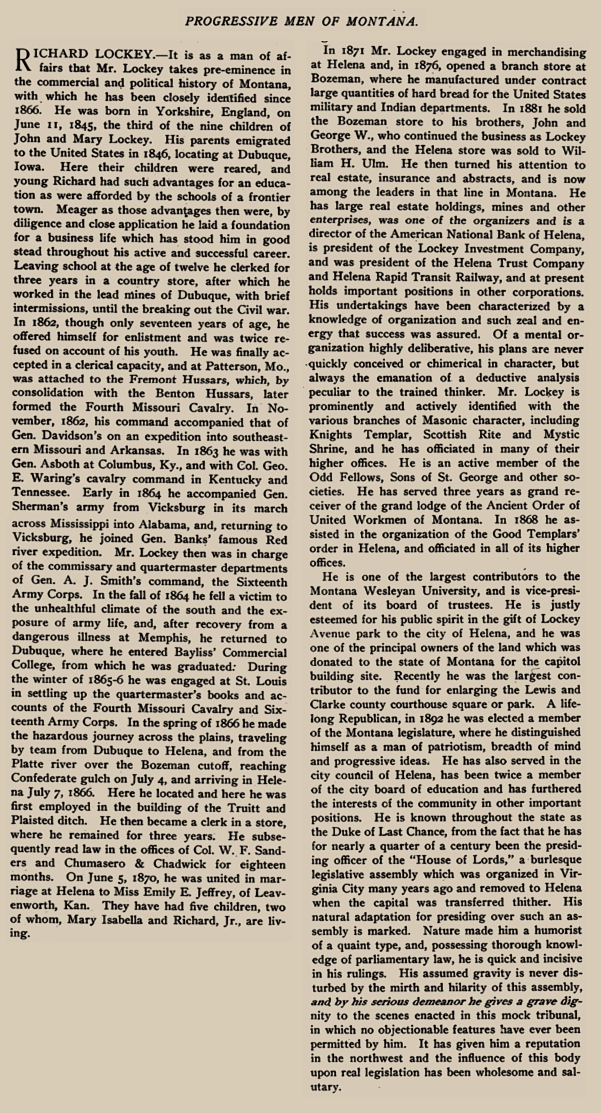 For a time in Helena, Richard Lockey was in the mercantile business with Seth Bullock. Lockey was at one time one of the most extensive holders of Helena real estate. The site of the State Capitol was once owned by him. Lockey died December 17, 1924 at the home of his son in Palo Alto, California.
As quoted in the March 19, 1925 edition of the Helena Daily Independent, Lockey's handwritten will expressed his desire to be buried far away from Helena:
"First, I desire to be decently buried and away from Helena, Montana, where I have suffered so much persecution by crooked politicians and of the vilest type."
He is buried in Palo Alto.