Antlers Theater
The Antlers Theater, ca. 1920. Located at 16 N. Main, at the foot of Grand St., the Antlers was open by 1914, when it acquired a Schuelke organ. The theater was remodeled in 1925, and operated until early 1953, albeit with an interruption in cinema presentations during World War II.
During The War, the theatre was rented for use by various religious organizations. It was remodeled and reopened for cinema in 1946, closing in January of 1953.
In 1954, the space was converted for retail, and the Diana Shops chain opened a ready-to-wear store for women and girls, which closed around 1966. Fire destroyed the building, which housed the theater and various other businesees, on February 26, 1967.
Antlers Theatre Location
The façade of the Antlers Theater, May 29, 1939
This unique image was contributed by Mr. Ray Cumming, now of Palo Alto, California, who writes:
"The Antlers Theater photo is especially nostalgic for
me. I spent a lot of time there in my youth watching serials, cartoons and features.

I can tell you exactly where the Antlers was located. It was on the west side of Last Chance Gulch at the center of its intersection with Grand Street. It is central in the attached photo of a frame of VCR-converted 8mm film, exposed from Grand Street on 5/29/1939 during Prince Olav of Norway's visit to Helena.

I lived in Helena with my parents and brother from 1933 to 1950, attended Central grades 1-6 while living on Grand Street in the Helena Apartments, then Hawthorne grades 7-8, HHS grades 9-12, and two years at Carroll while living on W. Lawrence and Clark Streets."
Many thanks to Mr. Cumming for the use of this remarkable image, and for filling us in on the location of the Antlers.

Various Evangelistic Groups Rented the Antlers During World War II

1946 Renovation


Remodeling Contractor Injured

Mr. Blain recovered, and lived another 13 years.
Antlers Theater Marquee, May 4, 1950

THE WES AND CAROL SYNNESS COLLECTION

Kelly's Barber Shop, Next Door
Barber Oscar Jarvi in Front, 1940s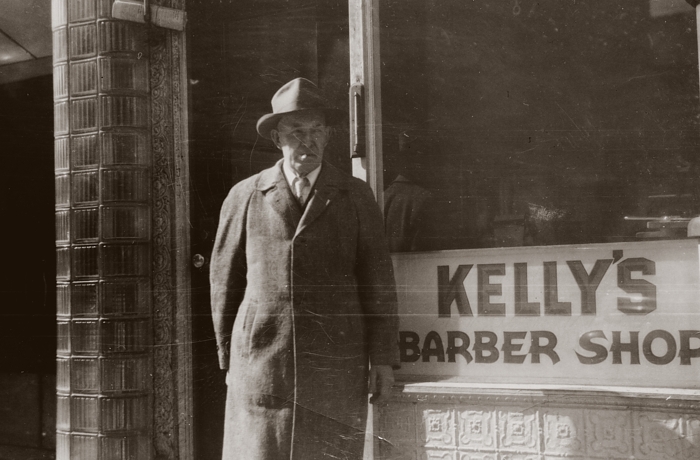 COLLECTION OF KENNON BAIRD • CLICK ON IMAGE TO OPEN A BIG VERSION IN A NEW WINDOW
To the right (north) of the entrance to the Antlers Theater was Kelly's Barber Shop, owned and operated by Charles F. Kelly (1885-1952). Pictured above, in front of the shop at 18 North Main, is Oscar Jarvi (1888-1974), another long-time Helena barber.


Barbers Charles F. Kelly and Oscar Jarvi Read of Nazi Surrender