Prominent in this wonderful 1925 view is the combination art suppy/book/stationery store and undertaking parlor operated by Edward L. Flaherty (1855-1930) and J. Victor Kohler (1880-1933).
Flaherty came to Helena in 1889, after following the gold rush trail from Colorado to the Black Hills. He opened his undertaking parlor, hiring J. Victor Kohler away from Hermann & Company undertakers as his assistant. In 1901, Flaherty set off for the Alaska gold rush, leaving Kohler in charge of the mortuary. In 1912, they formed a formal partnership. It was about that time that Kohler established an art/book/stationery store in connection with the undertaking establishment...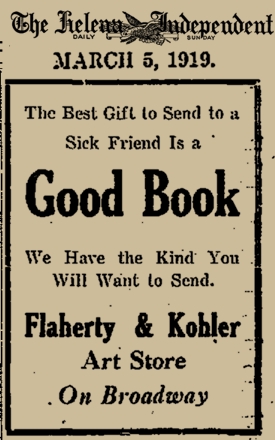 At least one of Charles M. Russell's canvases was framed in Helena by Kohler.
In 1928, Flaherty sold out to Kohler. The firm soon moved from the Broadway location to 4 North Jackson St.
Flaherty died in his Helena home (716 Power) on Nov. 14 1930. Kohler died in Helena at the old St. John's Hospital on May 9 1933.
Next door to Flaherty's is the Montana Record Herald newspaper, which merged with the Helena Independent in 1944 to create the Independent Record.
In the lower left-hand corner of the Broadway photo above is the somewhat homemade-looking sign of a McNess Store, with Joe Rothschiller General Agent. The McNess Company is still in business.
Many thanks to Helena historian Sean Logan for sharing this photo!