Eddy Cafe/Cabin Cafe/Bryant's Restaurant
46°35'15.88"N 112° 2'20.02"W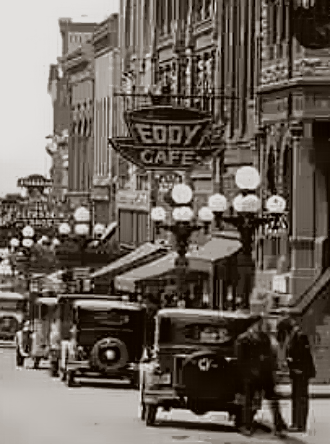 Eddy Cafe at 105 N. Main, 1930's. Eddy Gallivan operated this enterprise from 1910 until the late 1930s. From 1946-1960, the location was the Cabin Cafe. It then became Bryant's Cafe from 1960 to about 1965...
Cabin Cafe, 1957




PHOTO AND MATCHES FROM THE COLLECTION OF KENNON BAIRD
Cabin Cafe, 1957. Although the Cabin advertised chicken dinners on their matchbooks, what your editor remembers most are their breaded veal cutlets, with cream gravy, of course! They had a pretty cool jukebox, too.
Bryant's Restaurant, 1960s