Chinese Masonic Temple
306 ½ West Main St.
Pictured standing in front of the Helena Chinese Masonic Temple in 1899 are three noted members of John Philip Sousa's touring band. The month is probably March.

The Library of Congress identifies the men as: Adrian Whittaker (1852-1926, Herbert Clarke (1867-1945), and Simone Mantia (1873-1951).

The building at 306-1/2 West Main was constructed before 1884, and was taken down before 1930, probably around 1920. The structure is noted on the 1884, 1890, and 1892 Sanborn Fire Insurance maps as being a laundry -- one of many in Helena's Chinatown. The first mention found of the Chinese Masonic Temple being located in the building is in the 1897 Helena City Directory. The address is variously noted as being 308 or 310 West Main.


Location of the Temple, circa 1890 View
The Building Was a Laundry at the Time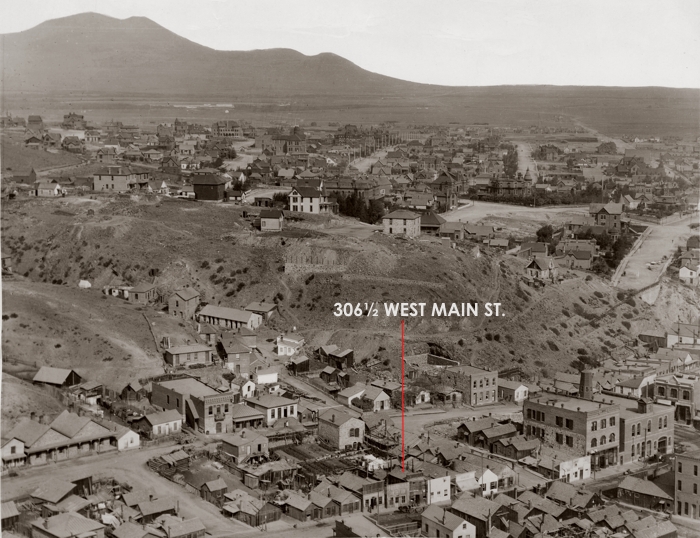 Site of the Chinese Masonic Temple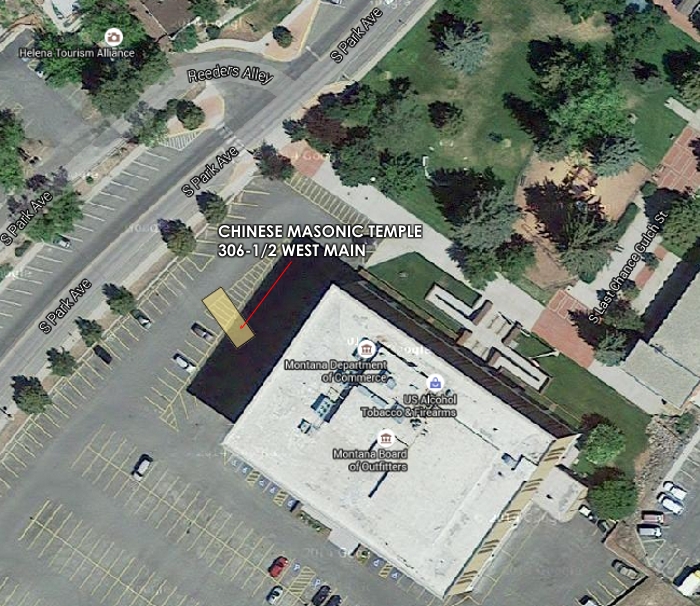 Circa 1890 View of the Laundry Building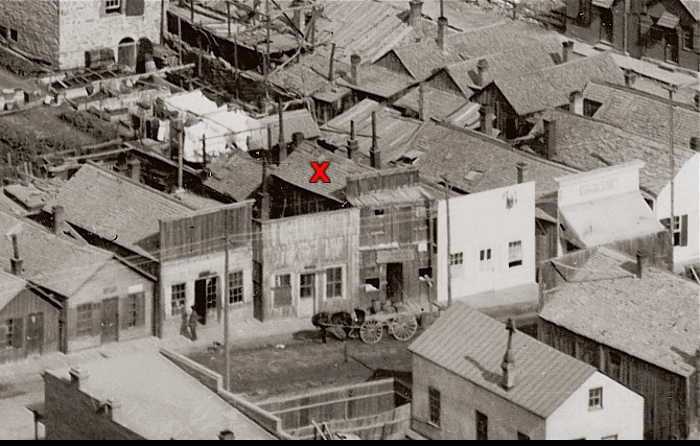 Circa 1914 View, After Conversion to the Temple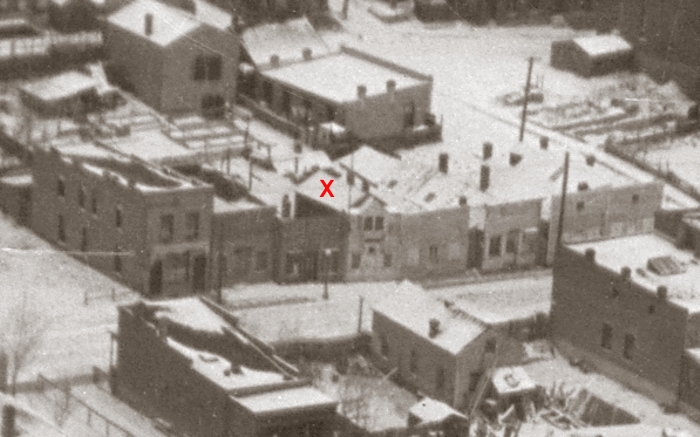 Wooden 1898 Temple Entrance Sign
"We Rely Heavily On Your Generous Favor"
MONTANA HISTORICAL SOCIETY COLLECTION • X1980.16.03 • PHOTO BY PATTY DEAN
Altar from the Helena Chinese Masonic Temple



MONTANA HISTORICAL SOCIETY EXHIBIT, 2016 • PHOTO BY KENNON BAIRD

For more about the history and conservation of this altar, click on the image above to open an online article by interpretive historian Ellen Baumler.
A Chinese Masonic Funeral, 1890
This funeral predated by seven years the first published mention found of the Masonic Temple being located at 306-1/2 West Main, so there must have been a previous Temple location.

The Temple Remembered, 1940
Temple Tapestry from the Collection of the Grand Lodge of Montana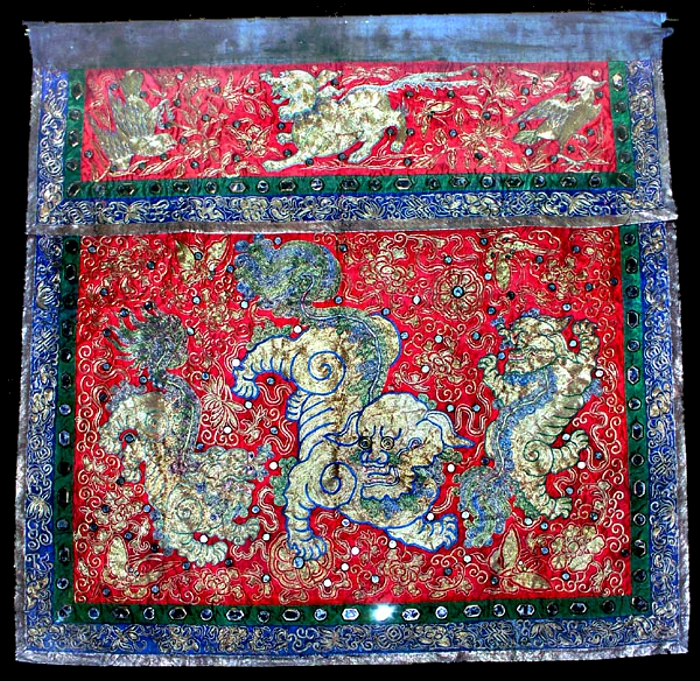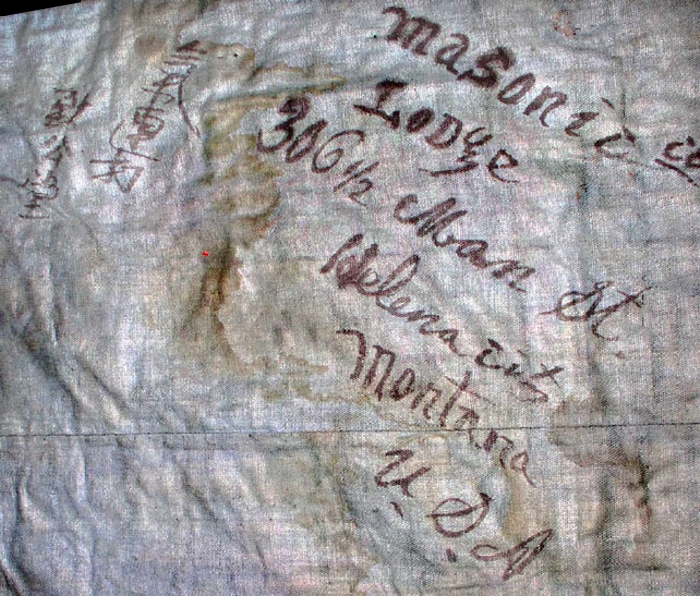 FROM THE CHINESE IN NORTHWEST AMERICA RESEARCH COMMITTEE WEBSITE


Chinese Freemasonry Explained
December 2010 Issue of Montana Masonic News
Clicking on the image below will take you to the issue online. Scroll down to page 12.

NOTE: The altar at the Mai Wah in Butte is not from Helena, as stated in the article. That altar is a family altar honoring ancestors that was displayed at Nevada City and came from the Chinn family in Butte.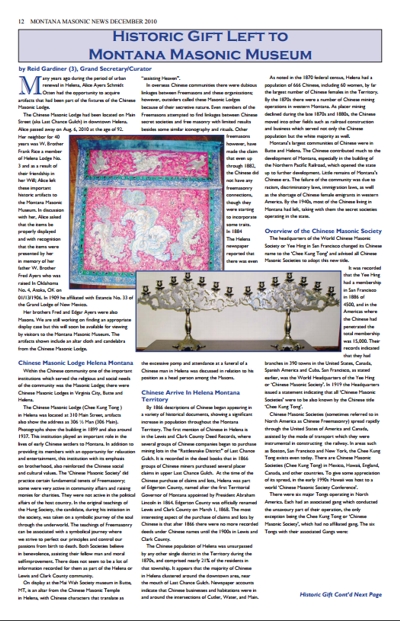 Thanks to Patty Dean, Ellen Baumler, and Sean Logan for their help in creating this feature!