Colonial Supper Club
46°35'23.15"N 111°59'57.80"W

1948 BUILDING IS MOVED IN 1972, MEETS FIERY END AS "MR. LUCKY'S" IN 1982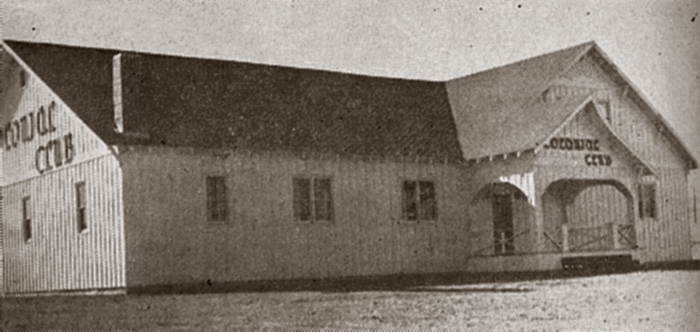 COLONIAL CLUB, 1948 - COLLECTION OF KENNON BAIRD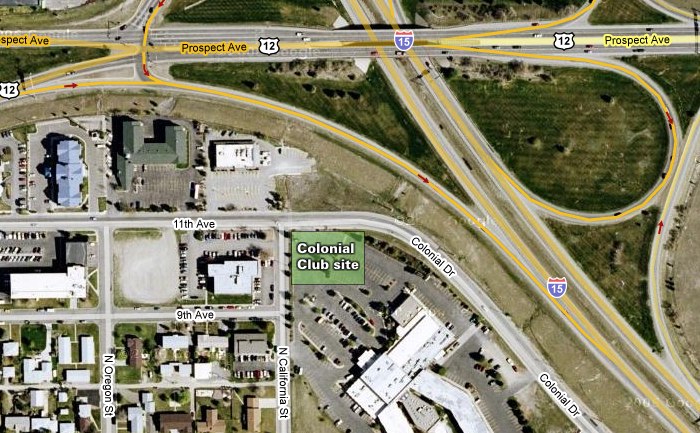 Located near the present-day intersection of 11th Ave. and N. California St., the Colonial Supper Club was Helena's most upscale restaurant and nightspot from 1948 to 1970.

The Colonial Club was built by Helena bar owners Milton (Mike) Israel and his wife Helen, who operated it from 1948 until 1967, when they retired and sold out to Montana Governor Tim Babcock and his wife Betty. Milton's dates are 1899-1970, Helen's 1909-1976.
Colonial Club Opening Day Newspaper Ad, October 15 1948

The Colonial Club interior was finished in knotty pine, which added to the warm atmosphere. There was a large stone fireplace. Live music was a staple at the Colonial, usually featuring an organ player such as Helena favorite Pee Wee Weber. It was THE place for special occasions.
Colonial Club, 1953
Front Entryway Enclosed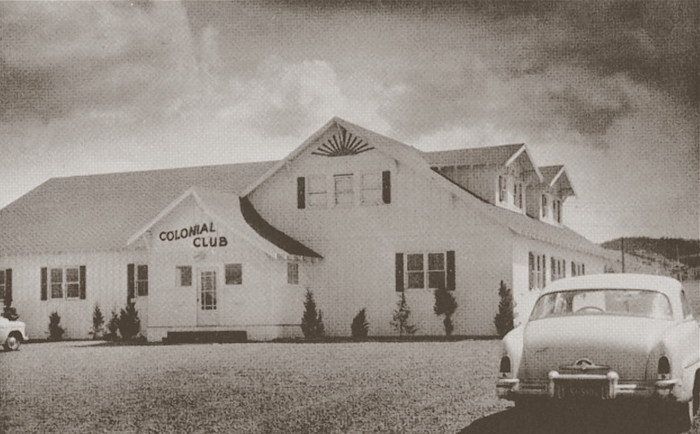 FROM THE 1953 CARROLL COLLEGE 'HILLTOPPER' YEARBOOK - COURTESY OF THE MONTANA MEMORY PROJECT

Colonial Club Menu, 1950s
Click on Menu to Open in a New Window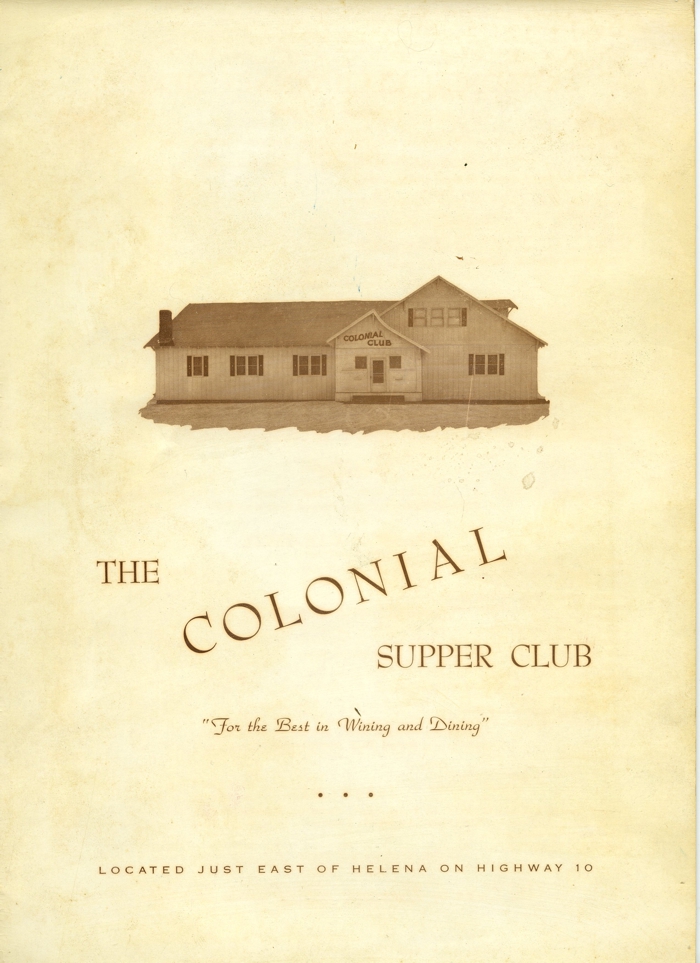 KENNON BAIRD COLLECTION
Colonial Club Matchbook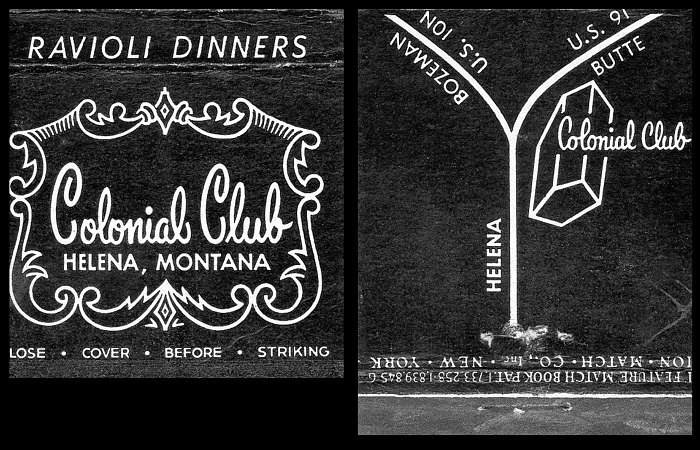 COURTESY OF KEITH NAY
Alfred Leopold "Pee Wee" Weber
1915-1989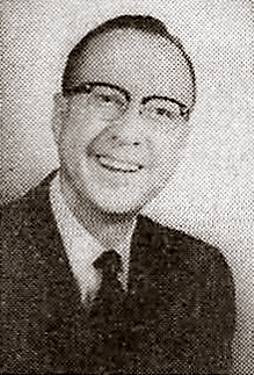 COURTESY OF THE DAVID POOR COLLECTION
"Pee Wee" Weber was Helena's best-known organist for several decades. A native of Ashley, North Dakota, Weber first came to Helena in the mid-1930s, playing at local nightspots. He and his wife Betty lived for many years at 2198 North Benton.
Vicki Pawlitschek kindly sent to this website a cassette tape entitled, "The Little Big Band Salutes 'Pee Wee' Weber". We think Pee Wee is on the organ. Listen to their rendition of "Spanish Eyes" by clicking here.
In 1961, Pee Wee was asked by the Independent Record to name the tunes most requested by Helenans. Our favorites then, according to Pee Wee, were: "Stardust", "Deep Purple", "Shine On Harvest Moon", "Heart of My Heart", "Some Enchanted Evening", "Oh, What a Beautiful Morning", "Begin the Beguine", "Always", "Calcutta", and "Won't You Come Home, Bill Bailey".
1960 Postcard (detail)
Illustration by J. Hillman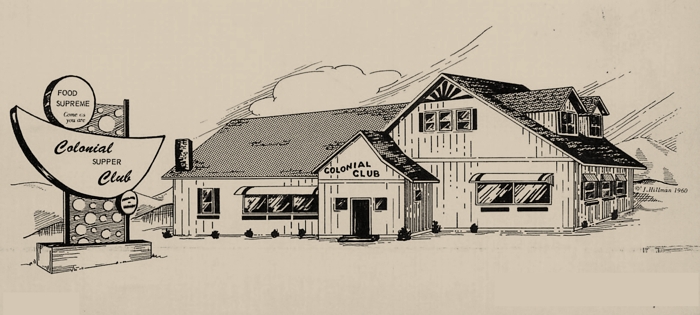 COURTESY OF THE DAVID POOR COLLECTION • CLICK ON IMAGE FOR A BIG VIEW IN A NEW WINDOW


1961 Telephone Directory Display Ad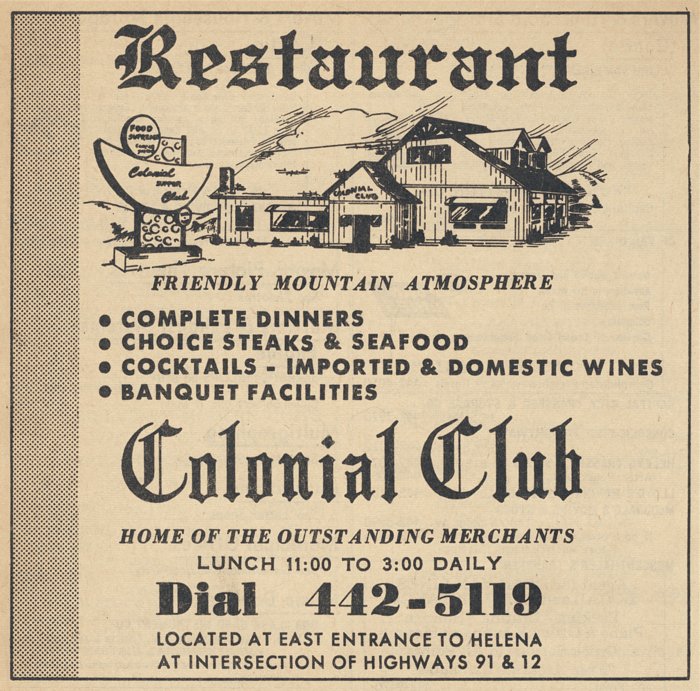 This 1961 rendering of the Colonial Club shows that two large picture widows had been added, and the entryway enclosed.
New Ownership

According to Bill Coddington, then-Governor Tim Babcock was a silent partner in this deal. Babcock evntually found funding to buy out his partners, and construction began on his nearby Colonial Inn in 1970.
Richard Nixon Visit, 1968
On April 22, 1968, former Vice Prsident and current Presidential candidate Richard Nixon visited Helena in support of Tim Babcock's gubernatorial campaign.Nixon's visit was brief, but he managed a stop at the Colonial on his way back to the airport...
Colonial Club Closing, Independent Record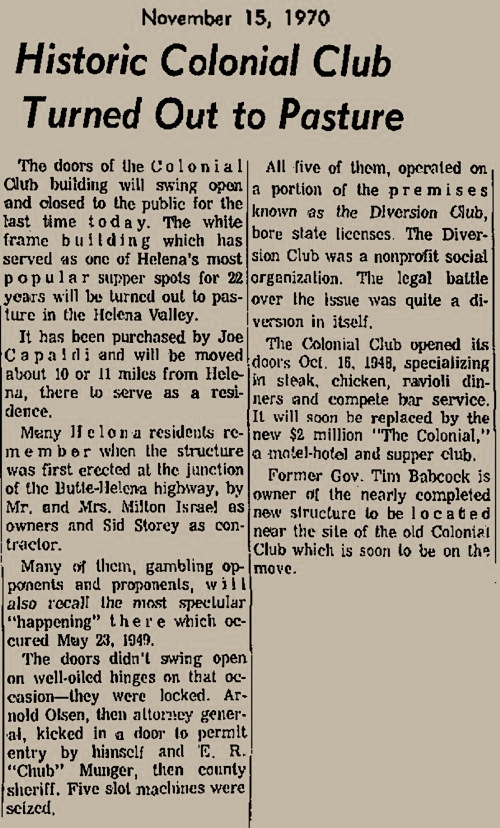 The 1949 slot machine raid at the Colonial was part of a statewide crackdown on gambling in the 1940s. Attorney General Arnold Olsen was seeking to make a name for himself in order to run for higher elective office. He succeeded in that, and was a Montana U. S. Representative from 1961-1971.
The Colonial Club Building is Moved, 1971
The building didn't end up as Mr. Capaldi's private residence in the valley. Instead, it was moved about one mile NE, to a lot on Airport Avenue across from the old Helena Municipal Airport terminal. In 1972 it opened there as the nightspot "Mr. Lucky's". The building was destroyed by fire in 1982.
Thanks to Charlie Beaton for his excellent 1971 view of the rear of the Colonial Club, and the then-new Colonial Inn. Thanks also to Craig Kirwin for his photo of the building being moved, and for the great story that goes along with it...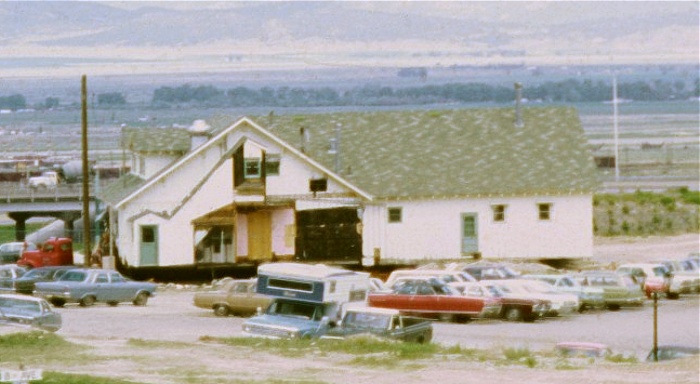 COURTESY OF CHARLIE BEATON



Colonial Club Building on California Street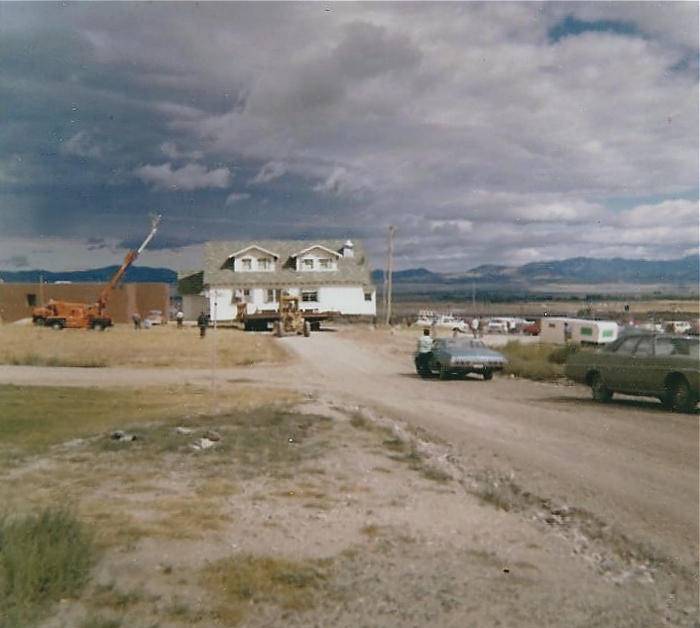 COURTESY OF CRAIG KIRWIN
Writes Craig Kirwin about this photo:
"I was looking through some old photo albums and I came across this picture that my Mom took when they moved the old Colonial Supper Club.The view you see is looking North on California Street, near the corner of 8th Avenue (street coming in from the left). Yes, the streets were both dirt back then.
My Mom has an interesting back story about when they moved the building. Apparently, the Colonial Hotel wouldn't allow our neighborhood (California Street) to hook up to their new sewer lines. When they started moving the old Colonial building, they unknowingly built the temporary road across our neighbors (Mr. Al Royston) land. Mr. Royston didn't say anything about the issue until the day of the move. When the old building aproached his land, he pulled his tractor out and blocked the path and wouldn't let them go any further unless we were allowed to hook up to their new sewer line. Apparently, the Colonial owners agreed, since they were caught between a rock and a hard place, and we were able to hook up. That made my Mom very happy."
Ad for Mr. Lucky's, 1972
46°36'7.09"N 111°59'43.77"W


The luck ran out in 1982 when Mr. Lucky's was destroyed by fire.