Columbian Exposition Fountain
1893 - ?

CLICK ON IMAGE TO ENLARGE IN A NEW WINDOW
1893 Columbian Fountain in Women's Park, ca. 1920. Photograph attributed to Thomas Lesie Lyle. Montana Historical Society Legacy Photograph Collection, 953-670. Used by permission.


Detail


The fountain was commissioned in 1892 by the ladies of the Lewis & Clarke Columbian Association as an exhibit for the Woman's Building at the 1893 World's Columbian Exposition in Chicago.

The fanciful shell and clematis flowers of the fountain were silver, crafted by Gorham. The column and base were of Montana stone. The cost of the fountain exceeded $40,000 in today's money, which was raised through charity balls and other activities.

After the fountain was returned to Helena from the exposition, it was briefly put into storage at the Arsenal on N. Warren St. In 1894, it was put on display in the Lewis & Clarke County Courthouse.

The courthouse interior was updated in early 1914, and the fountain was placed in storage at the courthouse at that time.

In 1915, it was decided to place the fountain in Women's Park. It was assembled and plumbed there in 1916, with that year being carved into the base.

Photos appear to show the fountain in the park until at least 1935, although those photos I've seen were taken from a distance, so it's difficult to ascertain the condition of the fountain during that time. I keep hoping for better, later photos of it.

I have been unable to find any newspaper or City Council minutes mentions of the fountain being removed, so I don't know when that happened or why. Photographs show that the huge concrete urn that now occupies the spot was there in the 1940s.

The carved limestone base of the fountain was found in 2001 at a property on Lincoln Road West, and was donated to the Montana Historical Society.

Where's the rest of it?
Designs Solicited
Fundraising Events
The Bottom Line
Back in Helena

Moved to Women's Park, 1916
Seen in the Park, ca. 1928
Unidentified Man Squatting in the Fountain
1934 Helena High School "Vigilante" Yearbook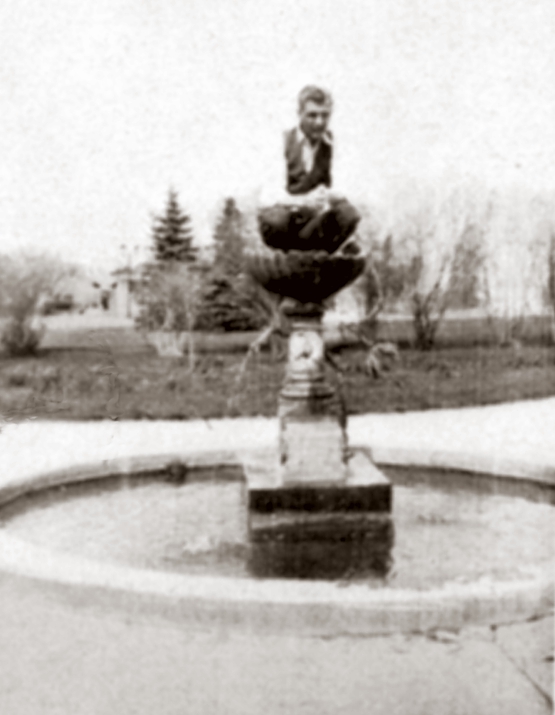 The fountain had suffered significant damage by the time this photo was taken in 1934. Gone are the fanciful metal branches and leaves that adorned the top of the bowl, and it appears that similar branches were gone from around the fountain's column.
The Fountain Base in the
Montana Historical Society Collection

MHS 953-670

MHS 953-670