Eddy's/Gamer's/Vroman's/Murray's
812 North Main St.
The Building Hosted a Variety of Other Businesses in Later Years
46°35'37.98"N 112° 2'8.23"W
This 812 N. Main location was operated by several different restaurant concerns over the decades. It was also a sporting goods store and more. The building was demolished in 2011.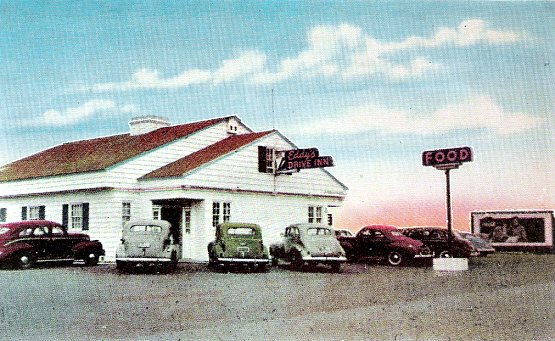 COLLECTION OF NANCY GOODSPEED
Eddy's Drive-Inn, 812 North Main, 1940's. Helena restaurateur Eddy Gallivan (Eddy's Cafe,105 North Main) opened his Drive-Inn on June 15, 1940...
The Footprint of the Building in 1958
After Several Additions to the Original Structure


Reopens as Gamer's Drive-Inn, 1946
Eddy's endured until early 1946. On May 13 of that year, The location reopened as Gamer's Drive-Inn...

THE DAVID HULL COLLECTION • CLICK ON THE IMAGE TO OPEN A BIG VIEW IN A NEW WINDOW


Reopens as Vroman's Drive-Inn, 1952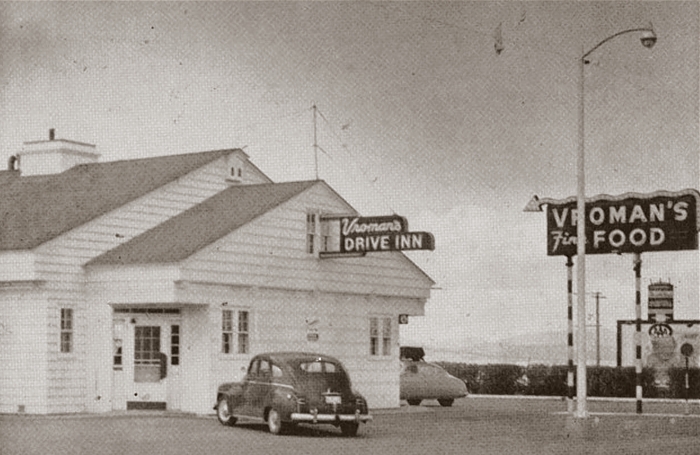 FROM THE 1953 CARROLL COLLEGE 'HILLTOPPER' YEARBOOK - COURTESY OF THE MONTANA MEMORY PROJECT

Evidently Helenans didn't take to that fancy Butte cuisine, because Gamer's only lasted until 1952, when the location became Vroman's.

Rellis A. Vroman (born 1922) was killed in an automobile accident on March 4, 1959, about two miles north of Waukesha, Wisconsin.


Reopens as Murray's Cafe, 1953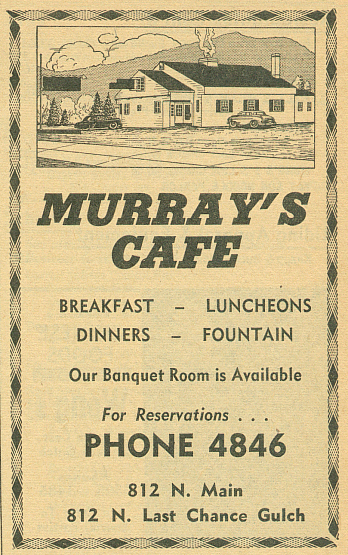 Yellow pages ad for Murray's Cafe from the winter 1953-54 Mountain States Telephone & Telegraph Helena directory. Note that both Main and Last Chance Gulch are used in the address, reflecting the passing of a City ordinance in 1953 renaming Main St. "Last Chance Gulch".
Sporting Goods Store
Cliff Stump and M. L. Brown Co.


In 1957, the building (pictured above in 1966) was remodeled by Cliff Stump Sporting Goods, which moved from 7 West Lawrence, in the Phoenix Block, when the Phoenix was slated for demolition to make way for the new Union Bank building. The founder of the business, George Clifton Stump, died on March 29, 1956...

The business was sold to the M. L. Brown Company in early 1960.
Burglar Shot Dead, 1973
Benjamin H. Sautter Buys Out M. L. Brown, 1974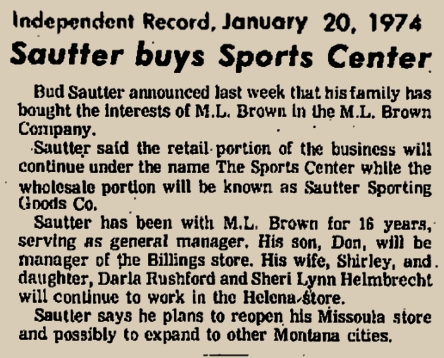 Later Years and 2006 Demolition
2006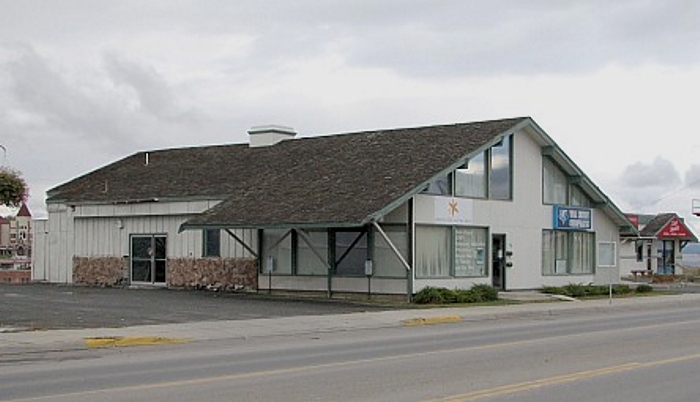 COLLECTION OF NANCY GOODSPEED
In late 1974, the Sautters opened the Peppermill, a popular dining/drinking/dancing establishment; it operated until about 1978. It then became Club 80, also operated by the Sautters.

The Sautters then began leasing the building.
April Fife Writes:

A bit of history. Bud Sautter was my grandpa. ML Brown was the original owner. For the first 10 years or so that ML Brown was open in Helena Bud was only the manager. Later on he and Brown became partners. Brown actually committed securities fraud and sold phony stock certificates in the early 70's to finance a real estate deal in Washington for himself. That is the reason that the store closed.

To pay off the people and vendors that were defrauded. There were also stores in Missoula, Billings and one other town that I can't think of. The building was still owned by Sautters. They did open the Peppermill and I spent a good portion of my early childhoodthere. It then became Club 80, which was also my grandparents.

After that they did start leasning it out. It wa The Waterbed workshop, at one time it was also a Mexican restaurant [El Gringo; also a disco called the Eminent Domain]. There were other businesses in the addition as well. The chrysler dealership leased from them as well. I believe they finally sold the building in late 80's.
Demolition in Progress, May 2011
Looking North from W. 14th Street

COURTESY OF WALLY PEEL