Eybel's Cafe
1922 Building still stands at 333 North Main
46°35'22.77"N 112° 2'15.79"W

Eybel's Cafe, 333 N. Main, 1928
A native of Germany, Charles George Eybel (1870-1963) first opened The Eybel Cafe on Railroad Avenue, near the Union Depot, sometime before 1919. In 1922, Eybel contracted with Frank Jacoby & Son to construct this building at 333 N. Main.


In 1938, Eybel converted the cafe into a cafeteria, at which time the attractive divided-light front windows were replaced with an aluminum and black glass facade. The interior was redecorated in shades of blue, yellow and black. Up-to-date steam tables were installed and a neon sign was added to the front of the building.

Eybel also opened the Eybel Hotel at 410 Fuller Ave. in 1928. It was later named the Nash Hotel, and was demolished around 1970.
Eybel's Cafe Opens, 1922
Buffalo Cow on Display, Dec. 14, 1925
Les Jorud photo courtesy of the Montana Memory Project
MHS Lot 037 CB B12 F06.2

CLICK ON IMAGE TO ENLARGE IN A NEW WINDOW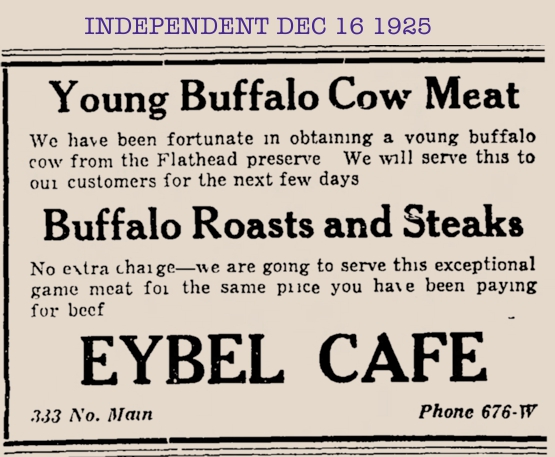 Eybel's Cafe, 1932

COURTESY OF SEAN LOGAN • CLICK ON IMAGE TO OPEN A BIG VERSION IN A NEW WINDOW


Eybel's Cafe, May 1937

COLLECTION OF TED KIRKMEYER, COURTESY OF TOM MULVANEY



Converted to Cafeteria, 1938


The building has subsequently housed a number of businesses, including the Vigilante Bar, the Main Tavern, Matt's Club, and Sherman Music,

EYBEL'S SIGNATURE