Family Theatre (Vaudeville House) & Reeves Music House

FROM THE 1961 LAST CHANCE STAMPEDE PROGRAM • COURTESY OF KITTY ANN QUIGLEY TAALER
The Family Theatre was opened by John J. "Jack" Clark (1864-1938) in about 1907, and was Helena's leading vaudeville house before the opening of the Marlow Theatre in 1918.

The entrance to the Family Theatre was located at 21 S. Main St. The second story of the building, which still stands, was once home to Ida's Rooms-- later Dorothy's Rooms -- famous bordellos. The Windbag Saloon now occupies the adjacent Reeves Music House space. Although the Theatre entrance was on Main, the theatre itself was the first floor of the repurposed St. Louis Hotel, which backed up to Jackson Street. See map below.
In the above circa 1916 photo, the poster in front of the theater touts the Frank Rich Musical Comedy Company, members of which are likely in these placarded automobiles, preparing for a publicity ride through town.

Family Theatre Entrance on Main St., circa 1911

COLLECTION OF KENNON BAIRD
Site of the Family Theatre
The St. Louis Hotel, seen from the South
Family Theatre Program ~ Week Commencing Feb. 28, 1909
Click on image to open the full four-page program in a new window

COLLECTION OF KENNON BAIRD
After the Marlow Theatre Opened...
Shortly after this closing, Helena dentist Dr. Edward V. Cabbage (he later changed his last name to Bethel) opened a movie theater in the ground floor space, and had a dental office and apartment above. In 1925, his office and apartment were severely vandalized during his absence by a gang of boys.
Reeves Music House
A. I. "Daddy" Reeves
1864-1951
A. I. "Daddy" Reeves operated his music business in the above pictured location, next to the entrance of the Family Theatre, and at least two other Helena locations over the decades. Reeves was a beloved personality in Helena, and appears to have been the driving force behind musical entertainment and instruction in the community. Reeves was also an impresario of sorts, bringing to Helena various touring musical acts and companies, including John Philip Sousa's Band.
Reeves was deeply involved in charitable and fraternal efforts as well, serving as the city's favorite Santa Claus for 50 years. He also sponsored an annual "picnic" for the city's scruffy newsboys ("newsies"), which involved an outing to Alhambra Hot Springs or similar activity, a movie in town and other treats.

Reeves Music House Sign, 10 South Main, circa 1911


Interior Views of Reeves Music House, circa 1911

COLLECTION OF KENNON BAIRD


Post- World War I Newspaper Ad

Newsboys' 25th Annual Picnic, Gates of the Mountains, 1928
"Daddy" Reeves Standing at Far Left

COURTESY OF THE DAVID POOR COLLECTION • CLICK ON IMAGE TO OPEN A BIG VERSION IN A NEW WINDOW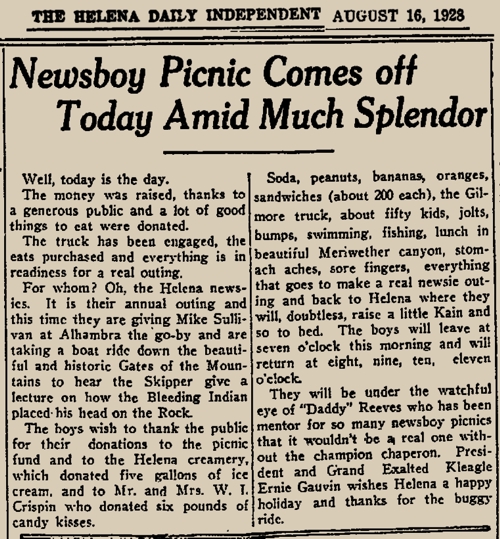 A. I. "Daddy" Reeves Obituary

COURTESY OF CATHEE CRAPO



"Dear Old Montana"
by Genee and Mimi Milligan, 1931 • Inscribed to "Daddy" Reeves



COLLECTION OF KENNON BAIRD