Gertie's Drive-Inn
46°35'50.95"N 112° 1'57.12"W
Gertie's Began as a Richardson Root Beer Franchise in 1949
First Opened as Martello's


On May 18 1949, Jean and John Martello opened the Richardson Root Beer franchise "Martello's Drive-Inn" at 1000 N. Main. They sold out in 1952 to Gertrude A. Dorner Richeson (1914-2004), and her husband Bob. Gertie's Drive-In became a mainstay in Helena for decades, and Gertie became known as "The Hamburger Queen". Richeson sold the business, and the "Gertie's" name, in 1961.
The original Drive-in looked very much like the illustration in the ad above. The existing brick structure (now Flathead Travel Services) was opened by new Gertie's Owner, Ralph A. Hahn, on May 23, 1962.

Martello's 1949-1951
Opened as Gertie's, 1952
Gertie's Sign on North Main, Early 1950s
Said "Gertie" in a 2001 Independent Record newspaper feature: "My mother cooked a 33-pound turkey every day and a roast and a great big ham, and I would cook a big kettle of chili and all of it would be gone by the end of the day. We made everything ourselves and we dipped our own ice cream — no packaged stuff at our place, not us, course there wasn't any back then really."


An illustration of what the original Gertie's sign looked like.


Gertie's seasonal closing ad, 1952.
Gertie Sells to Ralph A. Hahn, 1961
Gertie sold out to Ralph A. Hahn about 1961, but her name and reputation continued for the life of the drive-in.
Ralph A. Hahn, 1956

Matchbook from Gertie's Drive-in, 1960s, with the cryptic legend "Recommended by Ralph A. Hahn". Hahn (1923-1985) was the owner then; he also jointly owned the Sky-Hi Drive-in Theatre east of Helena. Hahn was a real estate broker who had interests in other enterprises in the Helena and Lincoln areas, including the Hofbrau on Euclid Ave.
Grand Opening of the New Gertie's, May 22 1962

CLICK ON IMAGE FOR A BIG VERSION IN A NEW WINDOW
Gertie's, circa 1992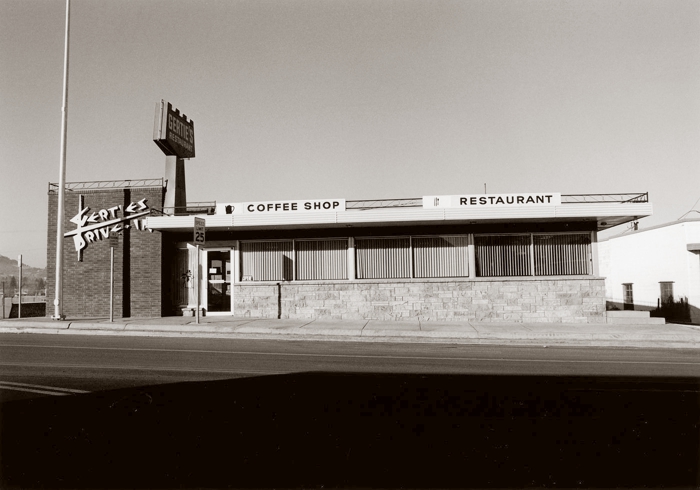 COURTESY OF J. M. COOPER • CLICK ON IMAGE FOR A BIG VERSION IN A NEW WINDOW
Gertie's Drive-In closed in the early 1990s, and is still remembered fondly by many Helenans. The "Gertie Burger" and Gertie's turkey sandwiches are especially missed.