The Hanging Tree
Also -- The So-Called "Hanging Tree" Located in Clancy, Montana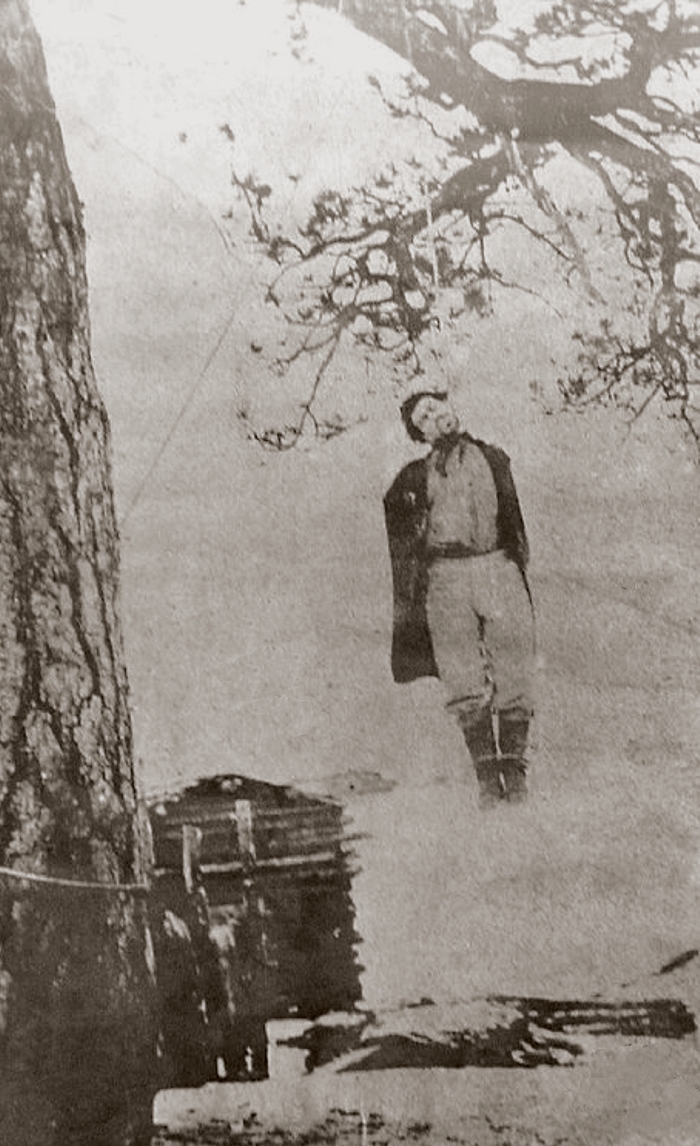 Yes, early-day Helena Vigilantes really did hang miscreants from a tree. From 1865 to 1870, at least ten men dropped to their deaths from the limbs of a gaunt dead Ponderosa pine tree, which was located near the northwest corner of present-day Blake and Highland Streets. Above is the murderer James Daniels, hanged in 1866.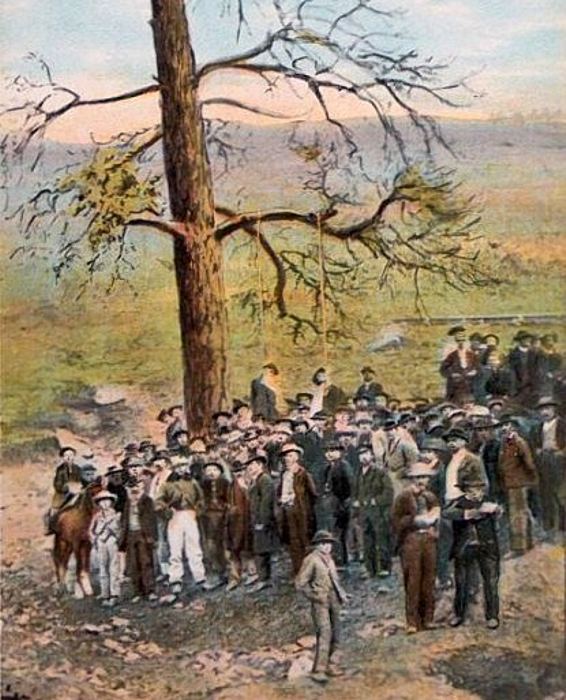 Pictured on this tinted postcard reproduction of an old photograph is the final "necktie party" at the tree, April 30, 1870. The guests of honor were Arthur L. Compton and Joseph Wilson, who had earlier that day been adjudged guilty (by a crowd of about 1500 citizens gathered at the courthouse) of the robbery and attempted murder of one George Leonard. Not all who swung got so formal a hearing.
Hangings would occasionally occur at night, the body being discovered by the general public in the morning. The corpse usually had a sign hung on it, stating the nature of the person's crime. After 1870, the Helena courts presumably took a more active role in prosecuting criminals.
Hanged from the tree were:

1865: John Keene (murder); Jake Seachriest (robbery); Tommy Cooke (picking pockets); Con Kirby (crime unknown); George Sanders (robbery).
1866: James Daniels (murder); John "Frenchy" Crouchet (robbery).
1870: Arthur L. Compton (robbery and attempted murder); Joseph Wilson (robbery and attempted murder); Ah Chow (murder).
Note: Conflicting hanging dates for several of these persons have been published over the years.
Site of the Hanging Tree
46°34'59.90"N 112° 2'2.24"W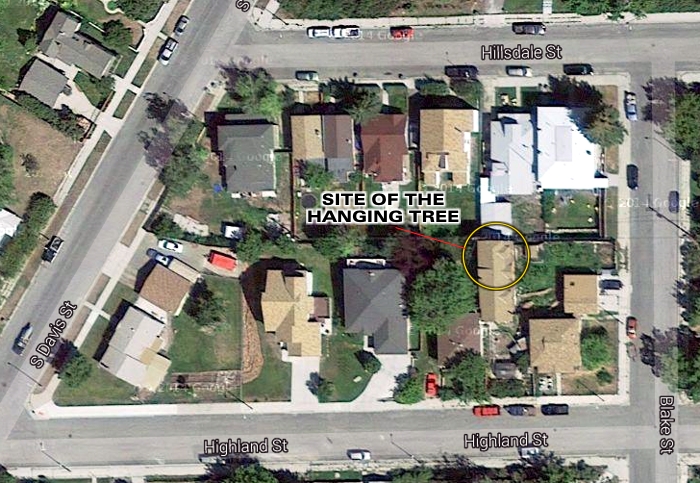 The Hanging Tree Pictured on an 1875 Perspective Map of Helena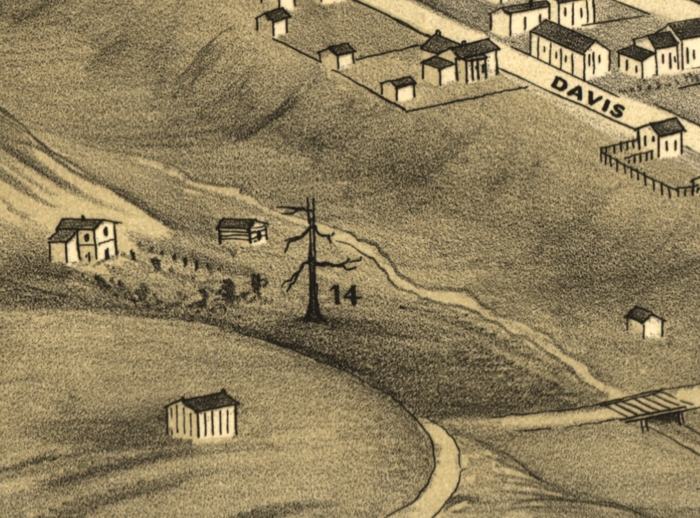 LIBRARY OF CONGRESS
Chopped Down by Methodist Minister in 1875
The tree was chopped down in 1875 by the man who then owned the lot, Methodist minister W. M. Shippen. He likely cut it down not because he objected to its past function, but because it was leaning and threatened to topple onto his barn. According to newspaper accounts, a crowd gathered at the site after word spread that the tree had been felled. Some who gathered expressed to Shippen their dislike for what he had done, explaining they had wanted the tree left standing to serve as an object lesson to potential lawbreakers. Shippen allowed people to take away pieces of the tree as souvenirs, which many did. Two of those souvenir splinters are in the collection of the Montana Historical Society in Helena, as seen below.
Over the years, several bodies and coffins have been accidentally unearthed near the site of the tree. One skull had a broken nose, which matched a description of John Keene, who was hanged for murder in 1865.

Please take this link to an excellent 2010 Independent Record article about the Hanging Tree, by Martin J. Kidson.

Thanks to Helena historian Charleen Spalding for her help in plotting the location of the tree on the satellite photo above.
Pieces of the Hanging Tree
from the Collection of the Montana Historical Society
X1885.01.01
Piece of gallows from Hangman's Tree Helena, Montana
1885, wood
Courtesy of the Montana Historical Society

CLICK ON IMAGE TO OPEN A BIG VERSION IN A NEW WINDOW
X1926.02.01
Piece of gallows from Hangman's Tree Helena, Montana
ca. 1885, wood
Courtesy of the Montana Historical Society
The So-Called "Hanging Tree" in Clancy, Montana
46°30'26.38"N 111°57'1.31"W

PHOTO BY CHARLEEEN SPALDING
Stories have circulated for decades about the "Hanging Tree", which is located next to Haab Lane in Clancy, Montana, just south of Helena.

The legend has been passed down that "dozens" of outlaws were hanged from the tree during the days of the Vigilantes. A nearby residential street is named Hanging Tree Gulch Road, and a Clancy Volunteer Fire Department station is named Hanging Tree Station.
The picturesque Ponderosa pine certainly looks the part, like a Hollywood version of an old west hanging tree, but there is no evidence that it was ever used to execute anyone.

The tree has been thoroughly researched by several historians, and no documentation of hangings has ever been found. In fact, according to Montana Historical Society interpretive historian Ellen Baumler, there have never been any recorded hangings in Jefferson County, except for legal ones at the county courthouse in Boulder.

The hangings that took place on the actual Hanging Tree in Helena were well-documented -- some even photographed -- even though they occurred 1865-1870, very early in Helena's history. Any Clancy hangings (let alone the "dozens" claimed) would have been similarly documented in official documents, newspapers, diaries, correspondence or elsewhere, but no records exist. The "Hanging Tree" legend simply isn't true.
In 2010, a claim was made on the popular Find-a-Grave website that the fenced-in area around the tree is actually a cemetery. This is also untrue.