Helena Business College
1883-1960

ILLUSTRATION FROM 'MONTANA AND ITS CAPITAL CITY' CA. 1890
KENNON BAIRD COLLECTIO
CLICK ON IMAGE TO ENLARGE IN A NEW WINDOW



1891 CITY DIRECTORY AD



HBC History, 1946
Click image to download PDF file
Mary E. Jackman
Owner of the Helena Business College 1903-1906
Miss Mary E. Jackman (1854-1912) in her office at Jackman Commercial and Helena Business College, in the Horsky Block, about 1903.
Helena Business College was founded in 1883 and operated until about 1960. It was established by E. O. Railsback and E. T. Engelhorn, and changed ownership several times. Miss Jackman purchased HBC in 1903, but ill health forced her to sell in 1906.
At that time, she returned to her native Indiana, where she underwent cancer surgery, succumbing to the disease in 1912.

1903-1904 Brochure
Click image to open PDF file

KENNON BAIRD COLLECTION
Interior Views, Horsky Block
Courtesy of the David Poor Collection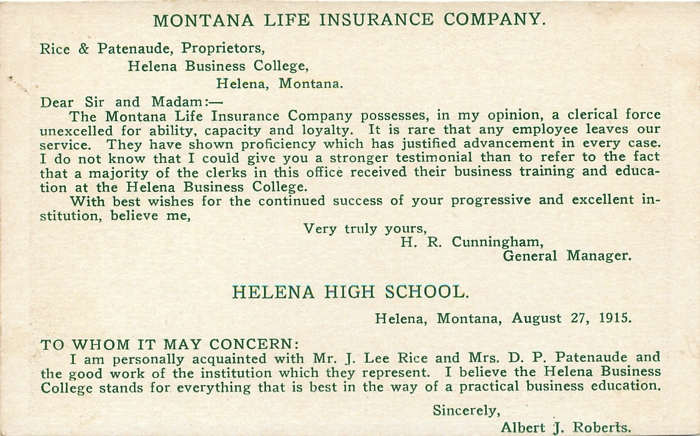 COURTESY OF THE DAVID POOR COLLECTION



COURTESY OF THE DAVID POOR COLLECTION

Helena Business College Fourth of July Float, 1907

CLICK ON IMAGE TO OPEN A BIG VERSION IN A NEW WINDOW



The R. A. Fraser Cup, Won by the HBC Basketball Team, 1909
31-9 Over the Catholic High School in City League Competition
The R. A. Fraser Co. Was a Clothing Business in Helena