Completed in 1893, the first Helena High School was located on the southwest corner of Lawrence and N. Warren. It was designed by Helena-based architect John C. Paulsen. The cornerstone was laid on October 25, 1890, but legal and political wrangling over cost overruns delayed total completion of the project until 1893.
The site for both the High School and adjacent Central School was the city's first cemetery. Most of the remains were moved to the Benton Avenue, Forestvale and Home of Peace cemeteries, but it is likely that remains are still buried on the grounds.
In 1935, the 1893 High School was replaced by a new building, on Rodney St. at Helena Avenue. The old school was used for various activities before it was demolished in 1976, after a legal battle between the School Board and local presrvationists.

In September of 1983, due to the completion of Cruse Avenue from Sixth Ave. to Helena Ave., the Domestic Science (Home Economics) building was moved about 1.25 miles north to the Bill Roberts Golf Course.


Footprint of the 1893 Helena High School


A Description of the New School
The Daily Independent, July 20, 1890
Click on Image to Open PDF File
Helena High School Under Construction, 1890
Seen from the South
COURTESY OF CHARLEEN SPALDING

Grave Discovered During Construction, 1890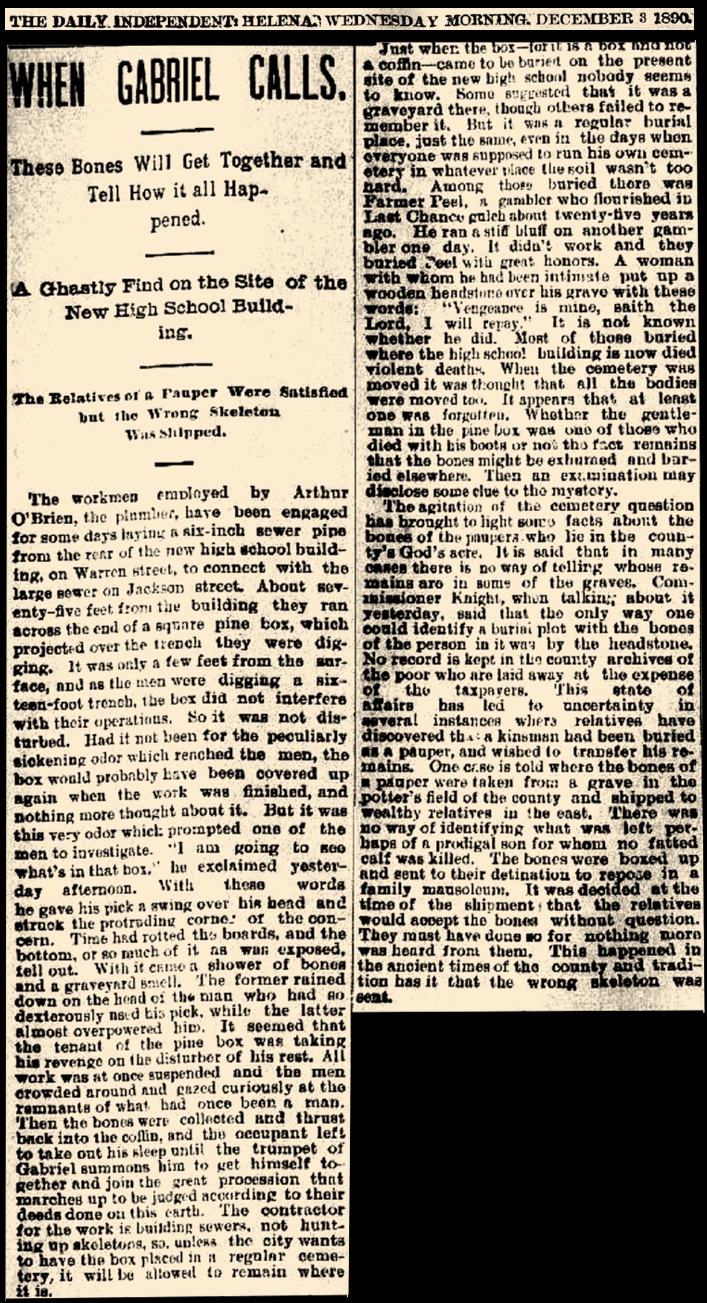 LIBRARY OF CONGRESS
An 1890s Lithograph



LITHOGRAPH BY WARD BROS., COLUMBUS OHIO - COLLECTION OF KENNON BAIRD



U. S. Weather Bureau Signal Flags Flown from Building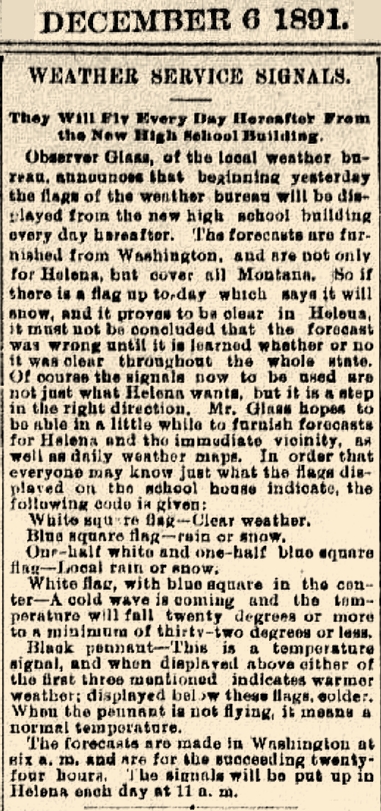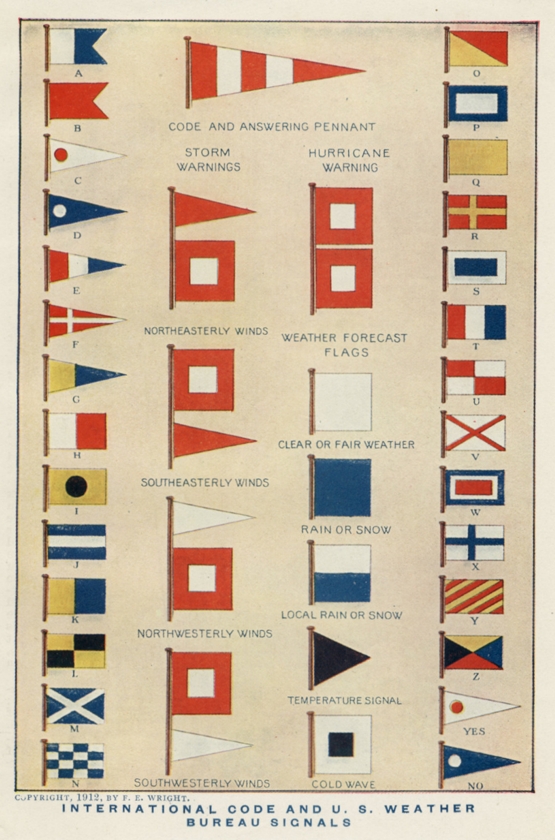 Helena High School, ca. 1900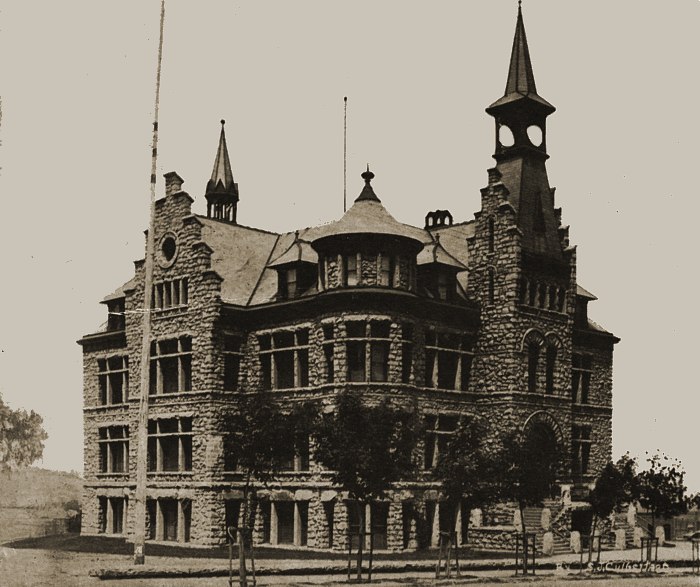 COLLECTION OF KENNON BAIRD
Interior of the old High School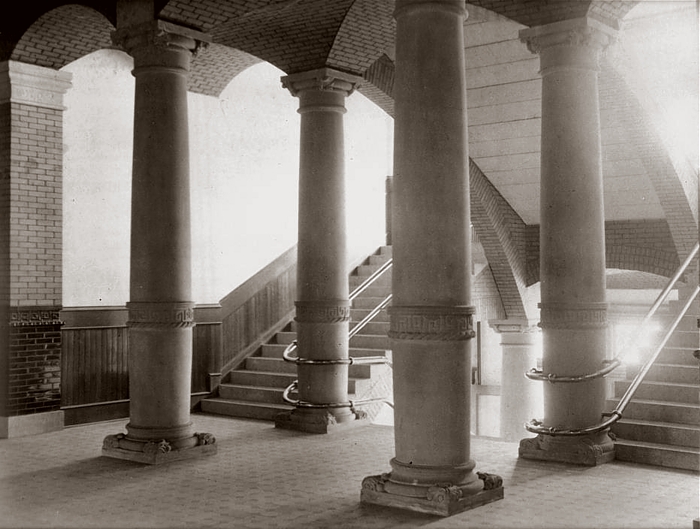 COURTESY OF AUB KIRKLAND • CLICK ON IMAGE FOR A BIG VIEW IN A NEW WINDOW
Helena High School Chemistry Laboratory, 1908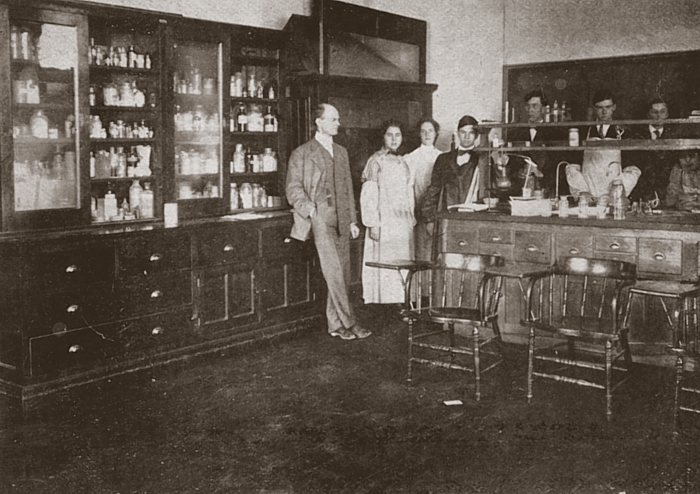 COLLECTION OF KENNON BAIRD • CLICK ON IMAGE FOR A BIG VIEW IN A NEW WINDOW
Former President Theodore Rooselvelt on the High School Steps, 1911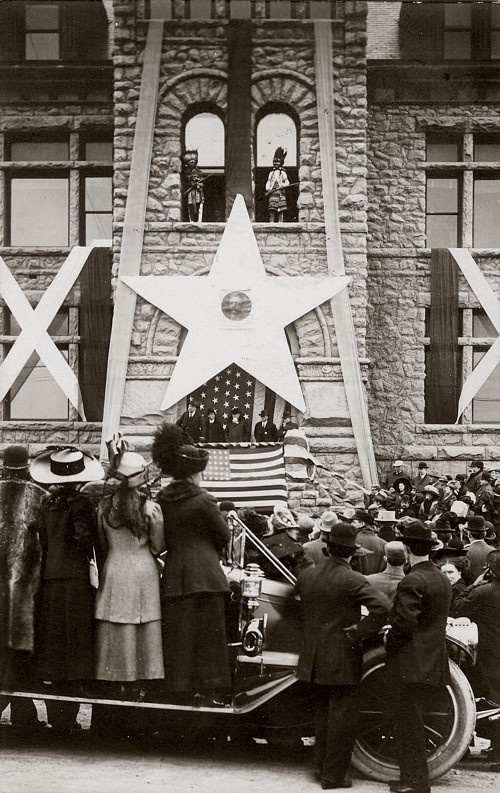 FROM "HELENA", A POSTCARD HISTORY, COURTESY OF AUTHOR TOM MULVANEY
CLICK IMAGE ABOVE FOR A BIG VIEW IN A NEW WINDOW
Former U. S. President Theodore Roosevelt spoke from the Warren St. steps of the High School on April 12, 1911. Colonel Roosvelt was in Helena for one day, on the final leg of a long western tour. According to newspaper reports, Roosevelt was quite busy during his visit. He was driven up and down Main St. during a brief snowstorm, visited the Montana Club, Fort Harrison, the Federal Building and the City Auditorium, where he met with a convention of Civil War veterans. He also dined at the home of his old friend, Montana rancher Conrad Kohrs. A planned drive across the Helena Valley to visit the Missouri River dams was cancelled. Roosevelt left Helena, via private rail car, around midnight.
Helena High School pennant, ca. 1915

Souvenir pin tray, about 1900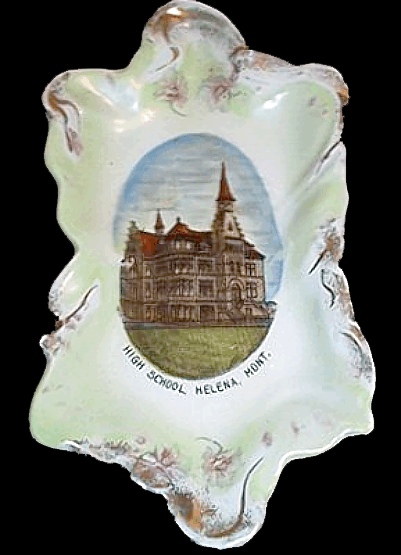 Probably manufactured in Germany.
Aerial View of Helena High School, 1934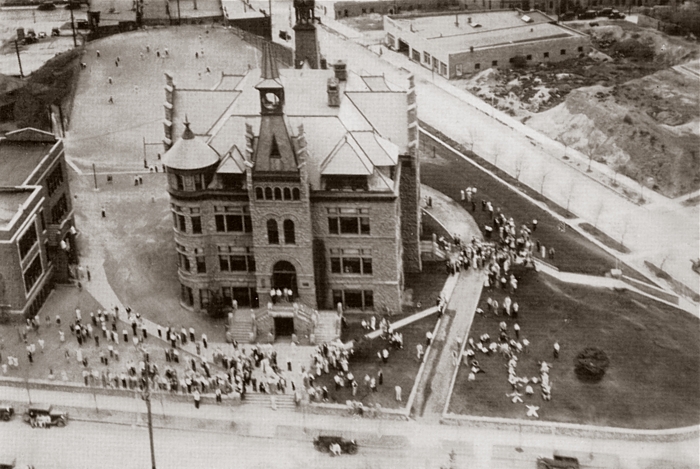 COURTESY OF WENDI KOTTAS PETERSON • CLICK ON IMAGE FOR A BIG VIEW IN A NEW WINDOW


Helena High School, 1934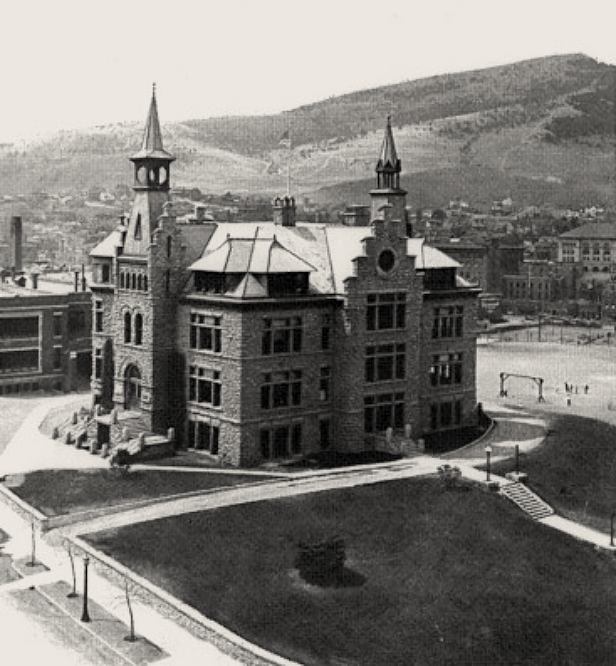 One year before the great earthquakes. Compare this to the 1973 image below, also showing the north side of the building, to see how much architectural detail was lost in the quakes.
Old Helena High School from Lawrence St., winter 1973-74

PHOTO BY WALLACE "SKIP" MILLEGAN (1951-1982) • COLLECTION OF KENNON BAIRD


Old Helena High School, 1976
Photos by Patty Dean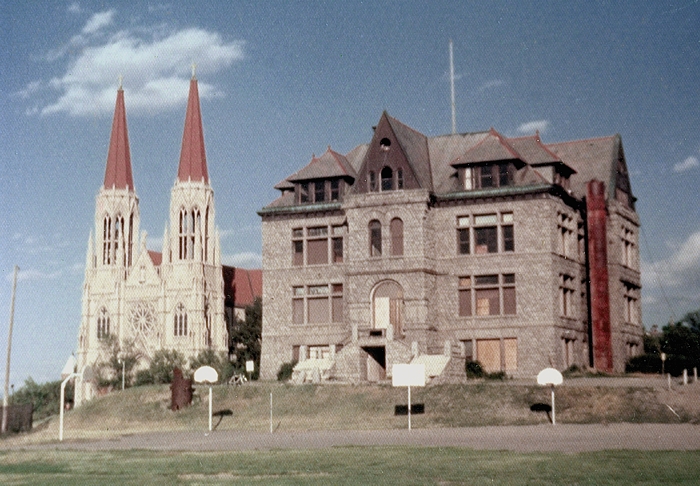 As seen from the west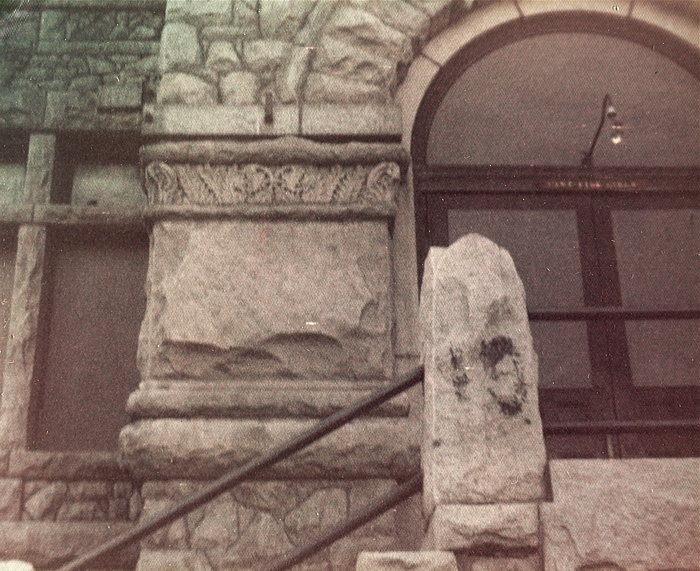 Where Theodore Roosevelt stood and spoke in 1911

Turret on the southeast corner

North side, facing Lawrence St.


Old Helena High School Demolition, 1976
Photos by Henry W. Jorgensen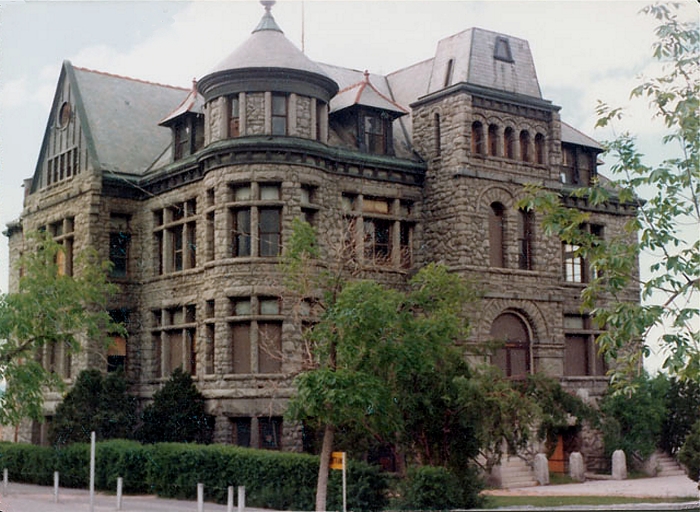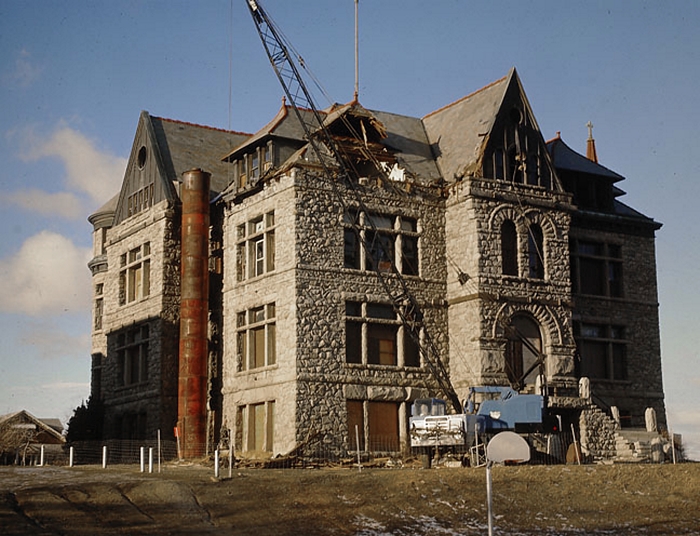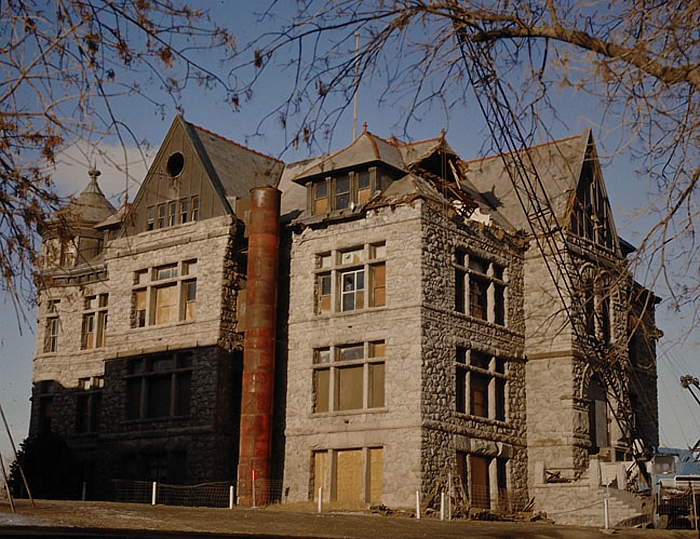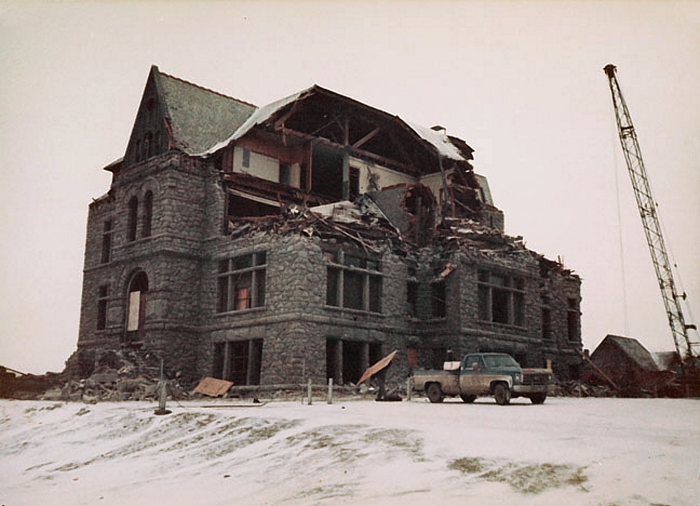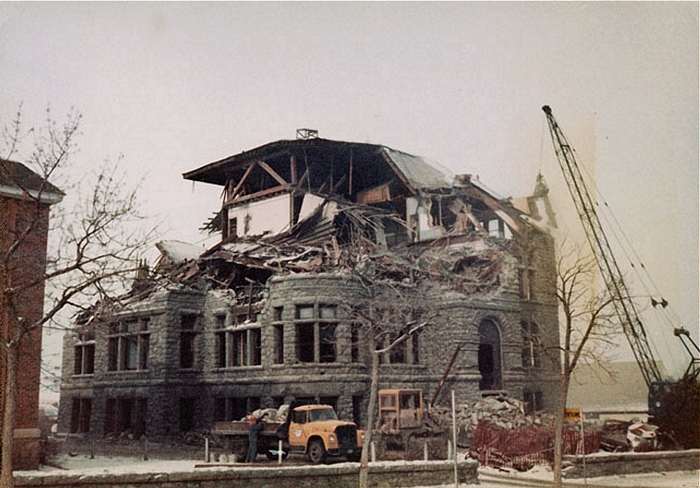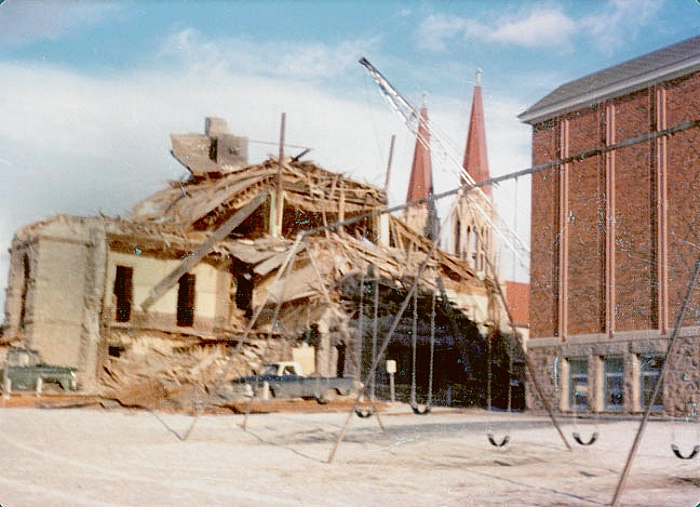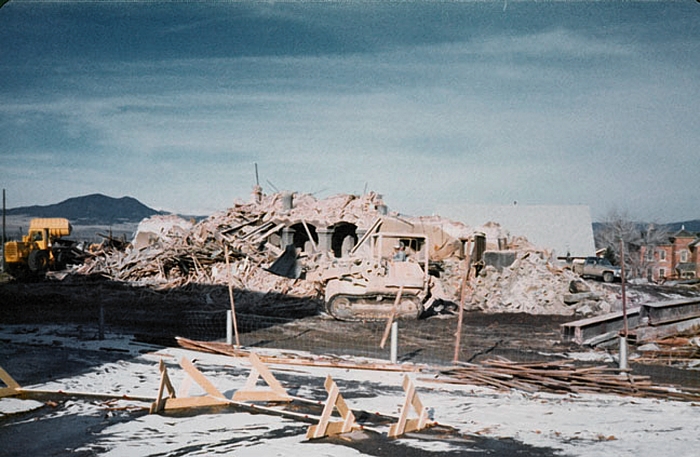 Preservationists Tell Why the Old Building Was Razed, 1976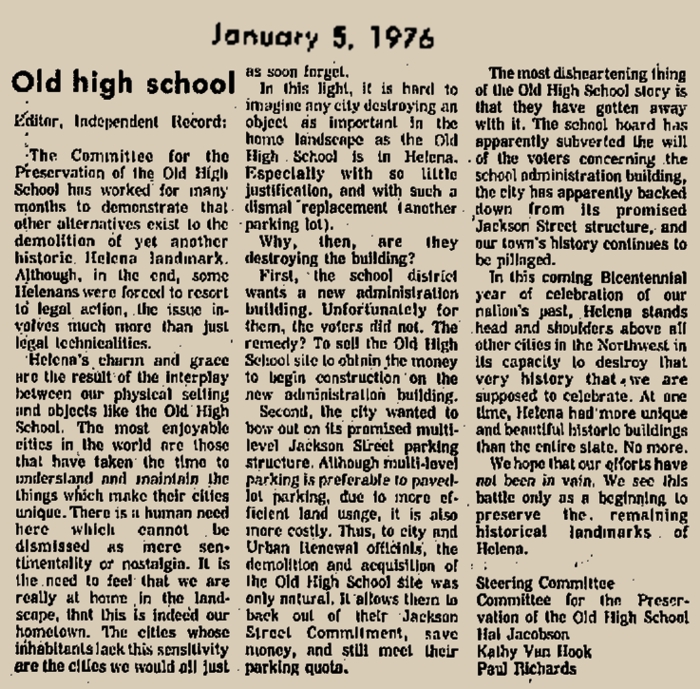 Grave Discovered When Moving School Administration Building, 1983
Building Pictured Circa 1917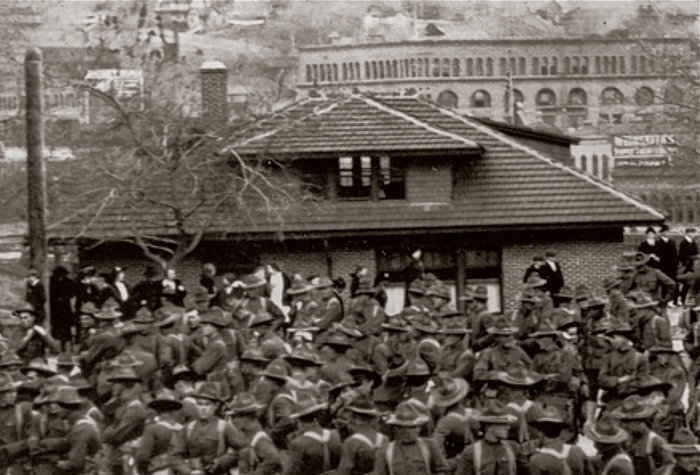 MONTANA MILITARY MUSEUM
Built as the "Domestic Science" (Home Economics) cottage for Helena High School, the brick building on Allen St. served as administrative offices for the Helena School District from 1935 until about 1983. The expansion of Cruse Avenue from Sixth Avenue to Helena Avenue in 1983 necessitated the moving of the building. During that process, a grave from the original city cemetery was disturbed by earth-moving equipment.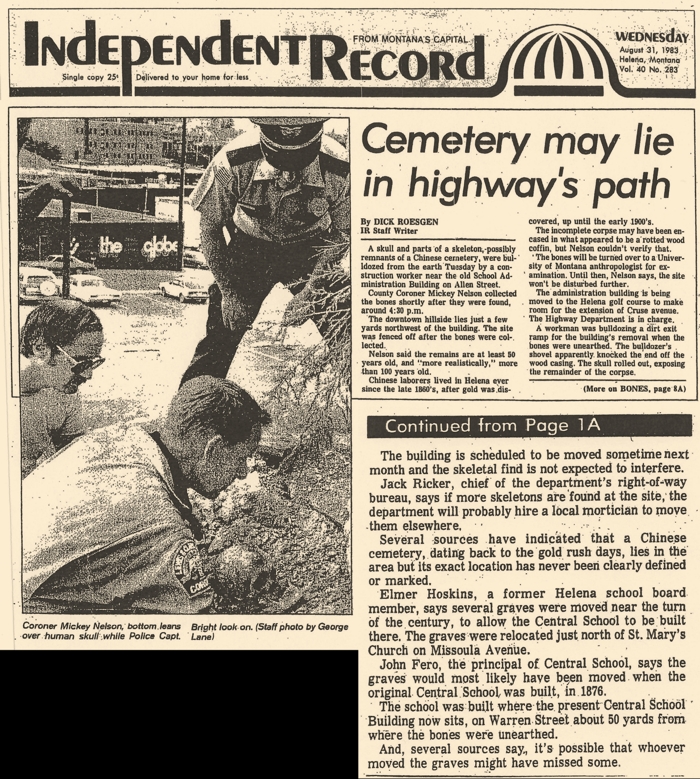 COURTESY OF CHARLEEN SPALDING • CLICK ON IMAGE TO OPEN A BIG VERSION IN A NEW WINDOW

Reminders and Remnants of the Old School

Cornerstone Moved to Current Helena High, 1976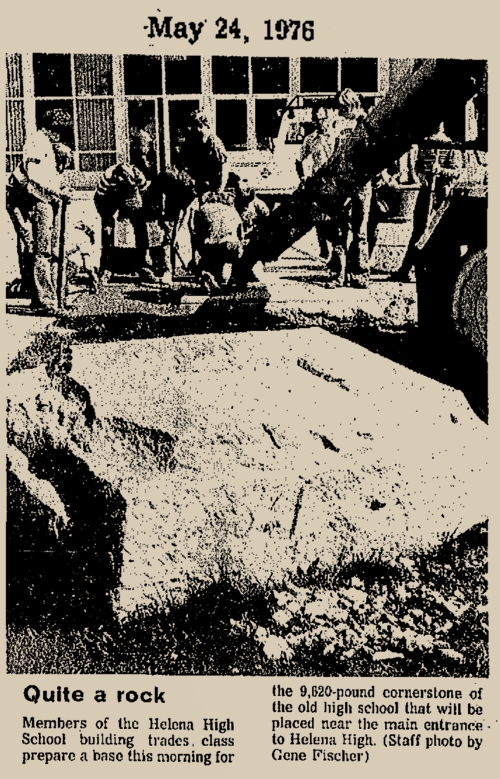 Some of the golden oak flooring from the building was salvaged and used as a back bar in "Ichabod's", a pub in the Arcade Building, on the downtown walking mall. The pub is long gone.
Embossed Sidewalk on Lawrence Street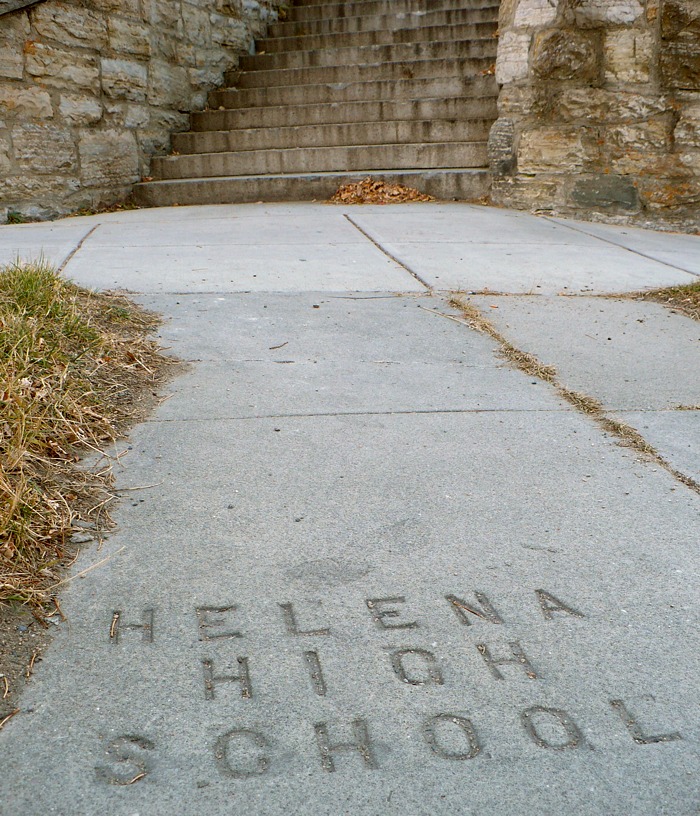 COURTESY OF TOM KILMER


Stone From the Old School Can Be Seen Around Helena
Three Photos by Ellen Baumler • November 2011
People were evidently allowed to haul away stone from the rubble of the demolished High School. As well as being of sentimental and historical value, much of it was put to practical use...

CLICK ON IMAGE FOR A BIG VERSION IN A NEW WINDOW