Howard's Pizza opened in 1962, in the old Rinda Auto Garage at 428 N. Park Ave. This building at 432 and the structures at 428 have been demolished.
Susie Morrison writes...
"Howard's was originally a partnership Blair Morrison (1932-1999) and Leonard Morrison. The franchise holder was Keith Erb.
"After about a year, Leonard assumed ownership and management. Leonard and Darlene Morrison managed and worked at the restaurant for several years, and even added "The Pub" in October of 1963, which was right next door! The Pub was a very popular beer bar and served Helena's famous sandwich, the Pub Special. Finally, the pizza house and pub were eventually sold and in February of 1968, Leonard went to work for the Rainier Brewery."
Thanks, Susie!


Blair Morrison, 1967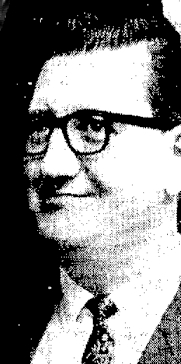 Blair, also a local radio and television personality, was handicapped by a stroke before he reached the age of 35, but he still led an active and productive life in Helena for many years.