James. B. Blakeslee (ca.1836-1910)
Opponent to the Extension of Lawrence St.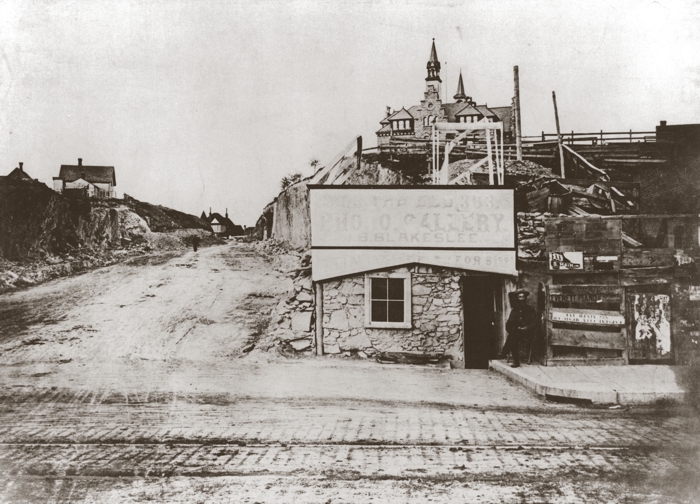 COURTESY OF THE LEWIS & CLARK COUNTRY HERITAGE TOURISM COUNCIL
CLICK ON IMAGE TO ENLARGE IN A NEW WINDOW


Two 1890 photos of James B. Blakeslee (ca. 1836-1910). According to city directories of the period, Blakeslee was a jack-of-all-trades. He was a native of New York state, and a Union Civil War veteran.



Here we see his modest stone and brick photography studio at 363 N. Main (Last Chance Gulch). Lawrence Street was being put through from Main to Warren St., and Blakeslee declined to vacate his business to make way. He was eventually arrested, and the project was completed. He later had a photo studio and grocery business at 577 S. Davis St.
Despite his outspoken stand against the Lawrence Street expansion, newspaper mentions of him are few. I found nothing recounting details of his protest, the outcome of his arrest, or the legal dispostion of his business. No obituary was found for him. He died of old age and pneumonia at the County Hospital in 1910, after an 18-month stay. He is buried in the Grand Army of the Republic section
of Forestvale Cemetery
.
Blakeslee Holds a Sign:
"I Still Hold the Fort
and Stand Alone in
All My Glory"


UNATTRIBUTED PHOTO PUBLISHED IN 'HISTORIC HELENA' 1964
CLICK ON IMAGE TO ENLARGE IN A NEW WINDOW