KCAP Radio • Started in 1949 as KFDW
KCAP (Originally KFDW) Studio and Transmitter
1705 Jerome Place, in the Lenox Addition, 1953
Colorized Image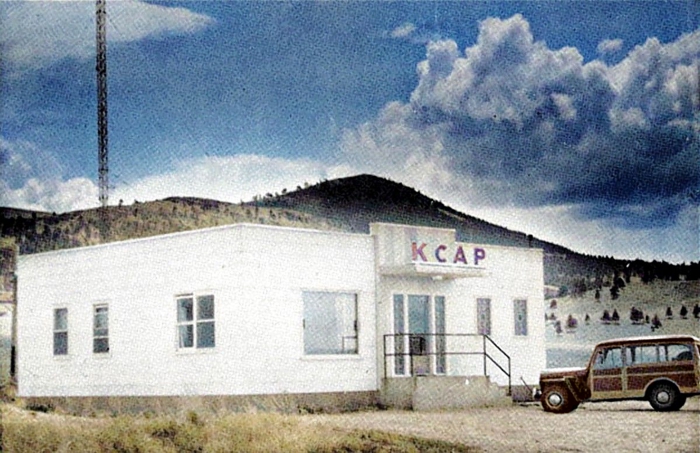 FROM THE 1953 CARROLL COLLEGE 'HILLTOPPER' YEARBOOK - COURTESY OF THE MONTANA MEMORY PROJECT
On October 5, 1949 KCAP radio (then KFDW) signed on the air from studios in this building at 1705 Jerome Place, on the city's east side. There was also an auxillary studio downtown, in Sherman Music, Co., which was located in the Atlas Block.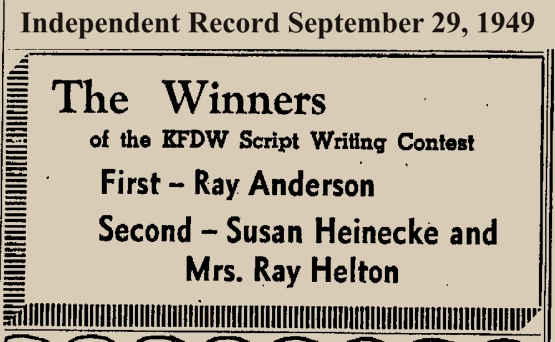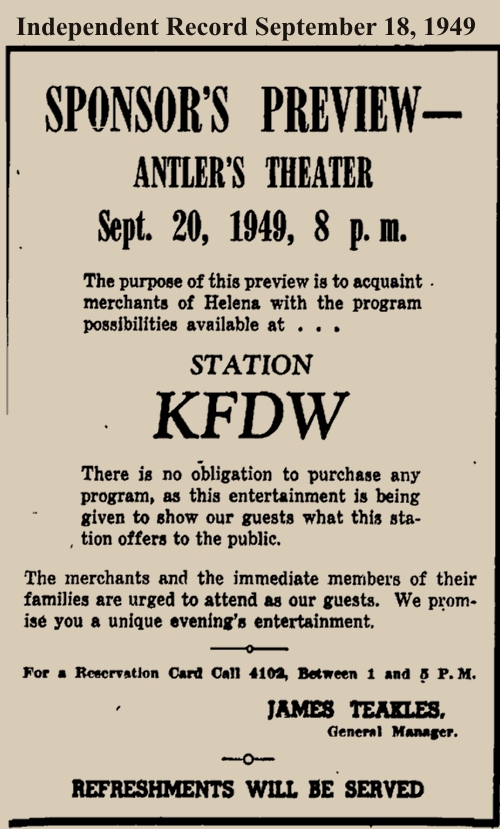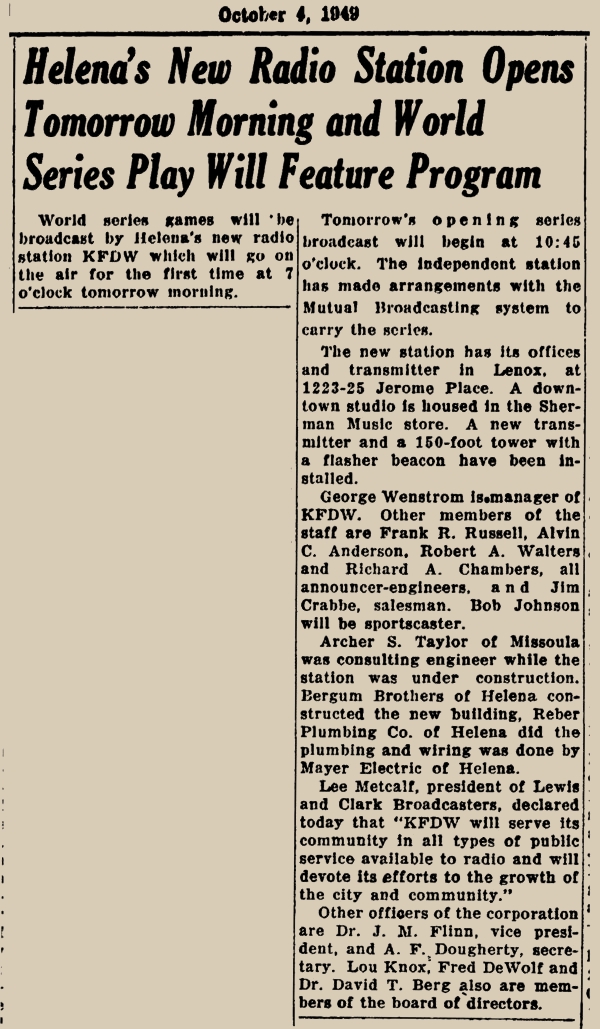 The station had changed its call letters to KCAP by early 1952. In 1956, Sherman Music moved a block north, into a space on the ground floor of the Pittsburgh Block. It appears from newspaper archives that the ground floor space in the Atlas Block was alternately vacant and leased short-term for a time after Sheman Music moved. I don't know exactly when KCAP renovated the space, but the station was open in 1959, as seen in these great photos from veteran Helena broadcaster Wally Peel...
KCAP Studios in the Atlas Block, ca. 1959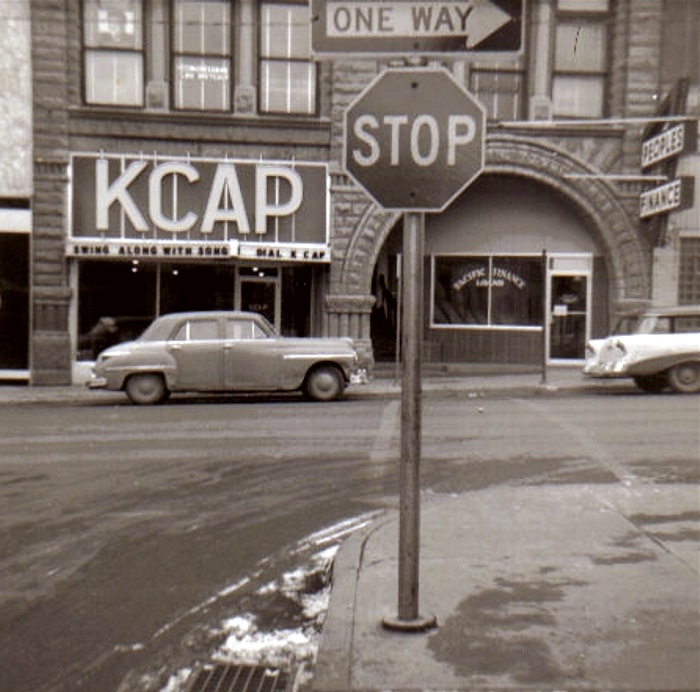 COURTESY OF WALLY PEEL
Reception area of KCAP radio, about 1959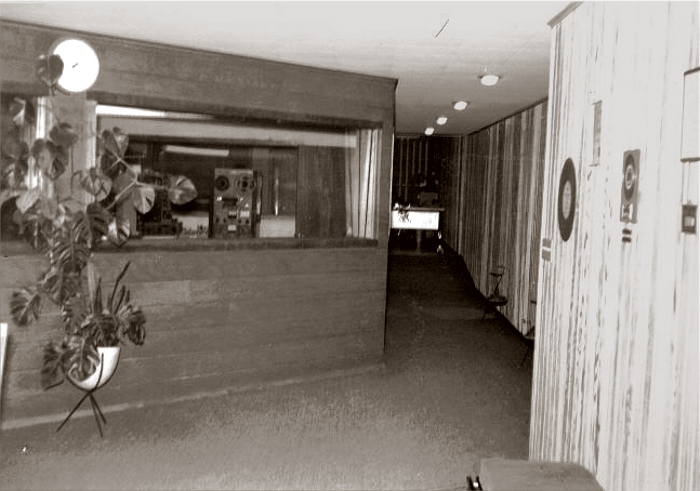 COURTESY OF WALLY PEEL
Here we see the control room, behind big double-glazed windows. The ramp leads up to the main office area, at the rear of the space.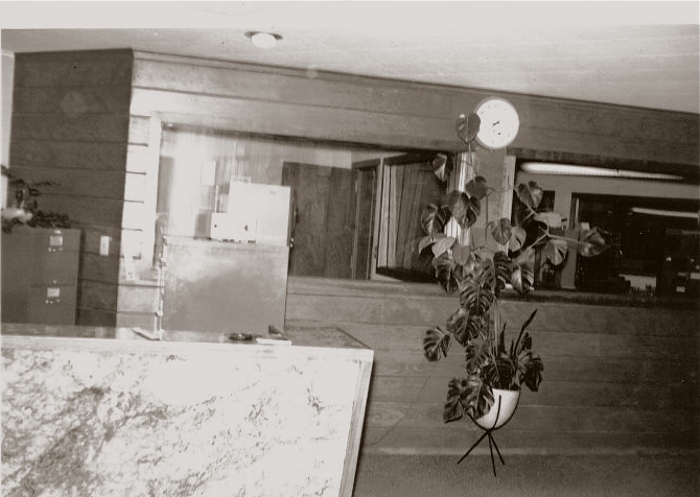 COURTESY OF WALLY PEEL
More of the reception area. When this photo was taken, the smaller room seen here adjoining the control room housed the automation device. As Wally Peel explains...
"Back then, at least at KCAP, Automation wasn't anything like it is today. Announcers did a live show for part of their shift. They also pulled ad copy for upcoming shifts and between records they were recording those ads to tape on the automation. Not really sure what that saved us, other than perhaps a few bloopers that didn't get on the air. There were some segments of automated music and spots during late night hours."
KCAP Control Room, about 1959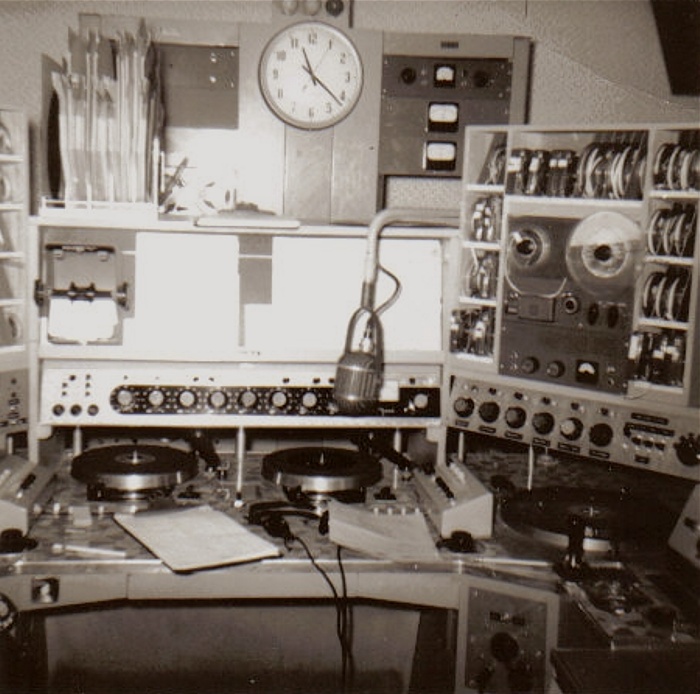 COURTESY OF WALLY PEEL
When your editor had a part-time job at KCAP in 1971-72, the board looked almost exactly the same as it does in this photo. The only difference I can spot is that we used tape cartridges ("carts") for commercials and promos, and there were racks of them within easy reach. I would spin records on the turntables (mostly 45s), and sometimes play longer prerecorded things on the reel-to-reel machines. It keeps you busy.
Wally Peel started at KCAP in 1959, and was a mainstay of Helena broadcasting intil his retirement in the 2000s.

Wally Peel at the KCAP Board, 1959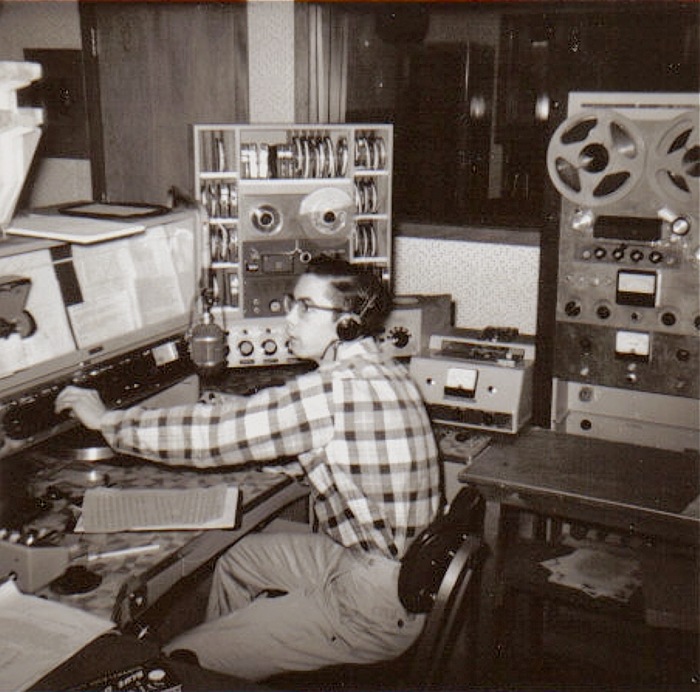 COURTESY OF WALLY PEEL

Tom Nims in the Production Studio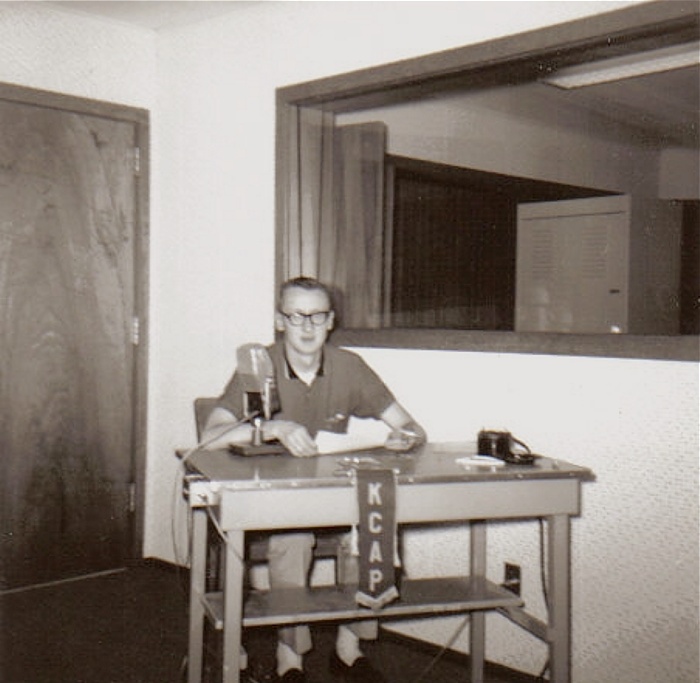 COURTESY OF WALLY PEEL
Wally explains...
"Tom was a Carroll College student and worked part time for us. After Graduation he left Helena. The last I heard he was working in the Banking Industry in Portland, Oregon."
Larry Waskosky (aka Al Lawrence) at the Board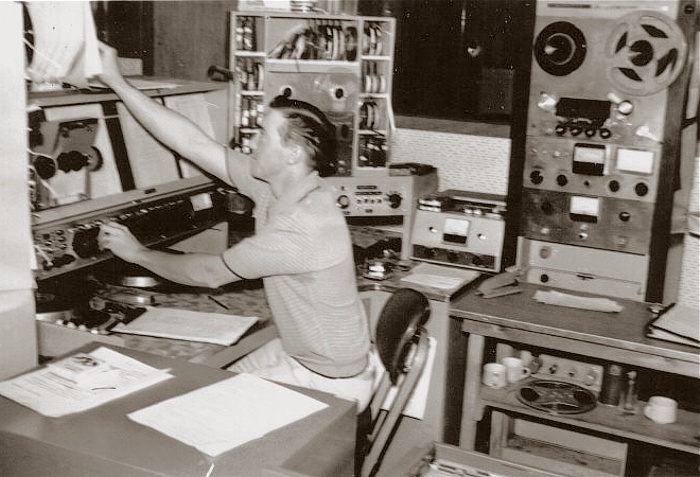 COURTESY OF WALLY PEEL
Wally says he thinks Larry later went to work for a radio station in Michigan.
KCAP Top 40 Hits - Week of April 15-21, 1972
Do You Remember These Disc Jockeys and Tunes?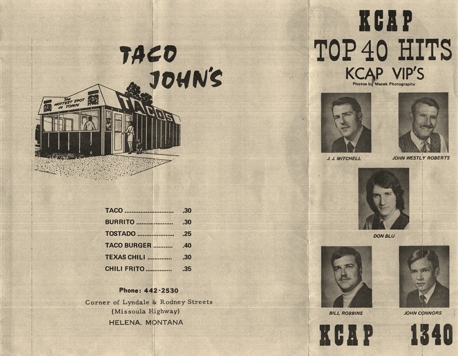 FROM THE DON MAYNARD ARCHIVES
CLICK ON IMAGES FOR BIG VIEWS IN NEW WINDOWS
KCAP studios moved from 9 N. Last Chance Gulch to 110 Broadway in 1975.
Vacant KCAP Storefront, about 1976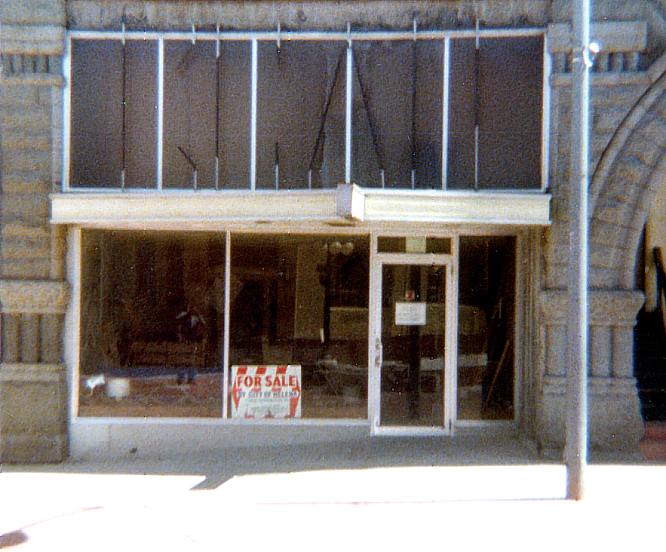 PHOTO BY VIRGIE MILLEGAN BAIRD • COLLECTION OF KENNON BAIRD

Click the Audio Link to hear a short 1965 KCAP on-air clip.
Courtesy of Frank Cuta. Thanks, Frank!
Legendary Broadcaster Cato "The Cat" Butler, 1977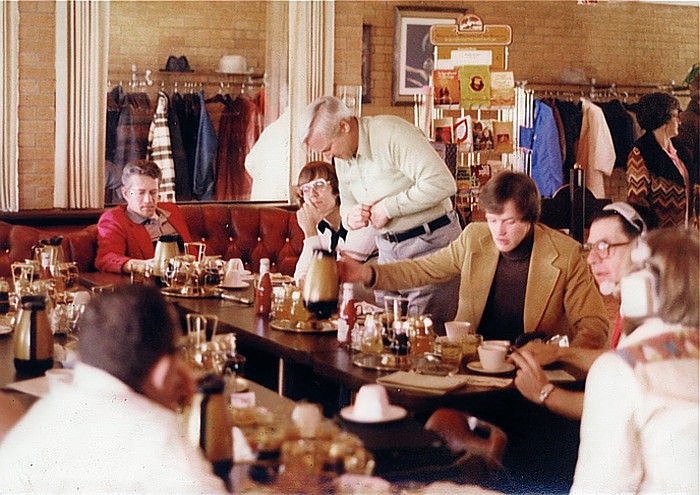 COURTESY OF JACK WOMACK
Sportscaster Cato Butler (with headset, on the right) did play-by-play on KCAP for many years. This photo is of a live "Breakfast with the Coaches" broadcast from the spring of 1977, taken at the Village Inn Pancake House, 1600 Prospect Ave. This particular broadcast took place during the Class C basketball tournament, which was held in Helena for years.
The man in the glasses is Bill Bowman, Independent Record sportswriter. The man in the gold jacket is KCAP's Jim Willard, later to become General Manager.
Jack Womack working at KCAP-FM, 1970s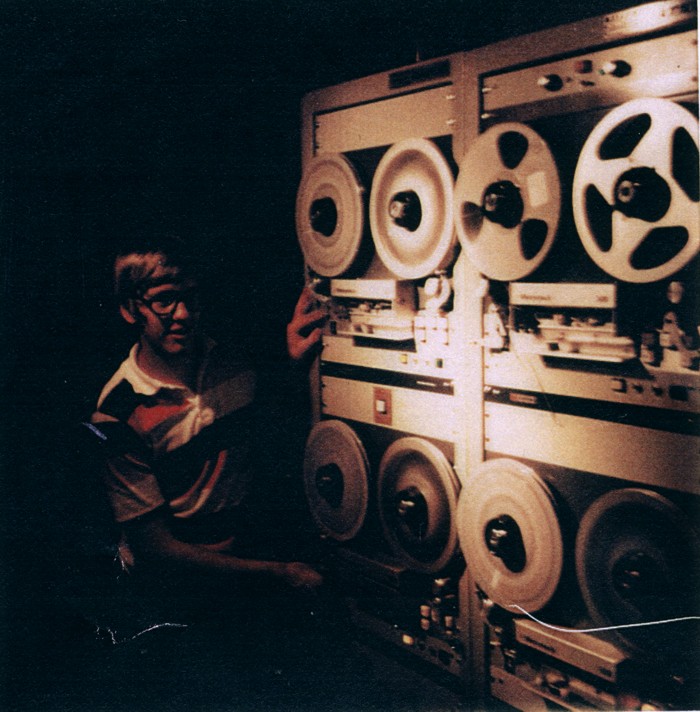 COURTESY OF JACK WOMACK
Jack Womack worked for KCAP radio from 1974 through 1979. Here he is placing tapes into the KCAP-FM automation system, which was watched over by announcers. Jack continued his broadcasting career, and is currently Senior Vice President, News Operations, CNN/US.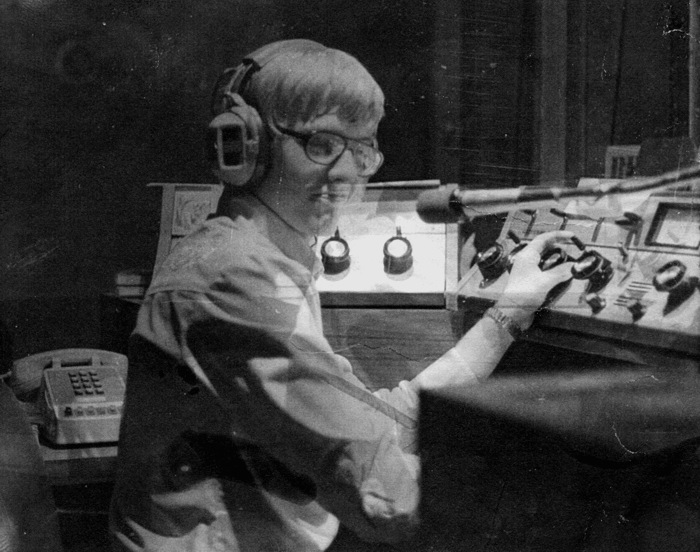 COURTESY OF JACK WOMACK
Jack Womack at the KCAP board, 110 Broadway,
Jack Womack in the Newsroom/Studio of the Intermountain Network (IMN)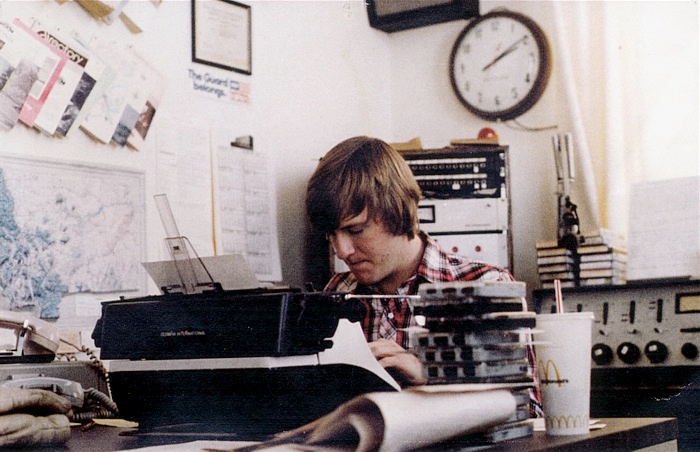 COURTESY OF JACK WOMACK
The Intermountain Network had some 96 stations across the region that worked as a news coperative. Legendary newsman Bill Yaeger anchored the broadcast for many years. This studio was co-located with KBLL radio in the Colonial Inn.
Visit KCAP's website by clicking here.