Shortly after his solo crossing of the Atlantic Ocean, Charles A. Lindbergh made a three-month cross-country tour of America in his Ryan monoplane, sponsored by wealthy aviation enthusiast Harry Guggenheim.
On Sept. 6, Lindbergh flew from Butte to Helena via the Swan Lake Valley, Glacier National Park, and Great Falls. The trip took nearly seven hours. In Helena, Lindbergh was greeted by Montana Governor John E. Erickson and Helena Mayor Percy Witmer, then driven to the Fairgrounds where he gave a short speech and greeted the public.
The Mayor and Governor then took him on a driving tour around the city, including the Fort Harrison grounds. Lindbergh rested at the Placer Hotel before a brief evening appearance at a banquet held in the ballroom of the Algeria Shrine Temple (Civic Center).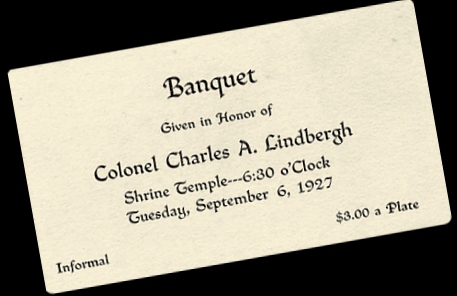 The next day, Lindberg flew back to Butte via Billings and Yellowstone Park. The flight took six hours.