The Parrot Confectionery
42 N. Main
46°35'17.67"N 112° 2'20.14"

Façade of The Parrot, 2011



PHOTO BY KENNON BAIRD
Interior of The Parrot Confectionery, ca. 2008

COURTESY OF LAURA BLUMENTHAL
Virtually unchanged since 1938, the Parrot at 42 North Main has pleased generations of Helenans and visitors with their famous handmade candies and fountain treats.
The Parrot Confectionery has its beginning as the Helena Drug Co. Fountain and Confectionery Department in the early 1910's. The current location is the fourth address for the business, opening on October 15, 1938...
There is a most interesting History of The Parrot
on the Montana History Wiki

The Parrot Candy Counter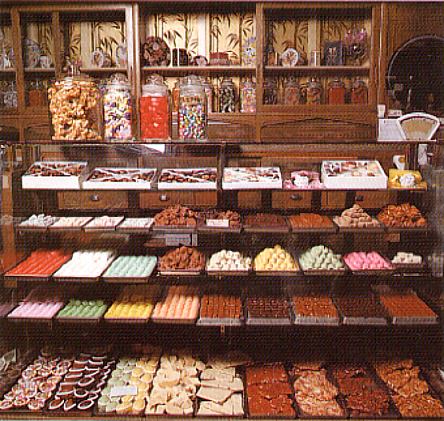 A Few of Many Ceramic Elephants on Display, 2011



PHOTO BY KENNON BAIRD
Helena High School Girls at the Parrot, 1946
A Booth at The Parrot, 2009



PHOTO BY KENNON BAIRD

" The Parrot Talks for Itself "
Painting by Robert F. Morgan



COURTESY OF THE INDEPENDENT RECORD



2003 Independent Record Story About The Parrot
"Candy man's family business a favorite fixture in Helena" - Feb. 24, 2003

Visit The Parrot Confectionery's Website
The Parrot's Front Door, 2011



PHOTO BY KENNON BAIRD