State Liquor Warehouse
Front St. at Lyndale - 1936-1978

Photos Courtesy of the State of Montana Unless Otherwise Noted
Talk had already begun by April of 1935 of moving the operations of the state liquor warehouse to a bigger facility. At the time, it was housed in the former Lindsay Fruit Co. building on Bozeman St. in the Sixth Ward. Under consideration for a new warehouse was the repurposing of the largely disused Nabisco factory at 1308 Boulder Avenue.

Before a move could be undertaken, the devastating earthquakes in October of 1935 heavily damaged both the former fruit company warehouse and the Nabisco factory, making the construction of a modern warehouse a priority.


Bozeman St. Warehouse in Ruins, October 18 1935

KENNON BAIRD COLLECTION • PHOTO BY KNUDSEN
CLICK ON IMAGE TO OPEN A BIG VERSION IN A NEW WINDOW
The site chosen for the new warehouse and Liquor Control Board offices was on the north end of the Great Northern rail yard. Until the new warehouse could be completed, the Liquor Control Board operated out of the Empson Building on Placer Avenue.
The original site for the new warehouse was some fifty feet north of where it was built. Early-stage construction was moved south to accomodate the building of the Lyndale Avenue overpass (now removed) over the Great Northern Railway tracks. A dangerous old underpass was eliminated...
Warehouse Under Construction, April 16, 1936


CLICK ON IMAGE TO OPEN A BIG VERSION IN A NEW WINDOW
The warehouse was designed by Helena architect Norman B. DeKay (1901-1939 ). Cahill-Mooney Construction of Butte were the contractors. Western Clay of Helena furnished the face brick, sewrer pipe, and fire clay. Various other Helena firms supplied lumber and fittings.
At Work, March 28, 1938

CLICK ON IMAGE TO OPEN A BIG VERSION IN A NEW WINDOW
To facilitate the construction and operation of the new warehouse, Front Street was extended north. A property dispute arose between George G. E. Neill (1884-1964) and the City. Neill claimed ownership of the property, and erected wooden barricades across Front and 13th Streets, requiring traffic to go through the Great Northern railyard to get to the new warehouse. The dispute went on for a good two years.

At one point in the lengthy proceedings, Neill claimed that the gravel on the property was rich with gold, and demanded $25,000 to resolve the issue and remove the barricades. Mining experts testified that the gravel had been worked and worked again, and that not enough gold remained to justify the expense of extracting it.

The matter was finally settled in August of 1939 for $570.85, and the barricades were taken down..
Stock in the Warehouse, 1942

CLICK ON IMAGE TO OPEN A BIG VERSION IN A NEW WINDOW


CLICK ON IMAGE TO OPEN A BIG VERSION IN A NEW WINDOW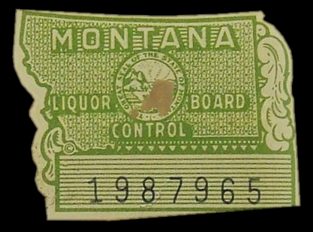 A 1940 Montana Liquor Control Board bottle tax decal.



Office Workers, March 28, 1938



CLICK ON IMAGE TO OPEN A BIG VERSION IN A NEW WINDOW


CLICK ON IMAGE TO OPEN A BIG VERSION IN A NEW WINDOW


Liquor Warehouse Loading Dock, 1950
COURTESY OF BOB & SUSIE LINDEBERG