City Cemetery - Helena's First
46°35'24.58"N 112° 2'7.47"W
Helena's first cemetery was begun in 1865. It was located on a rise about one-half mile northeast of the center of early Helena commerce. The area is today bounded by N. Warren St. to the east, E. Lawrence St. to the north, Jackson St. to the west, and by Central School to the south.

The construction of Central School (first called Graded School Numer 1) in 1875 required that some graves be moved. More removals were necessary when Helena High School was constructed just north of Central in 1890-93. Workers installing the sewer line for the High School also accidentally uncovered remains.

Benton Avenue Cemetery was begun in 1870, and over time many of those buried in the City Cemetery were reinterred there. There are very likely unknown graves remaining on the City Cemetery site.
Part of City Cemetery Seen from the Central School Grounds, ca 1876
To the Left of the Outbuilding

COURTESY OF CHARLEEN SPALDING
City Cemetery and Surrounding Landmarks, 1890



COURTESY OF CHARLEEN SPALDING • CLICK ON IMAGE TO OPEN A BIG VERSION IN A NEW WINDOW
Bones Found During High School Construction, 1890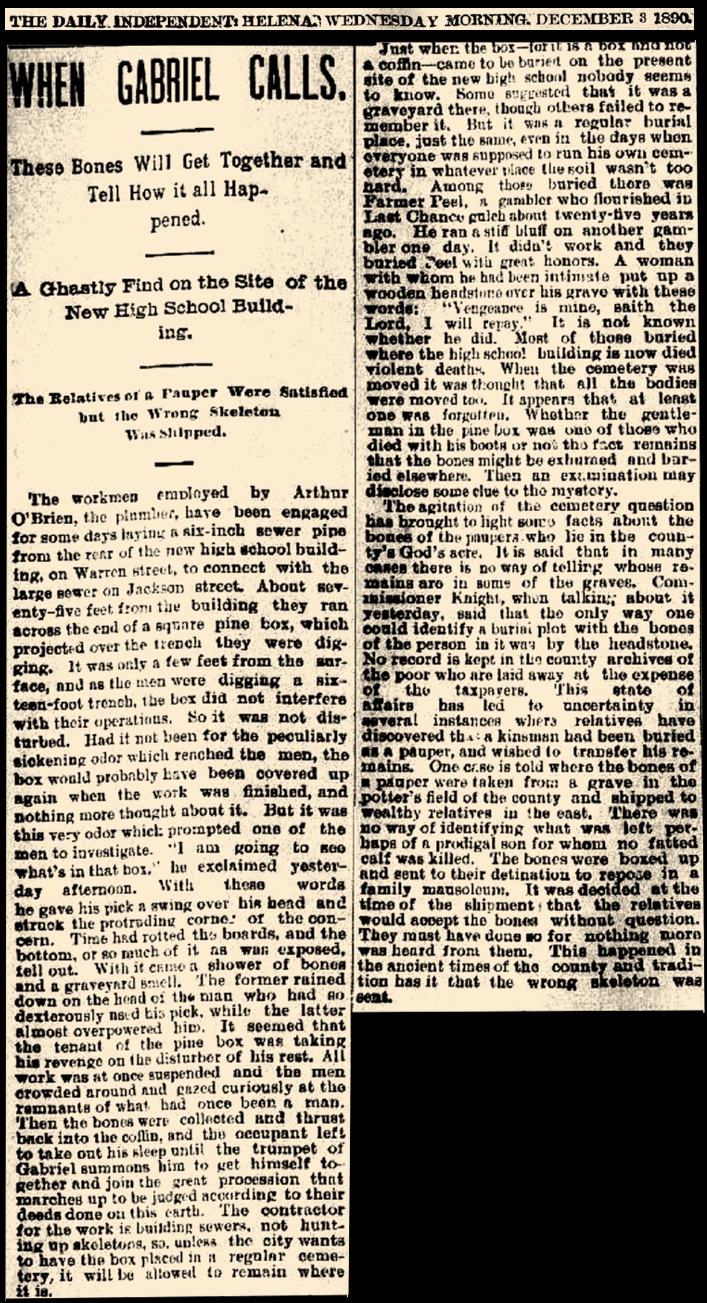 Grave Disturbed in 1983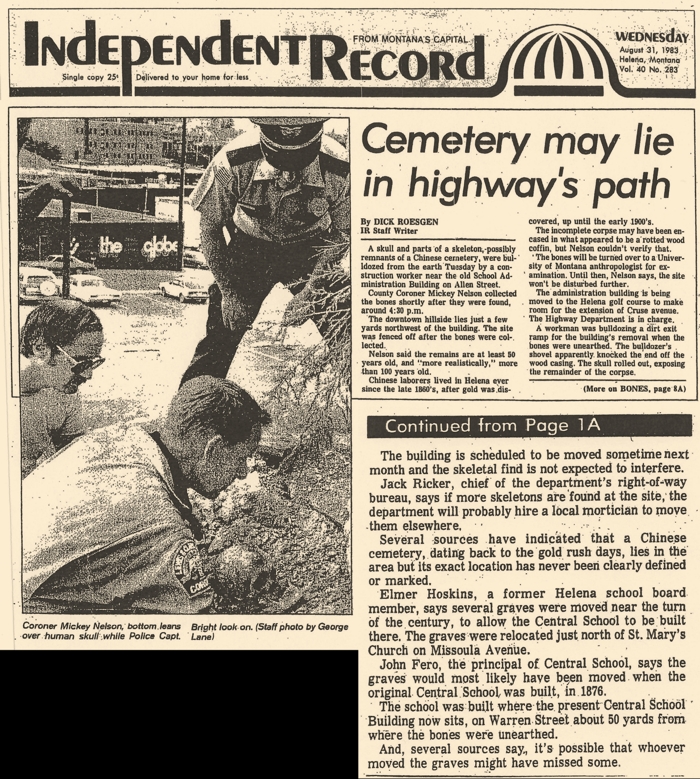 COURTESY OF CHARLEEN SPALDING • CLICK ON IMAGE TO OPEN A BIG VERSION IN A NEW WINDOW
Who Was In the Grave?
No name or identifying artifacts were found with the skelton or the coffin. The bones, along with remnants of the coffin, were sent to the University of Montana in Missoula for analysis. Professor of Physical Anthropology Charline G. Smith concluded that the skeleton represented a roughly 50-year-old male Caucasian, who was around 5' 6" tall, and who died sometime around the turn of the twentieth century. The bones remain at the University.

Thanks to Helena historian Charleen Spalding for her help in completing this feature!