Helena Skating Amphitheatre • 1883-1889
1 South Benton Avenue
Briefly Served as Maguire's Theater
and the Montana National Guard Armory

1880S ROLLER SKATES • COURTESY OF THE SCIENCE MUSEUM

The Roller Skating Craze of the 1880s
Although the roller skate dates back to mid-18th Century Europe, skating didn't come into its own as a sport until the 1880s, when improvements like quad wheels, ball bearings, and mass production made it more fun and more accessible. Entrepreneurs nationwide were quick to promote the craze, and Helena was no exception, with two purpose-built rinks going up in 1883.

The Helena Skating Amphitheatre was by far the more substantial of the two. Its competitor, the Capital Skating Rink at 7th Avenue and Warren St., was just a skating floor under a giant tent, as seen in the rendering below from an 1883 perspective map of Helena. This enterprise, which was located about where the Seventh Avenue Gym is today, evidently only lasted for one summer. The marquee was put to use at the State Fair.

Capital Skating Rink
Near Seventh Ave. and Warren St., 1883



LIBRARY OF CONGRESS

DETAIL OF AN F. J. HAYNES PHOTO
The Helena Skating Amphitheatre, about 1887
Click on Image to Enlarge in a New Window
Photo Courtesy of the Helena/Lewis & Clark County
Heritage Tourism Council


JACOBY LOWNEY IMAGES
Rendering of the Skating Amphitheatre on an
1883 perspective map of Helena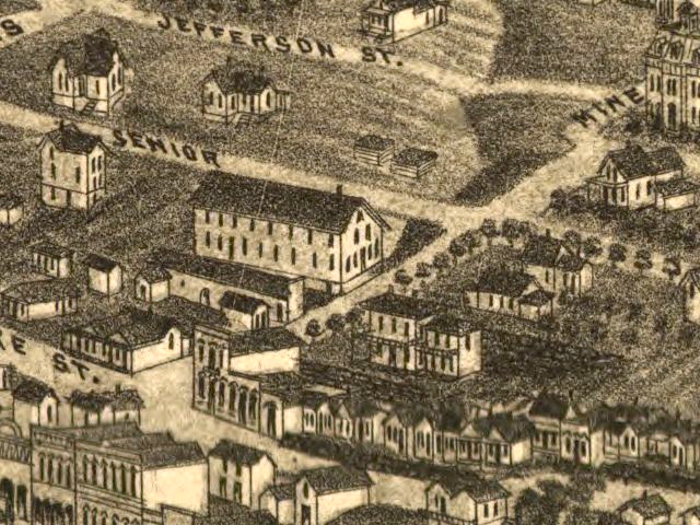 LIBRARY OF CONGRESS
The Helena Skating Amphitheatre, later known as Maguire's Theatre and Armory Hall, was a large but rather short-lived venue, in use from 1883 to 1889. It was located on the southeast corner of what was Edwards Street and Benton Avenue/Senior Street (in 1887, the name Senior Street was changed to South Benton Avenue). The house at 1 South Benton Avenue occupies the site today.
The Amphitheatre was used for pleasure roller-skating by the public, as well as for racing contests, walking competitions, bicycle skill-riding exhibitions, charity balls, and political events.

Like all crazes, the roller skating fad of the 1880s was short-lived, and rink owners began to find other ways to make their facilities profitable.

In 1887, the rink was converted into a proper theater by noted pioneering western actor and theater manager John Maguire (1835-1907), who managed Ming's Opera House in Helena, and also had interests in Butte.

It was briefly leased by the State in 1888 as the Guard Armory, shortly before a new Armory was built on North Warren St. The Amphitheatre was torn down in May of 1889.
Photos of the building are very hard to come by. If you know of any others, please contact me.

"Queen of the Bicycle" Annie Sylvester Performs

THANKS TO M. ANN HALL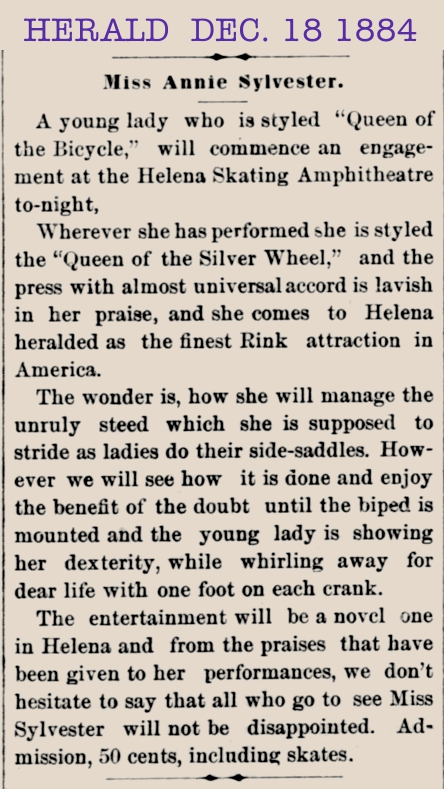 Annie Sylvester (1864-1938) was born Annie Elizabeth James, near Florissant, Missouri, Her story is a fascinating one, including bicycle-riding stardom, a horrific circus train wreck, and her fatal shooting of her abusive husband. You may read her story here, in the July-August 1972 edition of True West Magazine.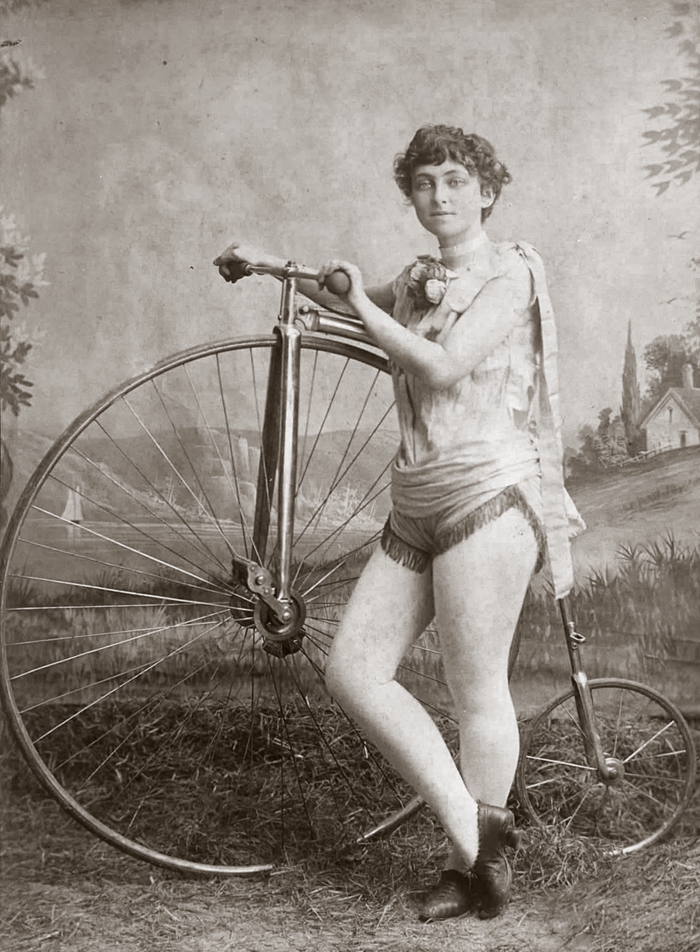 This photo of Annie at the height of her fame, and the True West Magazine article noted above, are courtesy of M. Ann Hall, author of "Muscle on Wheels: Louise Armaindo and the High-Wheel Racers of Nineteenth-Century America".
Please click on the cover to order from McGill-Queens University Press. Many thanks, Ann!

"Pick her up tenderly..."
Shortly after the death of Ex-President Ulysses S. Grant on July 23, 1885, plans were announced to hold a public Helena memorial service for the General at the Amphitheatre on the day of his funeral, August 8. The event was instead held at Ming's Opera House, on Jackson Street.
Freezing at the St. Peter's Hospital Charity Ball
Helena Madam Belle Crafton, aka Mollie Byrnes
Hosts Soiree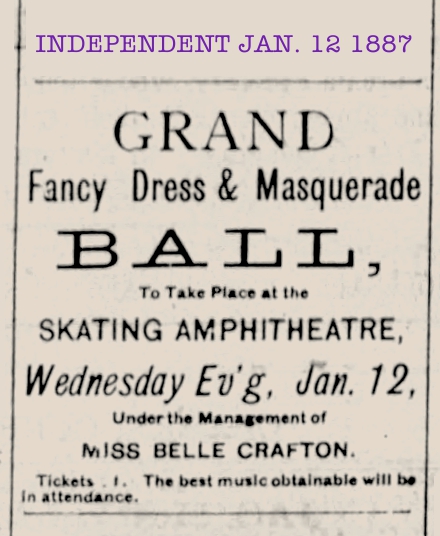 Maguire's Theatre
In 1887, plans were made by pioneering western actor and theater manager John Maguire (1835-1907) to convert the Amphitheatre into a proper theater. This endeavor apparently lasted for about one year.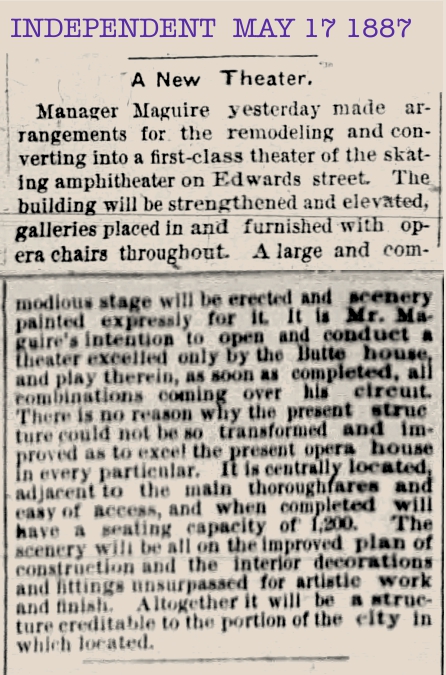 ADELAIDE RANDALL

Building Leased to the Guard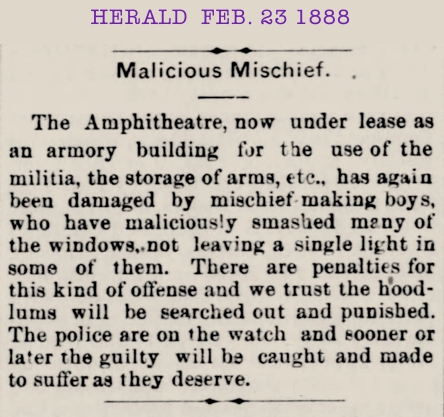 The Amphitheatre building was torn down in May of 1889.