KPFA / KXLJ / KBLL Radio and TV

KPFA / KXLJ Radio Studio, 1306 11th Avenue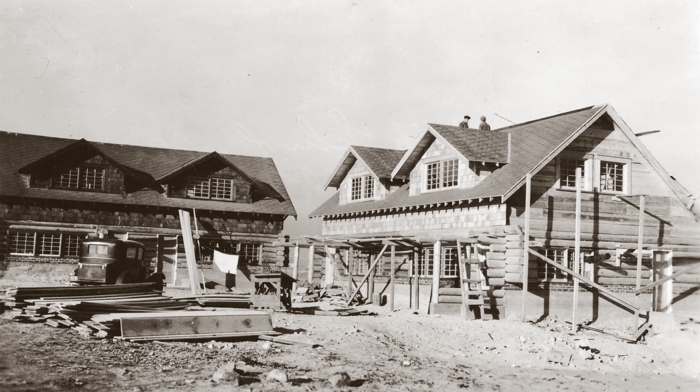 COLLECTION OF KENNON BAIRD • CLICK ON IMAGE TO OPEN A BIG VERSION IN A NEW WINDOW

These two log structures were originally built 1935-36 as part of Intermountain Union Collge. They were residences called the Lodges. This 1936 view shows the building that later housed KPFA/KXLJ radio under construction.

Damage caused to the nearby main Intermountain campus buildings by the October 1935 earthquakes caused the college to move temporarily to Great Falls, Montana. It later relocated to Billings, Montana, merging with Billings Polytechnic Institute in 1947 to form Rocky Mountain College.

In August of 1937, The People's Forum of the Air, Inc. was granted a permit to convert one of the former Lodge buildings into a 250-watt radio station, thus starting KPFA, 1210 on the AM dial. The station began broadcasting on September 28, 1937.

The station call letters changed to KXLJ in 1946.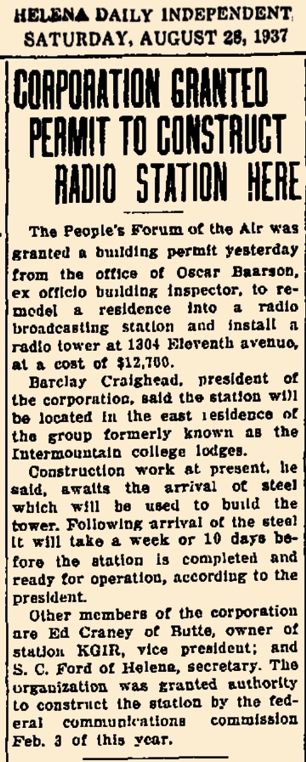 KPFA / KXLJ Studio, Date Unknown



COURTESY OF BEARTOOTH NBC AND THE HOFFMAN COLLECTION


Footprint of the KPFA / KXLJ Radio Studio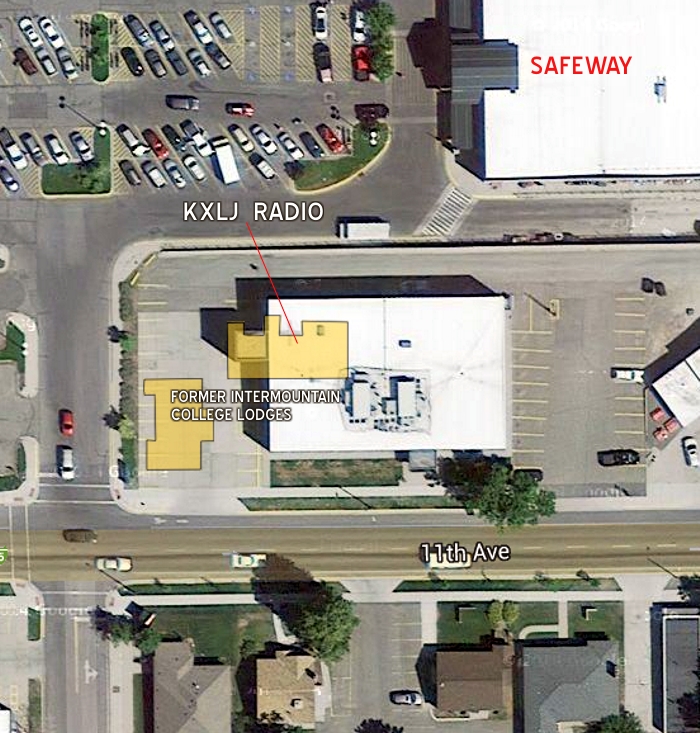 An antenna was erected on the north side of the station. A nearby shopping center christened itself the Tower Shopping Center because of its proximtiy to the landmark. The shopping center was even home to Tower Meats. The station operated from the 11th Ave. location until 1958, when new TV and radio studios were built on North Montana Avenue.
KXLJ Radio Advertising Sign, 1950s

KENNON BAIRD COLLECTION
A painted steel KXLJ radio advertising sign, probably 1950s. These signs were nailed to fence posts, etc. along roads. The letters are white paint, with a coating of tiny reflective beads to reflect headlight beams. It's well-made, weighting 2 lbs., and measuring 14.5 x 9".

KXLJ Radio Wins Peabody Award, May 1950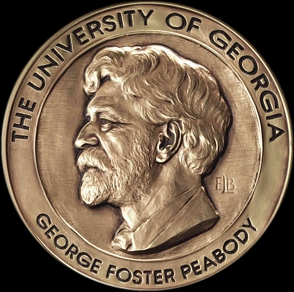 Begun in 1940, the George Foster Peabody Awards (or simply Peabody Awards) program, named for American businessman and philanthropist George Peabody, recognizes distinguished and meritorious public service by American radio and television stations, networks, online media, producing organizations, and individuals.

KXLJ won the Award in May of 1950...

CLICK ON IMAGE TO OPEN A BIG VERSION IN A NEW WINDOW

May 1950 KXLJ Radio Schedule


CLICK ON IMAGE TO OPEN A BIG VERSION IN A NEW WINDOW

The Old Radio Tower, 2010
Southwest corner of Brady and Henderson Streets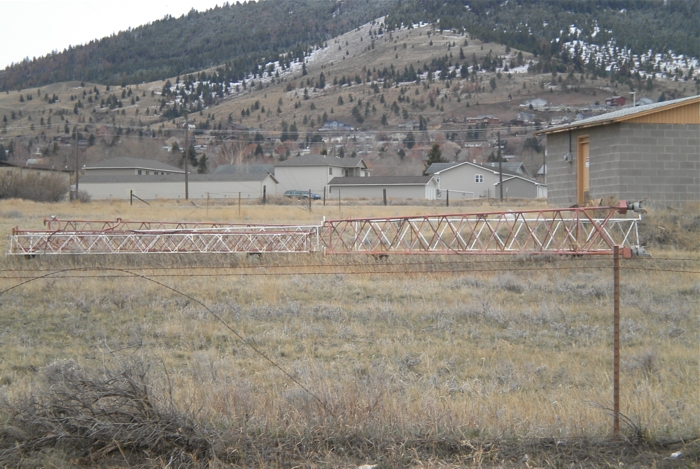 PHOTO BY KERRY BROWN
The KXLJ TV and Radio Studios, ca. 1958
Helena's First TV Station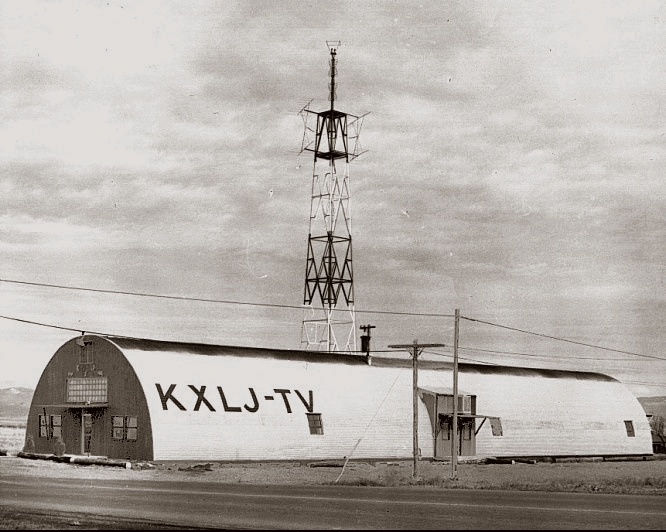 COURTESY OF WALLY PEEL
The KXLJ TV and radio studios at 2433 N. Montana Avenue, about 1958. This Quonset Hut building has been demolished.
KXLJ (now KTVH) was the first television station in Helena, signing on the air January 1, 1958 as an NBC affiliate. The station was part of the "XL" Radio Network, along with stations KXLF Butte, KXXL Bozeman and KXLY Spokane, Washington.

In 1961, Bob Magnus and two partners bought the station and changed the call letters to KBLL-TV. In 1969, former Montana Governor Tim M. Babcock bought the station and changed the station's call letters to KTCM (Television for the Capital of Montana).
Babcock sold the station to Lynn Koch in 1979, and the station changed call letters again, this time to KTVG. A few years later, Koch sold the station to Don Bradley, who again changed the call letters to KTVH (TeleVision for Helena), which remain to this day.
By 1988, the station was in financial trouble and Bradley sold it to Big Sky Communications. Big Sky Communications restored the station's financial health, and in 1997 sold KTVH to Beartooth Communications. (This info adapted from the Wikipedia entry about KTVH).
The Site of KXLJ-TV, 2007


COURTESY OF WALLY PEEL
The Checker Auto Parts store is on the exact location.

1960s-70s KBLL Radio Jingles
Promos and Ads!
Mp3 Files Courtesy of Wally Peel

Veteran Helena broadcaster Wally Peel writes:

"The [All Heart] jingles...are from a company called Pepper Tanner . I did a little research and found the 'All Heart' series was produced from 1965 to 1967. The 'Now Sound' Set came out in 1968.

Seems like we would get a new set every two or three years. I imagine they were quite expensive. But a good set of jingles added so much to the station's on-air image.

There wasn't any set interval for changing jingles. We would play a set until it wore out, then get new ones. For many of us it was just like Christmas when a new set of jingles arrived.

About 'Inbeat'...it was a nighttime show of popular music. Ran from 7-10pm. Pepper Tanner did the intro and personalized jingle.

The 'Combat' and 'FBI' takeoffs were done by Tom McMurray, a member of our staff. A very talented young man, Tom was Captain Midnight on KRIZ in Phoenix, and came to Helena as our Sales Manager and TV Program Director in 1967. Tom went on to bigger and better things and became a consultant for big market stations. Sadly, he died in 1999 (KRIZ is the station Doug Sutherland bought when he left Helena.)

The Capri ad was one I wrote and recorded with the help of Carol Burnett liners on disc. Those were all in our sound library. Also included are a few bloopers from Valtron Recording Studio."



"All Heart" Jingle Package

"Inbeat" Promos

Assorted Jingles, Commercials and Bloopers


A Tribute to Helena Broadcaster
Al Johnson
Jan. 26 1929 - Aug. 11 2009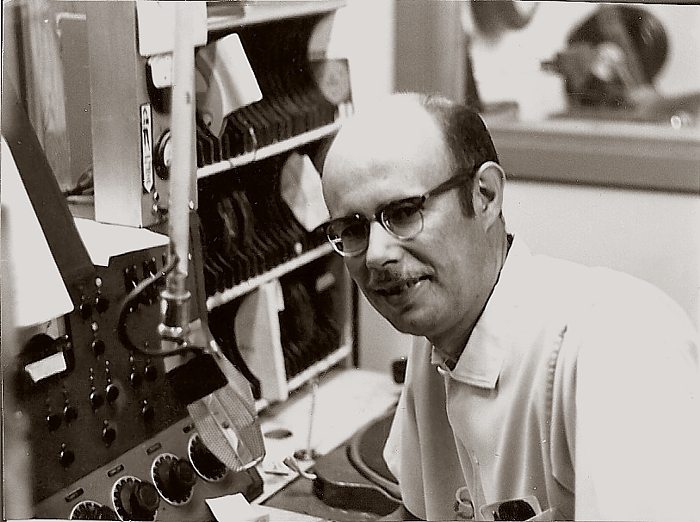 All Photos Courtesy of Walli Johnson
Once described as "Helena's Walter Cronkite", Alan 'Al' Keith Johnson, was the preeminent voice of Helena radio for almost 50 years.
Al's rich, warm voice, kindly manner and rock-solid professionalism made him a market mainstay in a notoriously capricious business. Al worked steadily in the Helena market from 1956 to 2004, making many friends along the way. Save for a short stint at KCAP around 1959, Al worked for KXLJ / KBLL.
Al's death in August of 2009 brought forth many stories and tributes, not only from his professional colleagues, but from people who only knew him through his broadcasts. Al had a way of connecting with people.
In addition to his work at KXLJ / KBLL, Al contracted to record commercials for numerous businesses and organizations, often through Sage Advertising of Helena. Some of his commercials aired over thousands of stations nationwide.
Al was famous among his co-workers not only for his perfect diction, but also for his ability to multitask, which is essential in broadcasting. According to Al's long-time co-worker Terry Bass, "He played the ukulele, rolled a cigarette, read the encyclopedia, played records and tended the teletype all at the same time." That may only be a slight exaggeration.
Al famously enjoyed his beer, was an inveterate cigarette smoker, and still lived to the age of 80. He played guitar and ukulele, developed his own photographs, cooked, and kept a garden.
The audio files which are linked to at the bottom of this page (the May 16 1981 Al Johnson Roast and the Aug. 14 2009 "Coffee Break" program) will provide you with the best insight into Al's character and talents, through testimonials by those who knew and worked with him.
From Don Maynard, who worked with Al at at KBLL --

"I've played that cart [recorded tape cartridge] a thousand times. Intro to 'Coffee Break'. His other greatest hit was the intro to 'Classics in the Night'. The most played tape in the history of KBLL except for Sign On and Sign Off. They never changed those three. The only way they'd be retired is if the machine ate them."
Al's Early Years
Al was born in Minneapolis on Jan. 26, 1929, to the late Alvin and Anna Johnson. He grew up in the Minneapolis area; studied voice and piano, and was active in choirs and as a soloist. He worked in a hamburger shop and as a spray painter.
Al served in the U.S. Army as a cook. He was based in Germany from 1951 to 1952. After his honorable discharge from the Army, he attended the Brown Institute of Broadcasting in Minneapolis, and the University of North Dakota. Al started in radio as an announcer at KILO in Grand Forks, North Dakota, but moved to Helena in 1956 and began announcing for KXLJ.


A Young Al Johnson at KXLJ


Host of Memorable 1950s Children's Radio Show, "Kiddie Corner"
Although Al hosted and produced numerous local radio shows during his career, many Helena Baby Boomers will fondly recall tuning in to KXLJ at 4:30 pm on weekdays for "Kiddie Corner", hosted by "Uncle Al". The half-hour show featured children's records and occasional mail-in contests.
As a dedicated "Kiddie Corner" listener, your editor still recalls Al commenting, after playing a Burl Ives tune, that Burl "...plays a mean guitar". He didn't talk down to kids, and was always entertaining.
One tune on the "Kiddie Corner" playlist that really stuck in listeners' heads (you'll hear it referenced in the 1981 Al Johnson Roast, linked to below) was Pinto Colvig's "Honkety Hank". You can hear it again by clicking the graphic below...


Al Reading to Children, 1950s
Probably taken at the KXLJ "log cabin" studios on 11th Avenue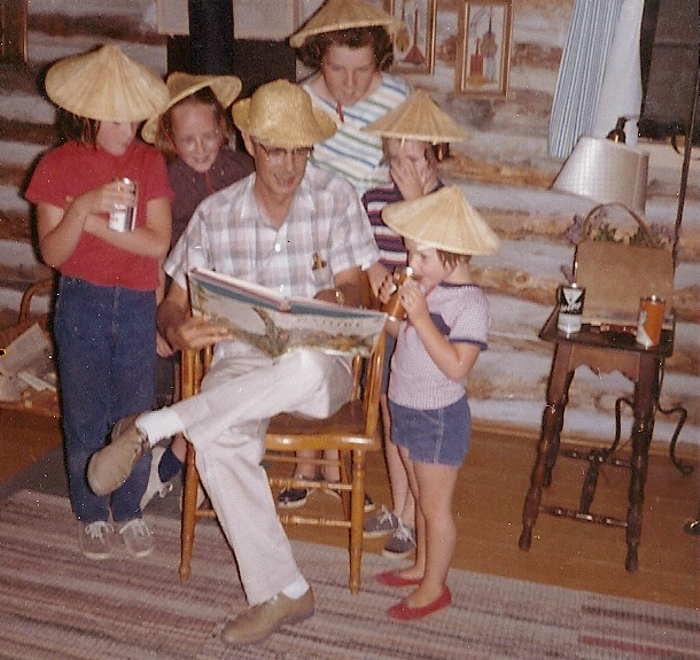 Al Johnson, Bob Carroll (seated) & Others
Possibly a Remote Broadcast from the Montana Capitol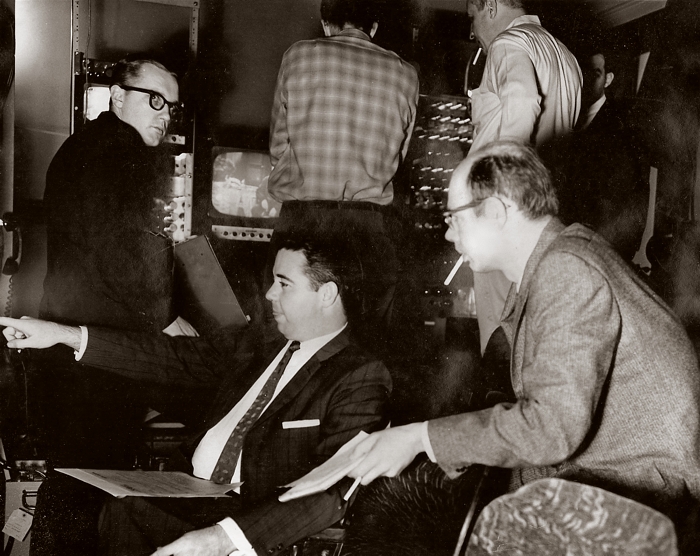 Al and Walli
Wedding Day, June 17 1960
A confirmed bachelor for many years, Al met Walli Foerster in Helena in 1959 shortly after she came from Germany. They were married on June 17, 1960, at the First Lutheran Church in Helena. They enjoyed more than 49 years of marriage together before his passing.

WALLI & AL

FIRST CHRISTMAS 1960

1962

25th ANNIVERSARY



A Musician of Note
IN THE ARMY CA. 1951

HELENA, 1957

Always musically inclined, Al played guitar in several bands in the Helena area, including the "Gentlemen of Note." He was a life member of the American Federation of Musicians, Helena Local 642. Al brought classical music to the Helena airwaves with his radio program "Classics in the Night", which ran for many years.

The "Gentlemen of Note": Al Johnson, Jim Harrington and Jim Strom. The combo played gigs as far away as Philipsburg.
An Avid Photographer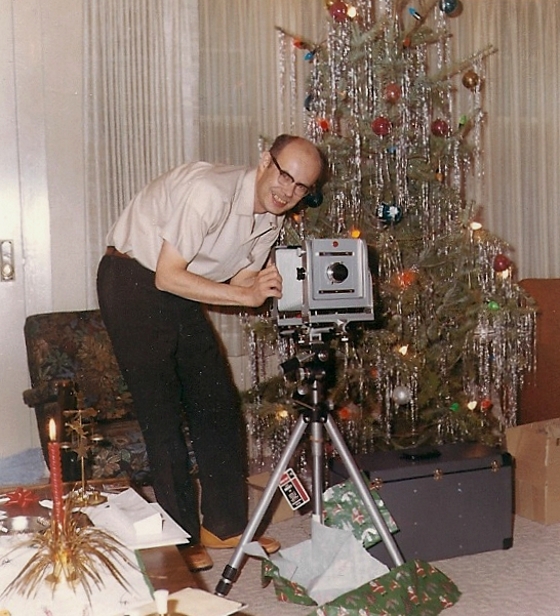 A new camera in 1966. Al processed his photographs in his own darkroom.
Audio Files

The Al Johnson Roast, 1981
PLEASE NOTE: RATED PG FOR SUGGESTIVE DIALOGUE AND SOME COARSE LANGUAGE

Remembering Al Johnson
KBLL "Coffee Break" Program
August 14, 2009

On May 16 1981, the Last Chance Press Club "roasted" Al Johnson. The event at the Colonial Inn was emceed by Helena broadcast veteran Terry Bass. "Roasters" and other participants include Art Donovan, Wally Peel, Rosetta Kamlowsky, Ron Davison, Bob Carroll, Doug Sutherland, Jimmy Harrington, Bob Howard, Bob Ruby, Les Liedle and Bob Henkel.

Intro by Lester Liedle of Valtron Recording Studio, who recorded the Roast and made copies available.

Thanks to Gladys Davenport for providing the cassette copy of the event, and to Ken Benner in Tucson, Arizona for reviving the old tape and making CD copies.

The Roast is about 90 minutes long, so these are very large mp3 files that will take some time to download...

KBLL radio's "Coffee Break" program is hosted by Jay Scott and Susan Clark, both of whom worked with Al Johnson. On August 14, 2009, the program was devoted to reminiscences about Al.

Guests are Wally Peel, Terry Bass, Bud Iwen, Doug Sutherland and Gladys Davenport.

Many thanks to Jay Scott and Susan Clark for doing the show, and to KBLL Manager Dewey Bruce for granting permission for its use here.

Special thanks to Walli Johnson, Al's wife, who so kindly agreed to this online tribute, and provided all the wonderful photographs. Many thanks, Walli, and God Bless!

Special thanks also to Wally Peel, who spearheaded the gathering of material for this tribute to Al . Without his efforts, it would have been impossible. Thanks, Wally. You're tops!
Former Colleague Jeffrey Hall Remembers Al Johnson
"I knew Al personally because I worked with him at KBLL from 1984 to 1986. I started my broadcasting career when I was 21 at KBLL in 1984 when then Program Director Scott Francis hired me.
My actual first memory of Al starts when was about 5 years old. Every night when my mom put me to bed she would turn on Al's show "Classics in the Night" for me to listen to as I drifted off to sleep. Well, when I first met Al a couple of days after I was hired I related that story to him, and he turned to me with a very pained look on his face and said: "Thanks, kid, now I really feel old."
I primarily worked weekends, and almost every Saturday and Sunday we had remote, live broadcasts from Power Townsend. Al was at the Power Townsend end of the broadcast, and I handled things from the studio board end. I must have done 3 to 4 hundred of these broadcasts with Al over the 2 1/2 years that I was at KBLL, and Al would always be ready on the other end when I'd toss it to him (baring any equipment failures), except on one rather memorable occasion.
At the appointed time I did my usual intro, something like: "And now it's time once again to check-in with Al Johnson at Power Townsend to see what juicy deals he's got for us this time....", and then I opened-up the "on-air" channel to the mic on his end, but this time there was nothing there but silence, and some background noise of the store. So I said: "Al, are you there?", which was followed by a few pregnant moments of silence. I then decided that he must be having some technical difficulties, and made some comment on the air to that effect. I was about to move on with something else, when just before I could close his end of the line, I heard the sound of running feet, very faintly, in the background. The sound got louder, and louder, until Al came sliding into the chair at his end, knocking over things on the table he had set up (including the microphone), huffing and puffing to catch his breath. The mic on his end was open the whole time, and all the listeners heard this whole thing. It took Al several moment to recover from his sprint so that he could speak. I took the opportunity to gently give him the needle for being out of position. It turned out that he had lost track of the time, and was at the very back of the store at the appointed time. Al was consummate professional, which is what makes this very uncharacteristic mistake so funny.
I learned a lot about radio from Al . I was saddened when my mother called me here in Seattle, where I now live, to tell me of his passing."
Thanks, Jeffrey!
Al Sings!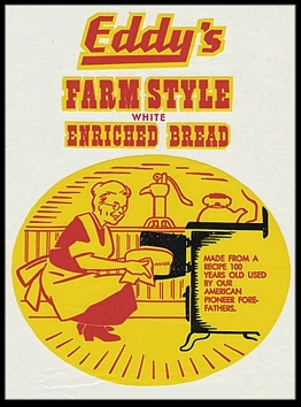 Click on the Eddy's Farm Style Bread label to hear Al sing a commercial. This is likely from the mid-1960s. Mp3 file courtesy of Wally Peel.