Tower Shopping Center

11th Ave. at Montana Ave.

Tower Food Mart, 1220 11th Avenue, 1940s



THE WES AND CAROL SYNNESS COLLECTION
The market was so named for its close proximity to the KXLJ radio broadcasting studio and tower at 1306 11th Avenue.

On Ocober 25, 1950, a grand opening was held for the expanded Tower Shopping Center, which included a variety store, and frozen food locker plant. In 1956, more shops were constructed on the north side of the lot.
Postcard view of the Tower Shopping Center, ca. 1956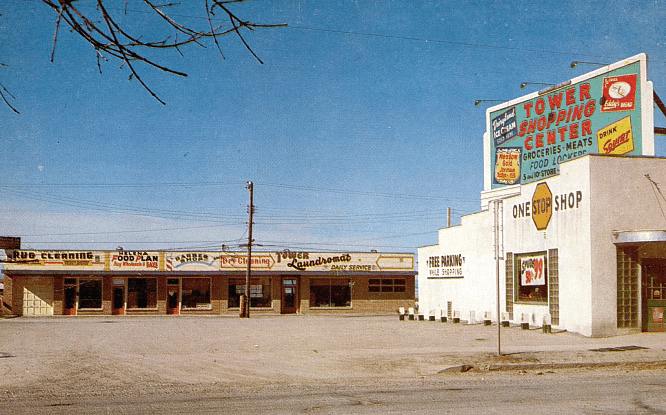 COURTESY OF D. R. STINSON
This view shows the row of shops added in 1956. Judging from the angle of the sun and how empty the parking lot is, this photo was probably taken on a Sunday afternoon.
The back of the postcard reads...
TOWER SHOPPING CENTER
Highway 10 & 91
Groceries, Meats, Lockers, Variety, Fishing Supplies, Laundromat, Barber Shop, Rug Cleaning, Etc.
TOURIST INFORMATION
1220 11th Ave., Helena, Montana
Phone H 2-6770
W. L. (Bill) Higgins, Owner

Detail of the shops which were added in 1956.
Thanks to Mr. D. R. Stinson for his excellent high-resolution scan of this rare postcard.
July 11, 1956 Grand Opening Newspaper Ad