CLICK ON IMAGE TO OPEN A BIG VERSION IN A NEW WINDOW

The Placer Hotel (aka "Hotel Placer"), southeast corner of Last Chance Gulch and Grand St.
Completed in 1913, the Placer was for many years Helena's finest hotel; it has now been converted to condominiums. The building was designed by George H. Carsley in association with Cass Gilbert.
As an unofficial headquarters for Montana legislators and lobbyists, the Placer was the scene of much political intrigue over the decades. Numerous celebrities called the Placer home during their visits to Helena.
In 1912, there was a local controversy over the naming of the new hotel. The working name was alternately the "Lewis and Clark Hotel" and the "New Helena Hotel", the latter name meeting with opposition from stockholders for a couple of reasons. The posh Helena Hotel, located on Grand St. just a block from the new hotel, had been gutted by fire earlier that year, so stockholders were not keen to associate the new hotel with that unfortunate event. Also, naming something "Helena" seemed unimaginative and overdone. Most preferred the "Lewis and Clark Hotel".

It was during this controversy that the name the "Placer Hotel" was informally proposed. By the fall of 1912, newspaper items and ads were using the name "Placer Hotel".




Click on Image to Open PDF File





Postcard View of the New Placer
Gold Beneath the Placer Hotel?
Not Much



The Placer ca. 1916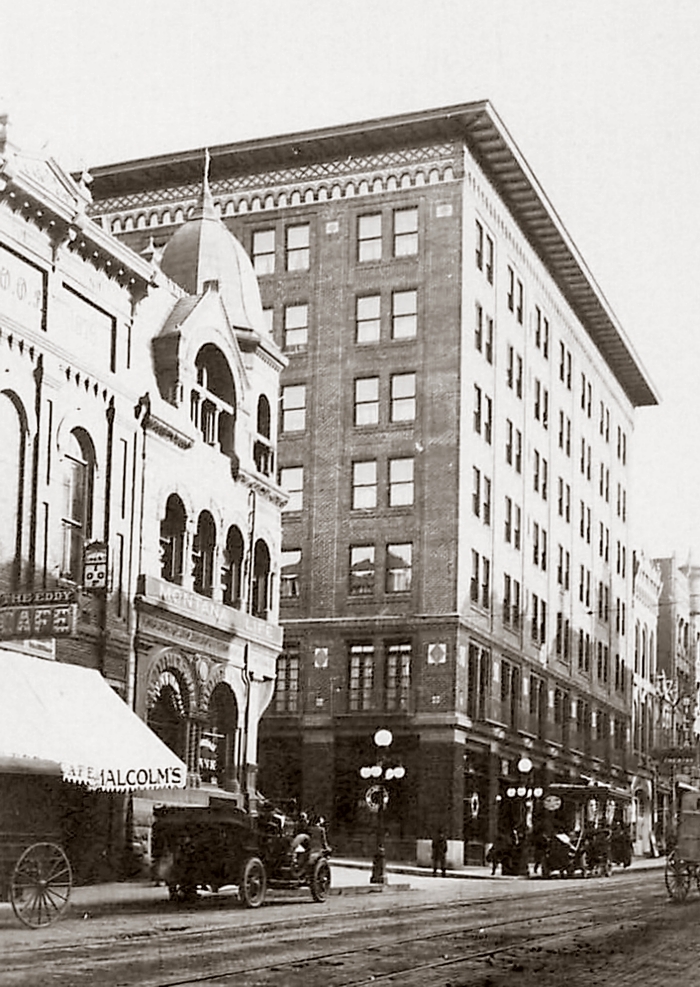 COURTESY OF THE DAVID POOR COLLECTION


Placer Hotel, circa 1928



COURTESY OF TOM KILMER
Main Street Entrance, circa 1930
1940s View of the Placer


Note the stylish and welcoming Cheerio Lounge sign.




A 1950s Postcard View

Placer Hotel Cafe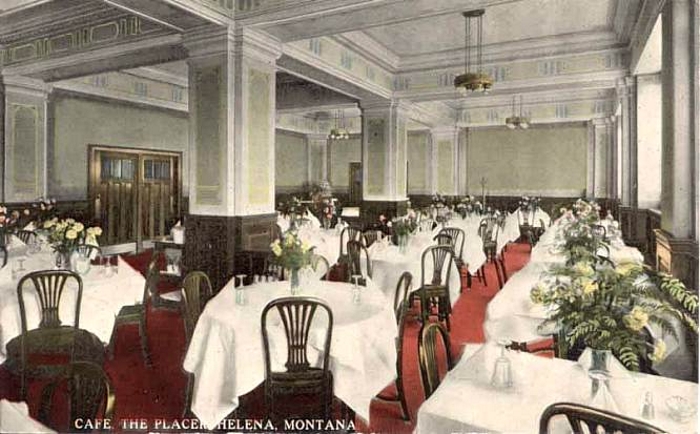 Placer Hotel Ballroom


COLLECTION OF NANCY GOODSPEED


Placer Hotel Barbershop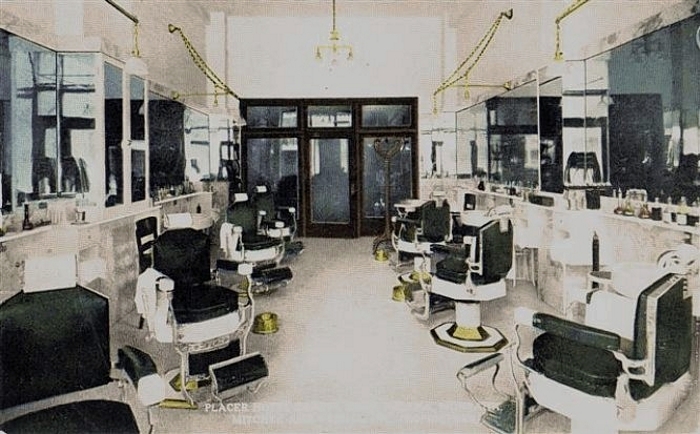 THE DAVID HULL COLLECTION


Chas. H. Pratt, Jeweler


COURTESY OF THE DAVID POOR COLLECTION • CLICK ON IMAGE TO OPEN A BIG VIEW IN A NEW WINDOW

The Rathskeller, Basement of the Placer Hotel, 1923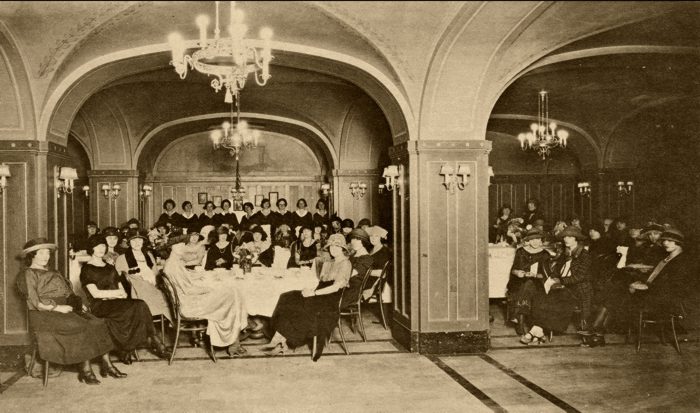 FROM THE 1972 LAST CHANCE STAMPEDE PROGRAM - COURTESY OF KITTY ANN QUIGLEY TAALER





1930s Air Mail Envelope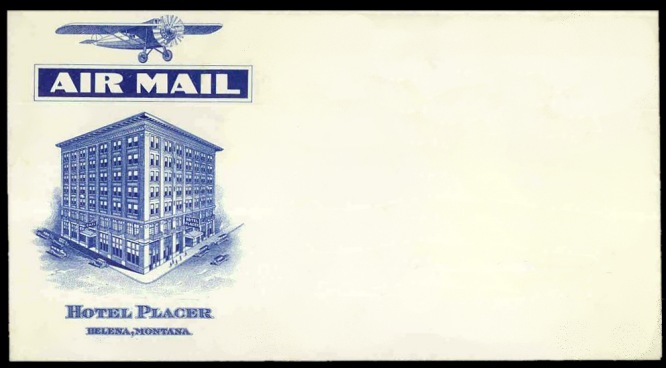 Corner of the Placer Hotel, Main at Grand, 1957



COLLECTION OF KENNON BAIRD
John F. Kennedy
Room 620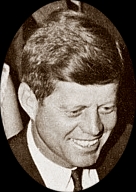 Presidential candidate John F. Kennedy stayed overnight at the Placer Hotel in June of 1960. Accompanying him on the trip were Ted Kennedy and Sargent Shriver.
May 5, 1965 Arson Fire
NO ARRESTS MADE
Frederick Delano Killed in Elevator Accident, 1967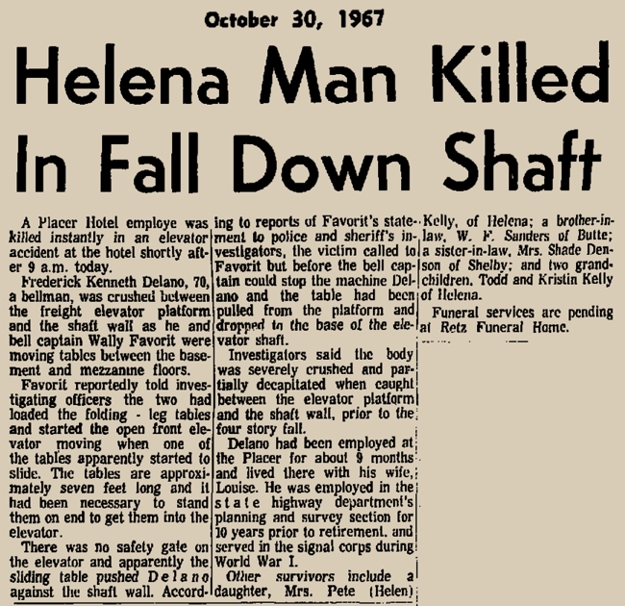 Delano was 70 years old, and his co-worker Walter Favorit was 59 at the time of this accident. Favorit died in South Dakota in 1987.
Main Street Entrance, 1971
Helena High School Bengalettes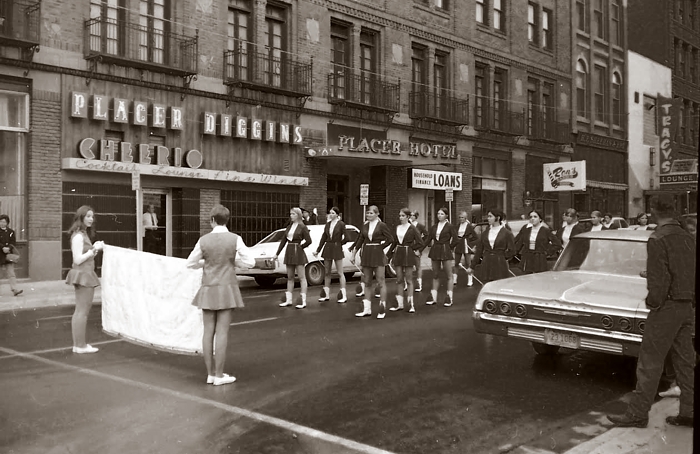 PHOTO BY JAN BROWN, COURTESY OF RICHARD ALBERTS • CLICK ON IMAGE TO OPEN A BIG VIEW IN A NEW WINDOW

Constuction on what was once Grand Street, 1970s
Urban Renewal eliminated Grand Street, along with all its Victorian buildings.
Luggage Sticker and Trade Tokens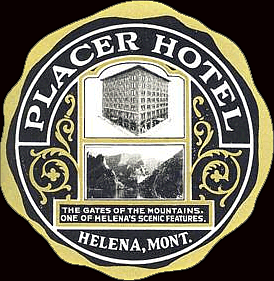 Decorative Detail on Placer Hotel China


Placer Hotel Matchbooks, Room Key & Corkscrew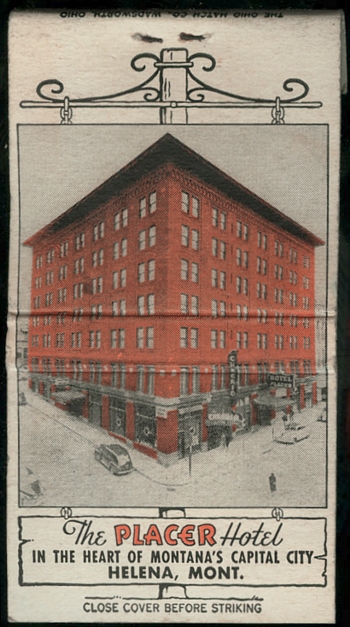 1940s

1950s