Tracy's Lounge was a popular downtown watering hole for thirty years; it was located at 11 North Main, next to the Atlas Block. Tracy's was originally owned by Tracy Carpenter (1906-1976) who also operated the Red Meadow Bar on Rodney St.
Before Carpenter opened Tracy's in 1943, the building had housed a variety of businesses, including a furniture store, a plumbing and heating concern, and a Chinese restaurant -- the Golden Dragon.
Interior of Tracy's Bar and Lounge, Probably 1943

FROM "HELENA", A POSTCARD HISTORY, COURTESY OF AUTHOR TOM MULVANEY
CLICK IMAGE ABOVE FOR A BIG VIEW IN A NEW WINDOW
One surprising thing about this view of Tracy's is the very modest selection of spirits displayed on the back-bar. Tracy's drinks menu, even during postwar years, seems quite limited by today's standards (see below).
One questions the wisdom of mounting coat hooks so they protrude at eye-level into a space usually occupied by drunks, but it was a less litigious society then.
At the rear of the space stands a 1942 Seeburg Hi-Tone jukebox. On the bar are two Seeburg "Bar-o-matic" units from which patrons could play the box. The booths probably had similar units. Here's what the jukebox looked like....
Briefly Closed During World War II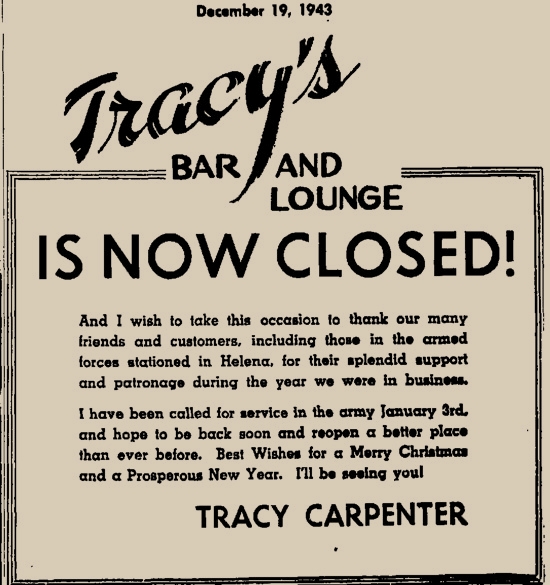 The lounge was open for less than one year before Tracy Carpenter was drafted. Carpenter was honorably discharged in less than a year, and returned to Helena. Tracy's Lounge re-opened on Dec. 16, 1944 after undergoing remodeling, which included the addition of a new facade.
New Management 1947-1949


Milton Rudio (1909-1994) and Percy Evans (1908-1991) took over Tracy's in July of 1947. Their venture was short-lived, however, as their partnership was legally dissolved in August of 1949.
Carpenters Resume Management - 1950
Interior Remodeled
Emphasis on "Cocktail Lounge" Atmosphere & Entertainment

PHOTOS COURTESY OF THE DAVID POOR COLLECTION • CLICK ON IMAGES FOR BIG VERSIONS IN NEW WINDOWS
In 1952, Tracy's featured Helena's (and possibly Montana's) first piano bar...
Carpenters Sell Tracy's Lounge - 1959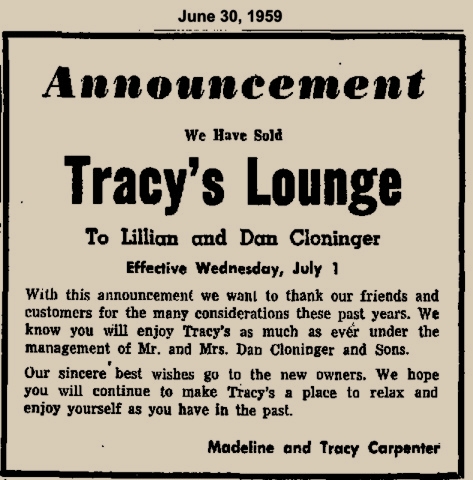 Tracy's Lounge Drink Menu, 1960


MENU BACK AND FRONT



MENU PRICES
COLLECTION OF KENNON BAIRD

Organist Carl Amundsen (name printed on menu marquee) was featured at Tracy's from 1959 to 1961. Available newspaper archives show that Amundsen played in the Valparaiso, Indiana area from 1952-1958. After leaving Tracy's, he played a few 1961 gigs at other Helena area clubs, and one in Billings. After that, he disappears from the archives.
Tracy's Benefit for Ill Bartender
Earl Craig lived until 1972, passing away in Raymond, Nebraska. I find no further mention in the archives of his crippling illness. R.I.P.
Tracy's Last Big Hurrah - New Years Eve 1971
In January of 1972, Tracy's liquor license was transferred to Mr. Lucky's, which was opening in the old Colonial Club building that had been moved from its original location on 11th Avenue to a lot near the old airport terminal.
Tracy's Demolished by Urban Renewal - 1975