Walt and Millie's Diner • 18 E. Lyndale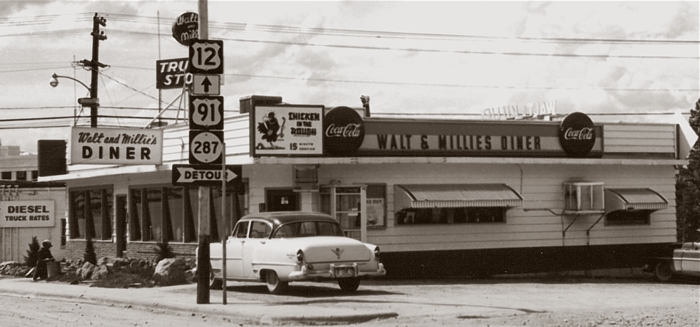 COURTESY OF DARCY O'DELL • CLICK PHOTO FOR A BIG VIEW IN A NEW WINDOW

Walt and Millie's was owned by Walter C. Schrock (1916-2003) and Mildred M. Schrock (1915-1984), who previously managed The Diner on Neill Ave. They operated at this location, near the busy intersection of North Last Chance Gulch (North Main) and E. Lyndale Ave., from about 1955 to 1964.
One wall of the dining room was covered by a colorful mural, painted by prolific Helena commercial artist Jack Kinney (1922-2002).
In November of 1963, there was a small fire in the attic space, caused by faulty sign wiring. The Schrocks moved to Superior, Montana around 1965.
Jack Kinney Mural, 1960 - Fate of Mural Unknown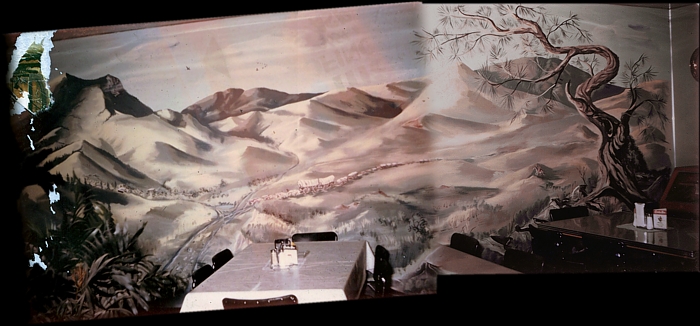 CLICK ON IMAGE FOR A BIG VERSION IN A NEW WINDOW
This image of the Walt and Millie's Diner mural was created by combining two snapshots.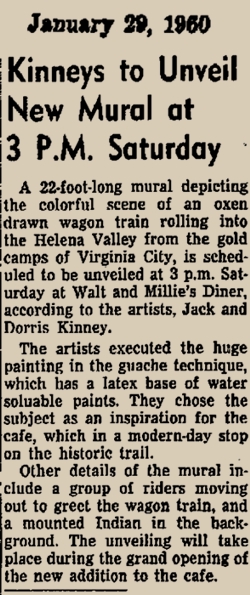 Michael E. Holmes Tells Us About 1958 Thanksgiving Dinner at Walt and Mille's


"Walt & Millies Diner holds a special place in my Thanksgiving memories. In 1958 our family relocated to Helena from Lompoc, CA as a result of my Dad's Army duty station re-assignment. We drove Thanksgiving week from California to Montana and initially stayed at the Capitol Motel. My brother and I had never seen snow before so we fruitlessly tried to make snowmen from the two inches of powder that had dropped shortly after we arrived.
On Thanksgiving Day we had dinner at Walt & Millies. Eating out anywhere was always a great adventure but W&M had a special charm for an almost eight year old from California. I specifically recall seeing and ordering goose from the menu, something I had never had which seemed very Dickensian "Christmas Carol" when I saw it offered. I don't know if it was regularly featured on the menu there and it is rare to see it on restaurant menus anywhere today. With the gray overcast skies, snow and exotic bird to eat, Helena was proving to be a very different kind of place. The family rarely ate at W&M again (as we seldom ate out anywhere) but that Thanksgiving goose will never be forgotten."
Thanks, Mike, for sharing this wonderful Helena memory!